15 Animated Character Makers to Enrich your Teaching Video
Animated characters are fascinating. Therefore, it is little wonder that they are the favorite of children and adults. Teachers now incorporate animated characters into their courses to enrich their teaching videos. Are you a teacher looking for ways to enrich your teaching aid? 
Creating animated characters is an effective technique. Thankfully, there are many tools available to help you. In this post, we share 15 animated character makers that you can use to enrich your teaching video. Let's check them out.
1. Doratoon
Doratoon remains an effective animated character maker in the market. It is a free software tool that allows you to make animated characters and customized videos. Doratoon provides advanced tools that let you create cartoon characters without any skills.
The software is easy to use and offers an all-inclusive platform to create engaging cartoon characters to make your teaching videos highly effective and engaging.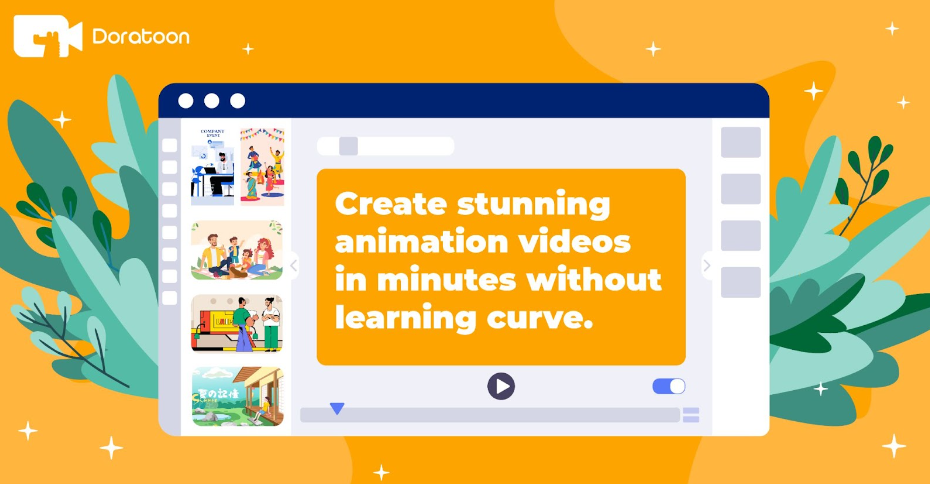 Unique Features of Doratoon 
Animated Characters: Doratoon offers access to thousands of animated characters that you can customize. You can manage their facial expressions, movements, and gestures using the available tools.
Props and Music: Of course, you won't stop at just creating animated characters; you need to create the whole teaching video. You will find premade templates, backgrounds, and themes.
AI Dubbing: This presentation video maker also has a built-in AI tool that lets you convert text into speech. You can also sync the text and speech with the actions of your animated character.
Path Animation: This feature allows you to move your animated character around to make the video more vivid and engaging.
How to Make Animated Character with Doratoon
Step 1: Sign up for a free Doratoon account on the official website.
Step 2: Click "Create a New Video" and select your preferred template.
Step 3: Click "Edit" to add animated characters, scenes, texts, and more to customize your animation.
Step 4: Export your video and add a title and tag and then save it on your device.
2. RenderForest
This is an online animated character creator designed to help teachers create engaging animations using top-notch templates. RenderForest is a multifunctional design tool that lets you select suitable animated characters and integrate them into your teaching video. Features of RenderForest include:
A huge collection of animated characters and templates

Ready-made props, music, and tons of backgrounds

Customizable designs with voiceover, transition, color and style edit, and more.
3. FilmoraPro
This is a powerful tool for making educational animated characters and videos. FilmoraPro uses keyframes that make your animation look natural and smooth. You will find tons of features you can use to customize your video, including an audio mixer, color grading/correction, and more. Here are some features of FilmoraPro:
A huge animation template library with keyframes addition

Seamless color grading and correction

Large music and sound library with an Audio mixer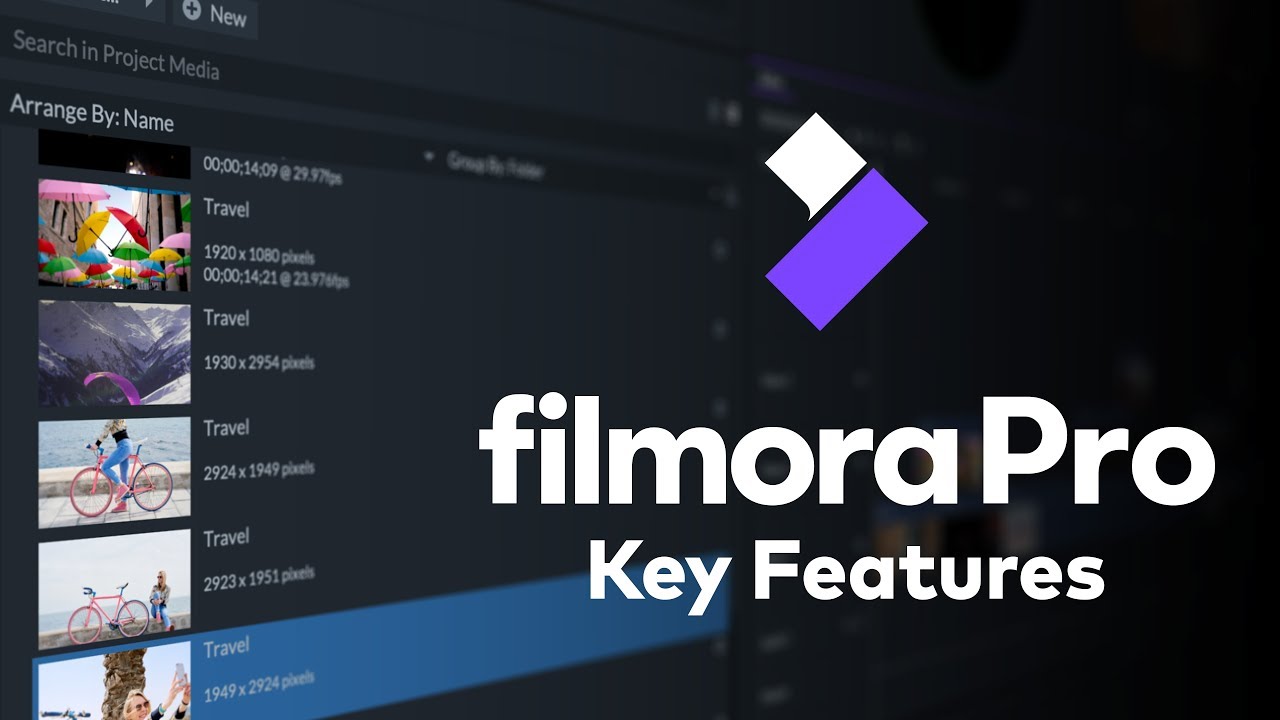 4. Moovly
This is another great educational animation tool designed for creating animated videos that are highly engaging. Whether you want to create animated school marketing videos, classroom lectures, presentations, or classroom assignments, Moovly offers the tools you need. Some of its features include:
A library of 500,000+ templates, illustrations, photos, and more

Personal storage library up to 1GB
5. Clip Studio
Popular for its manga and comic creation tool, Clip Studio offers effective tools to create educational animated characters. It supports frame-by-frame animation and gives you unlimited control over timing adjustments and display when creating animated characters. Features of Clip Studio include:
Pencil and pen on paper advanced brushes tools

Supports 3D objects and characters

Table-light function
6. Blender
This is a renowned 3D animation software tool that supports the creation of educational animated characters, videos, clips, and presentations in a breeze. It comes with tons of premade animated templates that you can explore to create your cartoon character. Some features of Blender include:
HD lighting support

3D painting with masking and textured brushes

A wide variety of modeling tools
7. Harmony
If you want to create a simple animated character to enrich your teaching video, Harmony is a good tool to use. It offers robust tools required to create engaging and attractive cartoon characters and videos. Features you can explore with this tool include:
A plethora of animation styles, 3D compositions, and effects application

3D and 2D hybrid application

3D camera moves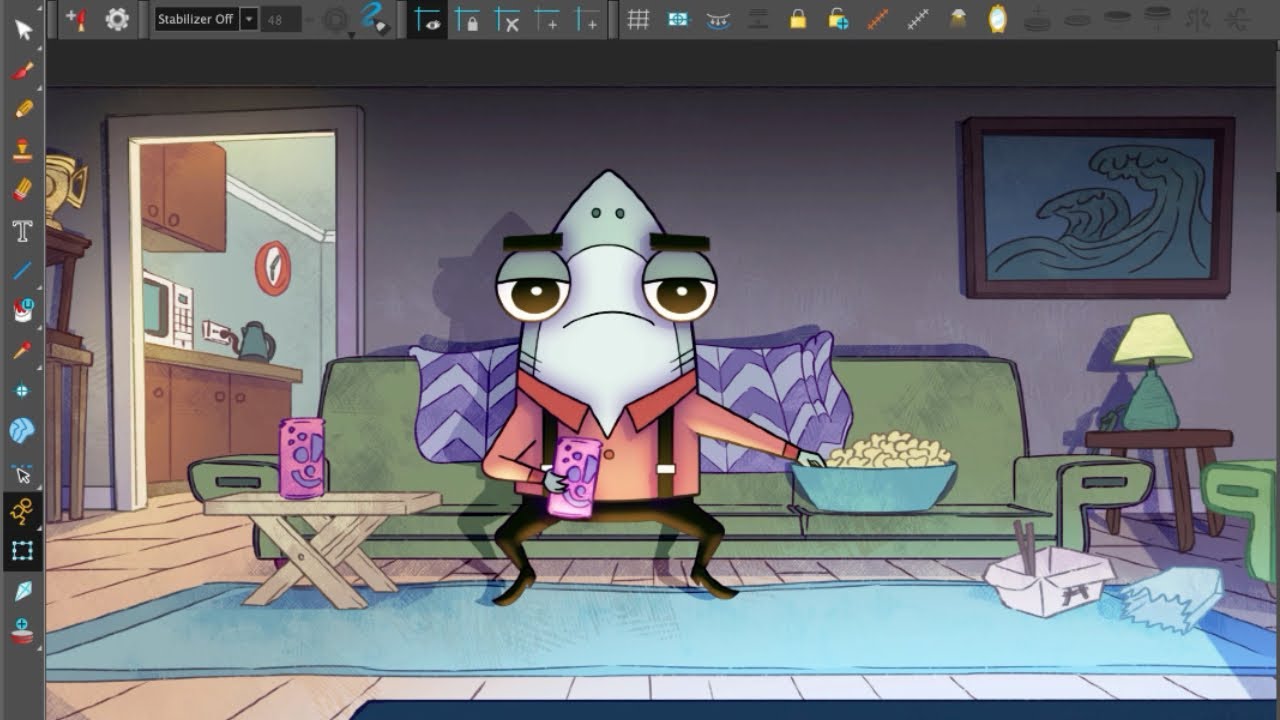 8.

 

GoAnimate
This is another great app that enhances classroom engagement with its plethora of animated characters and videos. With GoAnimate, you can create characters that align with your classroom audience. Some of its features include:
Text-to-speech technology

A huge library of animated characters, backgrounds, templates, and props
9.

 

Synfig Studio
Synfig Studio is a free 2D animation tool that is designed for making high-quality animation with bitmap and vector artwork. This software doesn't require that you create frame-by-frame animation. You can edit a template of your choice and customize it to suit your teaching needs. Its features include:
Animation cutout creation with bitmap images

High varieties of dynamic imaging

Pressure-sensitive drawing tools
10. Animaker
Animaker offers advanced tools to create educational animation. With a decent library of templates, themes, animated video clips, and more, you can create a studio-finish animation for your teaching video. Features of Animaker include:
6 attractive video styles

700+ customizable animated videos
11. iKITMovie
This is a great software tool that works great as a character animation creator. It is an excellent tool for making animated characters for educational purposes and you can create an engaging character and video in a matter of minutes. Some of its features are:
Over 2000 sound effects and direct animation upload-able to YouTube

An extensive library of facial expressions and gestures
12. Animatron
When creating an explainer video for educational purposes, Animatron is a great tool that will help. It comes with over 200 premade animated characters and templates and a library of over 500,000 royalty-free animated videos, whiteboard animation, audios, and more. Some of its features include:
A huge collection of pre-animated characters

Tons of props and music, backgrounds, and more
13. Adobe
You can create interactive animated characters and videos with Adobe. It is also a great tool for designing engaging e-learning content, infographics, doodles, avatars, and more. Its features include:
Frame-by-frame animation creation

Exportable to HTML5 Canvas, Flash, and WebGL
14. Biteable
This character animation creator provides a huge library of props and music, which you can explore to make your character and video more interactive. It is easy to use with a plethora of features. Some of its features include:
Tons of pre-animated characters and video templates

Extensive editing tools
15. Powtoon
Powtoon animated character creator is a powerful tool for making animated characters, animated explainer videos, and whiteboard animation. It is a feature-rich tool with over a hundred pre-made animated templates. It comes with a variety of tools that you can use to make animated characters that will connect with your students. Its features include:
A large library of pre-animated characters and templates

Advanced Studio Editor
Conclusion
Teaching can be fun, engaging, and impactful with the right resources. When you make cartoon character and integrate it into your teaching video, you excite your students and make them want to learn without struggle. The above are 15 animated character makers you can explore to enrich your educational video.