A Quick Comparison of GeForce GTX 970 vs 1060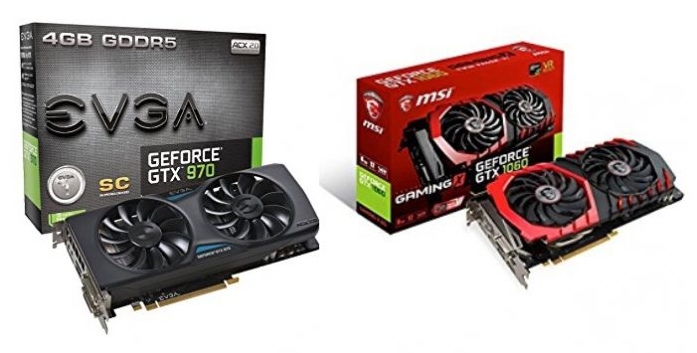 What is the GTX 970?
The GTX 970 is a graphics card manufactured by Nvidia. It was released in September 2014 and is based on the Maxwell architecture. The GTX 970 has a core clock speed of 1,050 MHz and a memory clock speed of 7,010 MHz. It has 4,096 MB of GDDR5 memory and a maximum resolution of 3,840 x 2,160.
Overall build quality is excellent The cooler performs well in its noise target, at 40BA First 1440p card to hit "good" territory at under $330 Memory overclocking is strong, hitting 7GHz without trouble VRAM is partitioned in a way that benefits some games over others.
Negative reviews about the gtx 970:
Some GTX 970 cards are coming with 3GB of VRAM, which could be a problem for high-resolution gaming down the road.
What is the GTX 1060?
The GTX 1060 is a graphics card that promises to provide great gaming performance and features for a reasonable price. According to the manufacturer, this card delivers up to three times the performance of previous-generation cards. It also supports virtual reality (VR) gaming, making it an ideal choice for gamers who want to get the most out of their VR experience.
In terms of features, the GTX 1060 supports DirectX 12 as well as NVIDIA Game Works technology. This means that gamers can take advantage of features such as hairWorks, PhysX, and TXAA. Additionally, this card comes with a variety of ports, including DisplayPort 1.4, HDMI 2.0b, and Dual-Link DVI. This allows you to connect multiple displays and gaming peripherals.
One of the GTX 1060's best features is its price. At just $249, it is a more affordable option than some of the other graphics cards on the market. This makes it a great choice for gamers who are not looking to spend a lot of money on a new graphics card. You can also consider reading Gtx 1050 ti vs Gtx 1650 to have a good overview of other graphic cards.
Conclusion:
So, if you're in the market for a new graphics card, the GTX 1060 should be at the top of your list. It delivers great performance and features at an affordable price, making it an excellent value for your money.