The Leak of Upcoming AMD Ryzen's 2 CPUs is now out of ASRock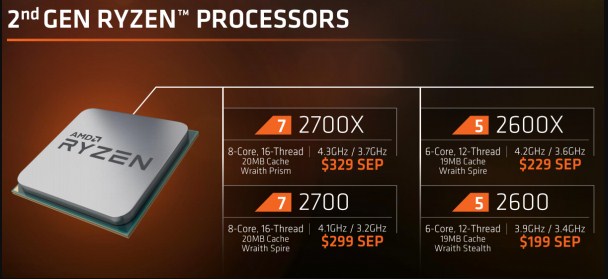 A new leak has given the insight of AMD Ryzen's new processors. Ryzen 7 2700E and Ryzen 5 2600E will both be power economical processors working on the power of 45W. Ryzen 7 will be using 8-core and 16 threads while Ryzen 5 will have 6-core and 12 threads CPU layout.
So far AMD has never announced any low power of the latest Ryzen CPU versions before but ASRock has added them to the B350 motherboards CPU support list which to functions on the low power sources as well. The chips are in direct competition with their biggest rival from Intel's T-series CPUs. These chips can have more to offer with their lower Thermal Design Power (TDP) of 35W which is quite low as compared to 45W TDP for AMD's E-series. Even the T-series has included the power cut down option which can bring the TDP to as low as 25W.
AMD is exactly copying this methodology to bring down the power from 65W to 45W. AMD has cut down the power by taking the cutbacks from the CPU's cocking system. Ryzen 7 will have 2.8GHz instead of 3.2GHz of higher power CPU while Ryzen 5 will have 3.1 GHz as compared to 3.4GHz of its full specs variant. It is still not known that how much turbo speeds these 2 processors will produce. The size for the processors will still be 16MB of L3 cache. There will also be added 4MB of L2 cache for 8-core CPU while 3MB of L2 cache for 6-core CPU.
Read More: NVIDIA to achieve Life-Like graphics in its Next-Gen GPUs using AI
It is interesting to know that ASRock has removed Ryzen 5 2500X and Ryzen 3 2300X processors from its support database, while these 2 processors have appeared in the Geekbench database. By this, it is yet to be figured out that which pair will be released first but with the B450 boards are about to be launched it can be derived that low power Ryzen 3 chip will be arriving beforehand.