Xbox One gets Mouse and Keyboard Support, TODAY!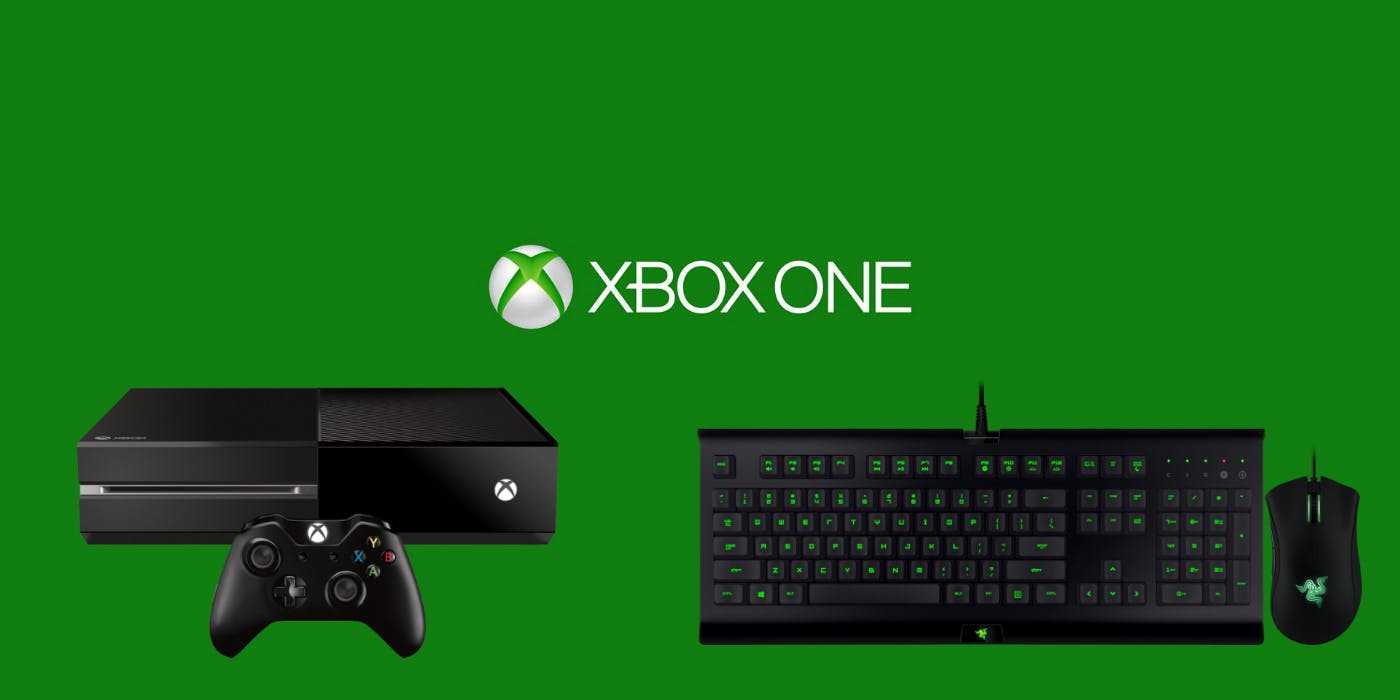 https://twitter.com/Razer/status/1044695870640246784?ref_src=twsrc%5Etfw%7Ctwcamp%5Etweetembed%7Ctwterm%5E1044695870640246784&ref_url=https%3A%2F%2Fwww.onmsft.com%2Fnews%2Frazer-teases-xbox-one-keyboard-and-mouse-with-new-teaser-video
September 26, 2018, 2:11 am was the time and date when Razer tweeted this teaser. Now it would have been an epic rumor to mess with Xbox lovers if it hadn't been tweeted by the company itself, but it was. The announce date was clearly mentioned in the tweet as well and the 'EPIC?' bit didn't even need the question mark because the news alone was worth a call for a party.
Cross-Platform Gaming Heaven
All of us have impatiently waited till today. At 8:00 am November 14, 2018, Jason Ronald, Director of Program Management for Xbox Platform posted on the Xbox web-page,
"Following an info-rich X018 event with a ton of announcements, we're releasing some new Xbox One features that start rolling out today. the November 2018 Xbox update adds new ways to play some of your favorite games with mouse and keyboard support, more console interaction with Xbox Skill updates, listen to your favorite songs with the new Amazon Music app, and the ability to find your games faster than ever viz improved Search."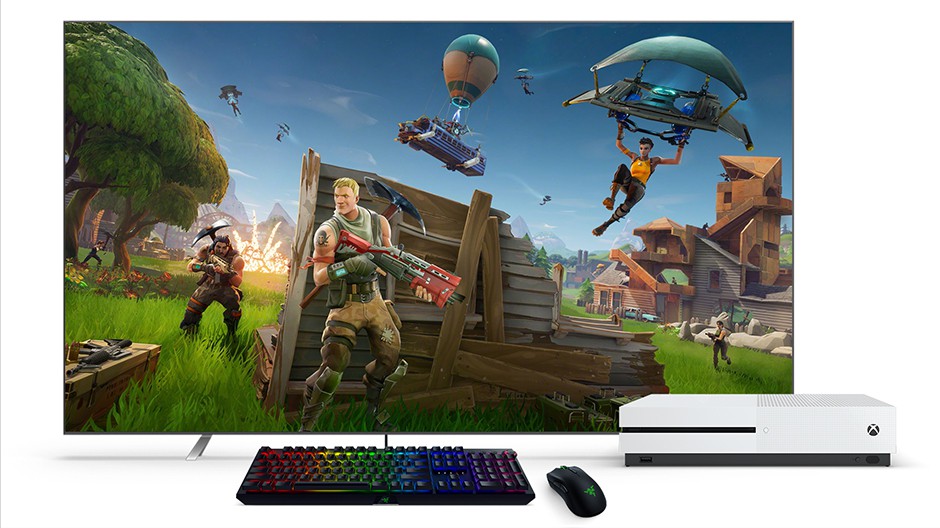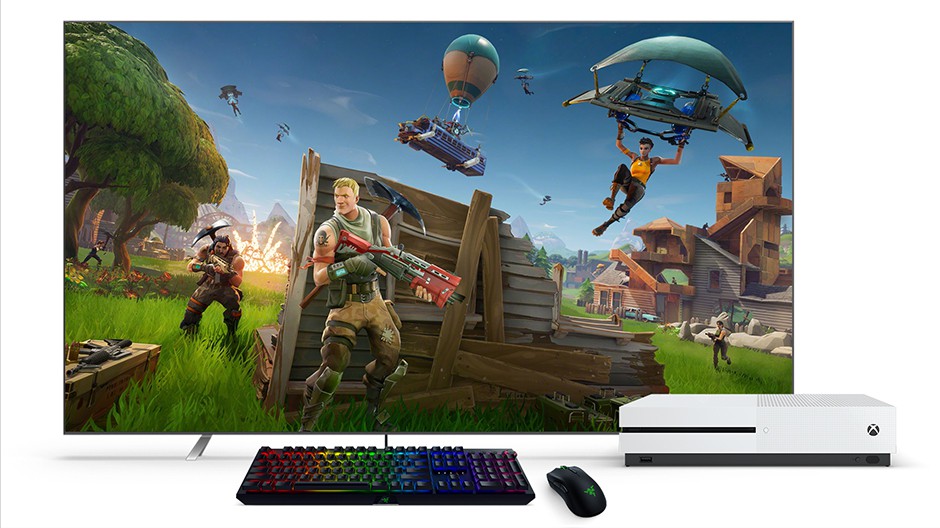 Now is that the same keyboard & mouse combo that Razer teased back in September? Or is this a giant spoiler, who knows but one thing is for sure, once the update arrives, it won't matter what keyboard or mouse you use, since Microsoft did not specify that it will only support specific models. So, until proven otherwise, I would keep on believing that any keyboard or mouse will do. Although I would love to own that set in the picture above, posted by Xbox.
*Note that the console shown in the picture above is the Xbox One S, which means that the update isn't just for the latest model 'X'.
One of the biggest selling points for Xbox One is Mouse and keyboard support
Fortnite is said to be one of the first titles to support the mouse and keyboard input, and you can only imagine the PC players biting their nails for now console guys can go tow to toe with them, all the while sitting on a lazy boy. Other titles that will support the update are;
Warframe
Bomber Crew
Deep Rock Galactic
Strange Brigade
Vermintide 2
War thunder
X-Morph Defense
Future titles that will support this feature are;
Children of Morta
DayZ
Minion Master
Moonlighter
Vigor
Warface
Wargroove
And of course the number of titles will increase from there.
This also brings about a great opportunity for the developers to make games supporting this feature from the get go and we won't have to sit there and download files while looking at the screen like idiots. Plus the key mapping will become so easy to move from PC to Xbox without losing your gaming ability. New titles that couldn't move from the PC space to consoles will have no issues now, we can have the entire PC library into Xbox if the developers willing to go that way.
PC vs. Console, the lines are blurring already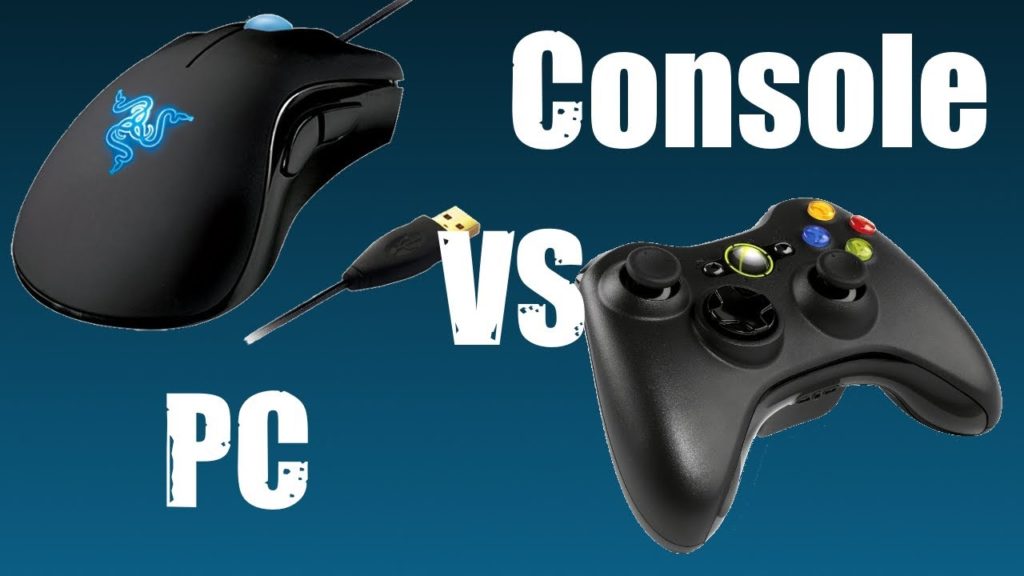 The thing about the Razer designed Mouse and Keyboard for the Xbox One is that it is programmed for the console by having an Xbox key on the board and the Dynamic Lighting capability to enable immersive lighting effects while playing. So for a Xbox purist, this combo is a must have. There is however, a caveat about the Razer keyboard and mouse. Per the article, we will have to wait till January to see the combo from Razer. But worry not, I am certain, currently available mechanical keyboards and hyper gaming mice will do just fine.
Aside from the mouse and keyboard support, this update will also have some new stuff and some updates
Xbox Skill for Cortana and Alexa Updates 

Alexa Beta for the UK (EN-GB)
Cortana improvements
New Commands added

Amazon Music app comes to Xbox One
Search Expansion
As the update arrives, most of us will get too busy playing. I better get me a keyboard and a mouse.