ZTE Is Back In Action, Expected To Launch Axon 9 At IFA 2018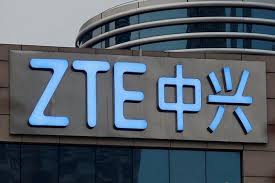 Well here is some news for Chinese smartphone residing in the US. ZTE is officially making a comeback in the country and will soon be launching new products. Earlier, the Chinese smartphone manufacturing company was prohibited from operating in the country due to its inability to follow the set rules. ZTE broke sanctions and used American components in countries where it was not allowed to. However, now ZTE is allowed once again back in the US but for that, the company will have to rename itself.
It took a lot of long months, and a lot of negotiation happened between Chinese and American for this deal to happen. The good news is that ZTE is once again ready to pick up its sales in the US and launch new phones. ZTE tweeted a picture which informed that the company will be present at the IFA 2018 happening in Berlin, Germany from 31st August 2018 – 5th September 2018. It has not yet revealed which phones will be unveiled at the IFA.
Hints and Clues
A leaked image with the ZTE symbol on its side and a big 9 in the middle hinted that the company will be announcing the "Axon 9" at the event. Although one can never be sure about the total authenticity of these leaked images, we still have our eyes and ears on alert.
What is more important than this is that the company builds up its defected image in the eyes of the consumer market. For this, ZTE needs to have full transparency regarding what happened earlier. Definitely a tough job but one which can be managed with skill and efficiency; similar to how Samsung won back customer trust after it had launched phones which exploded and caught fire in pockets!
Flashback of the ZTE trouble
The President of the United States actually signed a deal that stated that all official organizations and firms in the US were not allowed to use ZTE products. The deal also banned them from using Huawei products alongside. The prohibition includes all products that have links with user data. The ban included that all state employees, firms, agencies, and contractors would have to replace all ZTE devices they owned and replace them.
A deal occurred between ZTE and the Commerce Department of the US. The Chinese company was actually saved from going bankrupt after it paid huge fines for the law sanction. A lot of members of Congress were not in the favor of this deal, but choose to compromise instead. The US government has also disallowed the use of products from other Chinese companies which includes  Hytera Communications, Hangzhou Hikvision Digital Technology Company, and Dahua Technology Company, all of these are Chinese based hardware companies.