9 Tools You Should Use to do Online Competitor Analysis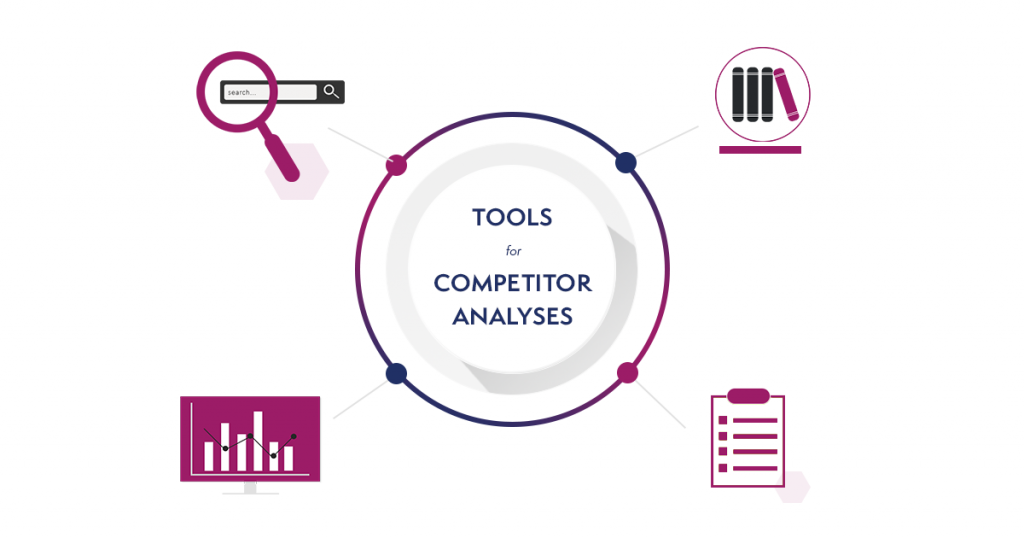 Are you wondering what the best tools are to do a complete online competitor analysis? Do the varying options often confuse you? Well, renowned companies like StudioHawk and more, know about these potent tools available right now! But do you? Well, for that, all you would have to do is scroll down!
Nowadays, competitive analysis is a strategic context to eliminate your weakness and to better your company and allow it to flourish. So, competitive analysis is considered the most important step when you are developing an SEO strategy.
Here we will go through some online competitive analysis tools that will provide you with the most definite data about the current competitive landscape of your client.
What Are the 9 Tools You Must Use to do Online Competitor Analysis?
Here we will talk about some potent tools that can show you what's happening in a domain you wish to analyze.
If the keywords are more, then it will show you a better result about your competitor's current ranking positions. Of course, these tools will give you an idea about the estimated traffic as well. So, let's not waste any more time in checking out what the tools are:
1.      Searchmetrics
Founded by Marcus Tober, this tool primarily focuses on competitive analysis. Slowly, it shifted its focus towards the enterprise market. Searchmetrics concentrates primarily on content marketing performance instead of SEO.
Searchmetrics has an array of all the handy organic rankings that helps you filter out the long-tail keywords in separate tabs. You can track SEO and improve a website's search rankings. Searchmetrics work on a specified keyword set.
2.      SpyFu
SpyFu specifically provides you with SEO competitive data. SpyFu gives you more accurate results than Searchmetrics. The main objective is to see the keywords that your competitors use and to improve your SEO strategy. It is undeniably a great competitor analysis tool, and it focuses purely on competitor analysis.
3.      iSpionage
What makes iSpionage different from the above two is that it can support more search engines. But the main disadvantage of iSpionage is that it is not as well organized as SpyFu, but it will give you a competitive edge in search marketing.
4.      SEMrush
SEMrush is a great SEO software that is ideal for several mid-sized and small businesses. If you are looking to improve your SEO, then SEMrush provides you with abundant features to create your strategy. You can analyze any domain's backlink profile, and it provides a much better strategy. SEMrush provides metrics for target keywords, and it offers in-depth analytics for a wide range of keywords. It is better structured and easier to use than SpyFu.
5.      Ahrefs
This tool has the capability of providing you a great amount of backlink data. Of course, it is also considered one of the best link tools present in the market. Ahrefs produces accurate results, and it has been proven to be better than SEMrush. It accelerates the growth of traffic to a website. You can get relevant keyword ideas, and you can even monitor your SEO over time. It has become essential for any SEO and provides you with new ideas.
6.      SERPstat
This is relatively new, and it helps to mirror the features of all the SEO software tools available. You can find keywords with just a few clicks, and it will provide you with an extensive list of SEO analyses. It makes analyzing data even easier and is probably one of the best tools on the list. You can use SERPstat to see pages on a site that ranks for keywords.
7.      BrightEdge
BrightEdge is an excellent platform that works at the enterprise level and does offer some excellent features that help you keep a close watch on your competitors. You can analyze your competitors' SEO analysis in great detail and depth. Moreover, it offers better resources than other competitor analysis tools.
8.      Conductor
Another one that you can look into is Conductor. The tool allows you to view the market share of the brand you are analyzing. It will enable you to optimize content and increase revenue. Moreover, it has dashboards that demonstrate the effectiveness of the SEO and content marketing efforts.
9.      SimilarWeb
SimilarWeb helps you master the art of how each site attracts traffic. Moreover, it also gives you an insight into traffic distribution present on all the channels. SimilarWeb provides services that offer its users information on their clients. It is the most accurate analyzed tool and overestimates traffic.
Final Thoughts
So, as we come to the end of our blog today, we hope you know what the potential is and how effective they are to provide you an online competitor analysis. It's important you choose the right tool for you to work. Although some tools differ in their functionalities, you will be able to analyze your SEO factors and do an online competitor analysis.