Android 12 Beta 2 now rolling out to Pixel devices, brings new privacy features
Google released its first Android 12 Public Beta last month, and the second build is now on its way to participating Pixel users. This update brings some of the privacy features that were announced for the final release during the I/O presentation.
Here are pictures of a Google Pixel 5  installed with the latest build and you can tell that the UI visually looks better. There's more contrast throughout the interface. The huge volume slider from the first build has been updated to look less ridiculous. We anticipate Google will continue tweaking the interface throughout Android 12's Beta period.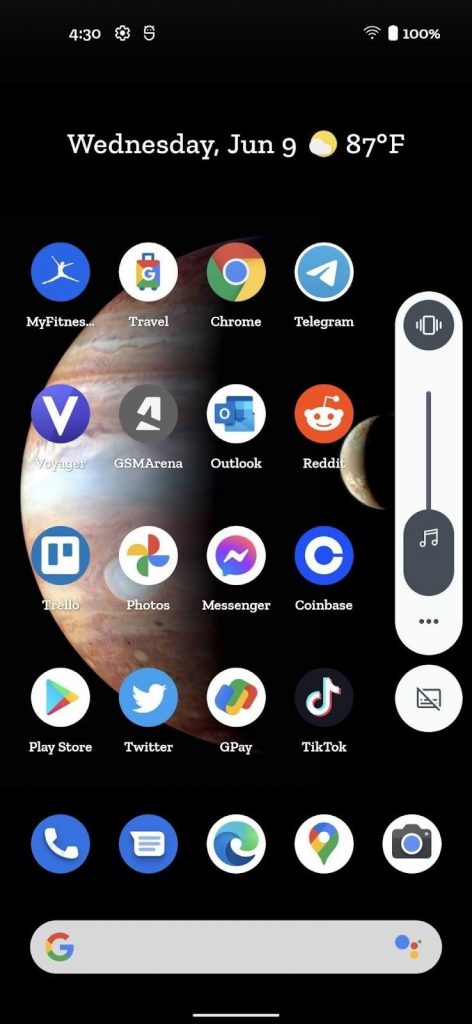 Here are the privacy changes that are included in this month's build of Android 12 Beta.
Privacy dashboard is an overview screen contained in the Settings > Privacy. It shows you what information has been accessed and which apps accessed it last. It will show you a timeline of every time an app asked for a location, for instance. This is also where apps can put explanations as to why they need certain permissions.
Dedicated microphone toggles let you disable the software from accessing the microphones or cameras. You'll also be able to do this using Quick Toggles. In addition, you'll see indicators in the status bar while an app is actively capturing audio or video.
A notification will now pop up whenever an app copies or pastes information (to/from) your clipboard. Some apps pre-paste your copied information to anticipate entering the information into a search, but once this feature goes live, it will expose apps that are needlessly pulling clipboard data. Google Chrome, for example, pulls your last copied item as soon as you open a Google Search box in hopes that you're looking up the information.
A new Internet panel replaces the traditional Wi-Fi controls. A single tap of the "Internet" quick toggle (which no longer displays the currently connected Wi-Fi network name) will bring up a list of available and nearby Wi-Fi connections, including toggles for mobile data connections. A long-press will open the new "Internet" Setting screen which combines the Mobile Networks page with Wi-Fi.
Plus, if you are experiencing slow Wi-Fi and would rather use data, tapping on the data connection will disconnect the device from Wi-Fi and temporarily disable auto-connect.
Once you get a hang of these Privacy policies, you will get a clear idea of the most vulnerable apps on your phone. The keyboard with which you type your passwords, OTP, and personal messages are in fact one of the most targeted apps for privacy breaches. But we cannot stop typing, can we? This brings out the need to have not only a secure keyboard app but a multi-functional one that caters to all your needs and beyond. The easy access to technology and simplicity in usage for elders have also given a boon to regional language keyboards.
Keeping all these things in mind, Bharat keyboard has launched a range of keyboards, including the Marathi keyboard app, that has surpassed perfection.
Starting with privacy, the keyboard is secure and data entered in secure fields are blocked from being accessed anywhere. This is assuring, given that secure data is the most important amongst the things we try to hide. The keyboard has also received awards for its privacy management, available to read on its website.
The Marathi keyboard app does the job of typing in more ways than one can imagine. Swipe typing makes English and Marathi typing fast, and the transliteration keyboard converts English to Marathi instantly. The speech-to-text feature writes the messages you speak. Just click on the mic button, select the output language, and start speaking, the keyboard will do the rest of the job. Such typing solutions help you forget that messaging used to take time on your old keyboard.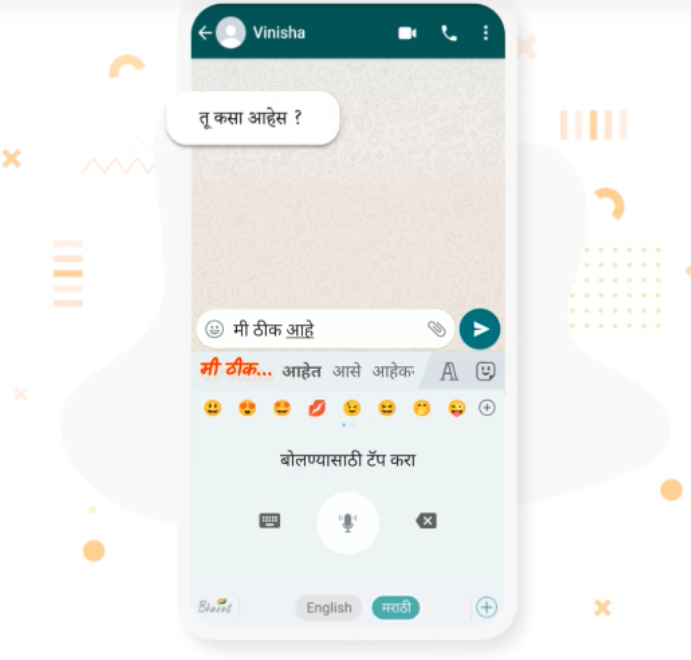 Stickers are another exclusive feature you get after Marathi keyboard download from Playstore. Making conversations fun is the goal Bharat keyboards have, and they do exactly that. Sticker packs on festivals, such as Onam, Raksha Bandhan, Eid, etc. as and when festivals arrive, make those group messages extra special. The soul of such stickers is an avatar. They are animated selfie stickers of yourself. Once you send them in your groups, it won't be a random face looking at your loved ones but yours. This will instantly bring a smile to their faces.
The keyboard also lets you send texts up to 25 characters as stickers. Instead of sending 'Okay', 'Good morning' as messages, send them as decorated stickers called Pop-texts. Also, instead of using simple emojis, make them bigger and more natural by long-pressing them. These are called Bigmojis and are shared as stickers.
To get more comfortable with your keyboard, personalizations can be done in any way you want. You can also add background images to your keyboard, without any hesitation of privacy infringement. Themes, colors, and button adjustment, all kinds of changes are possible. You will be asked to personalize the app while enabling the keyboard itself, so that get in the grove almost instantly.
The Marathi keyboard app might be the safest and most dynamic keyboard on Playstore. The user ratings speak for themselves, with more than 4.5 and over 500 thousand downloads. What is fascinating is attention to feedback and implementation. Extra but precious tools like Covid resources are also present on the Marathi keyboard app. This definitely seems like a cherry on top, for a 3-tier cake like this one.