ASRock's Compact DeskSlim and DeskMeet PCs Feature Ryzen 7000 Processors and PCIe Gen5 Solid-State Drives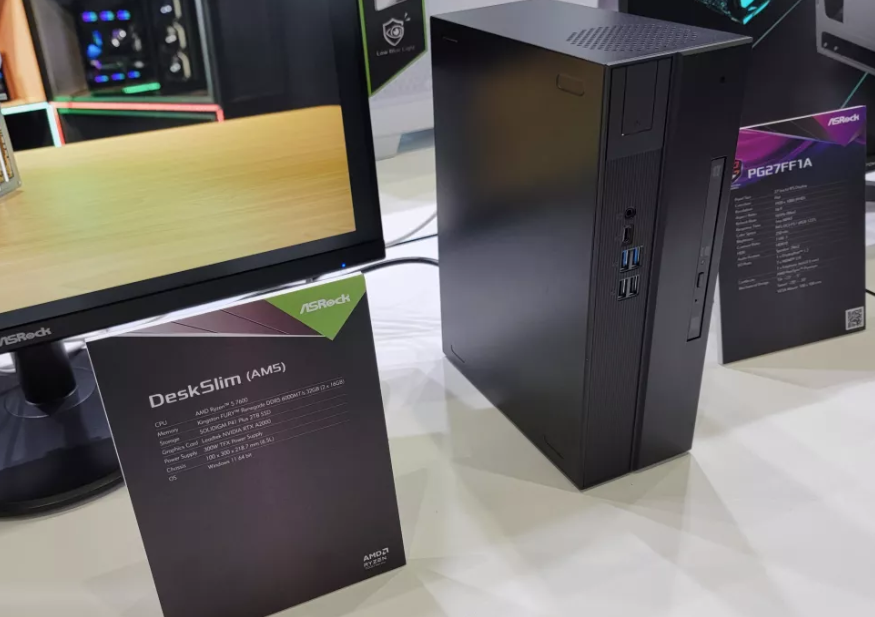 At Computex, ASRock debuted its brand-new DeskMeet and DeskSlim tiny personal computers, both of which are powered by AMD Ryzen 7000-series processors. They have a maximum thermal design power of 65 watts, a discrete graphics card, and a high-performance solid state drive that has a PCIe 5.0 x4 interface. Since the company is exhibiting fully functional devices at the exhibition in Taipei, it is likely that they will be released to the public within the next few months.
DeskMeet personal computers from ASRock are designed to bridge the gap between traditional desktop computers and high-end gaming rigs. Their most recent model is based on an ASRock AM5 motherboard that has a 2.5 GbE, four DDR5 memory slots, two M.2 slots that are both PCIe 5.0 and PCIe 4.0, and both of those slots can accommodate M.2 drives. These machines have significant room for expansion thanks to their size and a power supply that is 500 watts, and they can accommodate rather powerful components such as dual-slot graphics cards that are 20 centimeters long. Despite these capabilities, however, they are not nearly as large as full-fledged desktop computers.
The all-new ASRock DeskSlim is based on the AM5 platform and supports Ryzen 7000 processors with a thermal design power (TDP) of up to 65 watts. However, because it is more compact, it can only accommodate low-profile graphics cards, some of which have very high processing power. They have the added benefit of being able to accommodate a thin optical disk drive, which makes them appropriate for use as home theater PCs as well as, in ASRock's words, business applications. These machines are going to come equipped with a power supply that is 300W.
By custom, ASRock will sell its DeskMeet and DeskSlim desktop computers in two distinct configurations: fully loaded and barebones. ASRock demonstrated its next-generation DeskMeet at Computex 2023. The device featured a Radeon RX 6600 XT Challenger ITX, an AMD Ryzen 5 7600 CPU, 32GB of DDR5-6000 memory, two 2TB PCIe Gen5 x4 drives, and a 2TB PCIe Gen4 x4 drive. Additionally, the device has two 2TB PCIe Gen4 x4 drives. The DeskSlim, on the other hand, comes equipped with an AMD Ryzen 5 7600 central processing unit, 32 gigabytes of DDR5-6000 memory, a 2 terabyte PCIe Gen4 x4 storage, and an Nvidia RTX 4000 Ada Generation low-profile graphics card.