Best Jobs in Sweden for English Speakers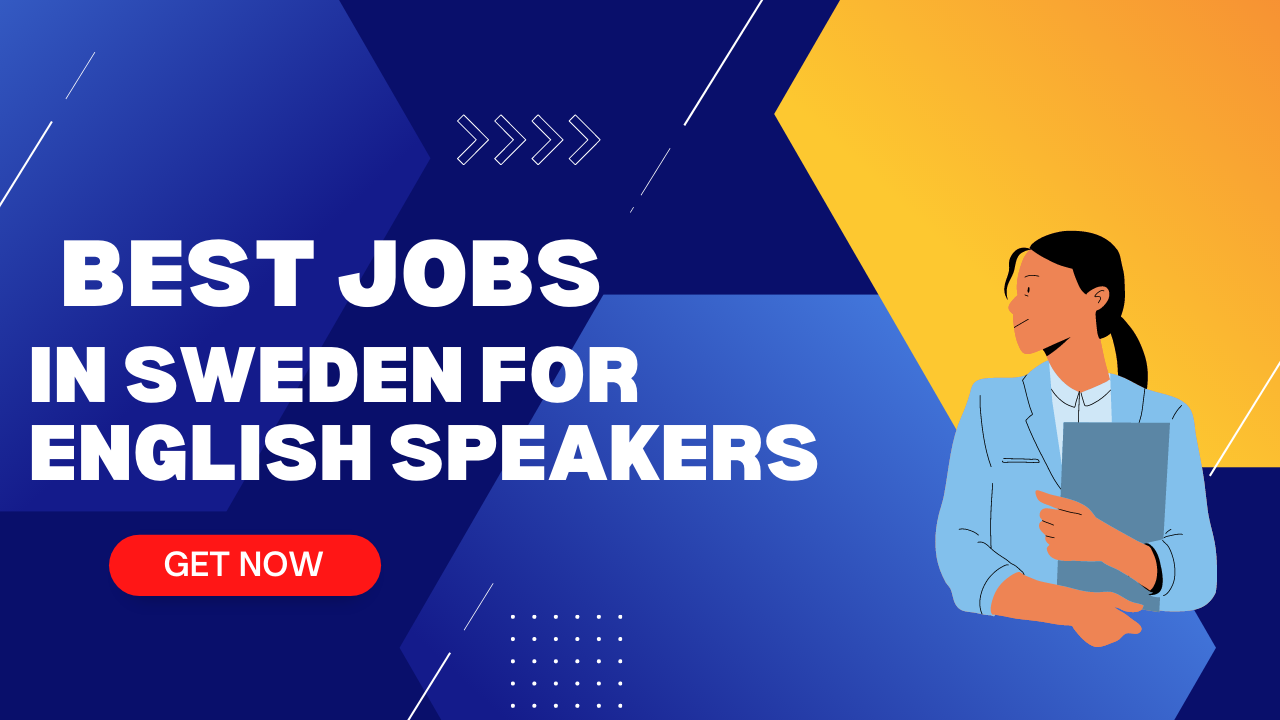 If you have just landed in Sweden and are an English speaker looking to apply for jobs, this guide is for you as most foreigners come to Sweden on a student visa from Asian countries like Pakistan, India, Bangladesh, or china. They seek English-speaking jobs in Sweden.
The first thing that you should do before coming to Sweden is to learn Swedish before landing in Sweden, as high-paying and high-quality jobs are for Swedish speaking. 
If you can not speak Swedish fluently, you should start learning it to get a better job, or you will end up working in a warehouse, etc.
The good thing about Sweden is that you can work in many IT or computing departments.
Best Jobs in Sweden for English Speakers are following
English-speaking software engineers

IT professionals

Tech support personnel in tech-savvy cities like Stockholm
English proficiency is often a requirement for these roles as many international companies and clients require communication in English.
What is the Method for applying for a job in Sweden?
You must get your first Swedish personal number to apply for a job if you are new.
How unskilled get jobs in Sweden for foreigners
Here are the steps that foreign nationals can follow to secure a job in Sweden:
Research and prepare:

 Before you start your job search, familiarize yourself with the Swedish job market, the types of jobs that are in demand, and the requirements for your desired field.

Network:

 Networking is an important aspect of job hunting in Sweden. Reach out to professionals in your field, attend industry events, and use online networking platforms to connect with others.

Learn the language:

 Although many companies in Sweden have a high level of English proficiency, speaking Swedish can greatly increase your chances of finding a job.

Prepare your application:

 A strong CV and cover letter that showcase your skills and experience, as well as your motivation for working in Sweden, will help you stand out from the competition.

Search for job openings:

 You can search for job openings on websites such as Arbetsförmedlingen, Stepstone, or Monster, as well as company websites and through networking contacts.

Apply:

 Submit your application and follow up if necessary. Be prepared to attend an interview in person or over the phone.

Obtain necessary permits:

 If you're a non-European Union (EU) national, you may need a work permit to work in Sweden.
Conclusion
The best way to get a job is to start applying on Linked In.com. Many companies in Sweden are posting jobs on LinkedIn every day. You can apply online from the first day via LinkedIn, and as soon as you get the personal number, you can also apply for a bank account.
It is not difficult to get a job in Sweden because plenty of them exist. Many international companies, like Mcdonald's, usually hire foreigners as well.
Other than that, you can look for jobs at https://jooble.org/ and https://www.glassdoor.com.
Best of luck with your career ahead!