5 Best Warehouse Inventory Management software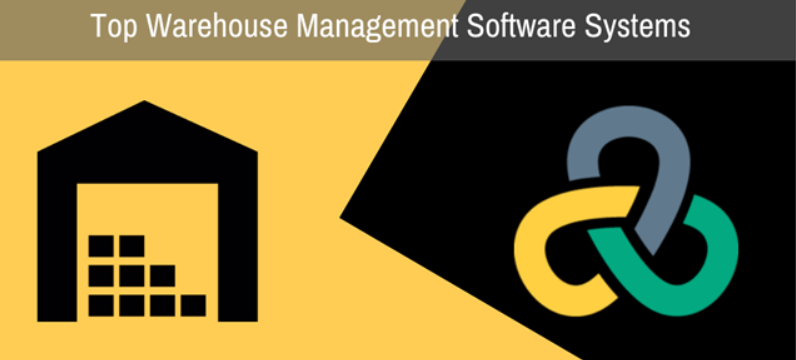 Nearly anything may be found on the internet in our contemporary era of the planet. We purchase stuff from online shopping sites, make payments for the items from any location, and send them back to any location if we decide we do not like the product.
As a result, once we buy an item and then send it back, the relevant information has to be updated right away. This, in turn, is a must for companies in the modern day. In order to satisfy this need, we will want the software that is able to monitor and record all of the activities going place inside the warehouse (Dispatching items, tracking the shipment and sometimes taking it to return).
Warehouse Management System
We are able to better manage all of these processes thanks to Warehouse Management Systems (WMS). The development of an organization's competitive advantage may be aided by the usage of warehouse management systems. The use of WMS will result in a reduction in labour costs, which will lead to an improvement in customer service.
We will have insight to the real-time data, which will reveal the current state of the inventory, thanks to a WMS that is hosted in the cloud. If we have access to the internet, we will be able to see it on various electronic devices such as computers, smartphones, and tablets.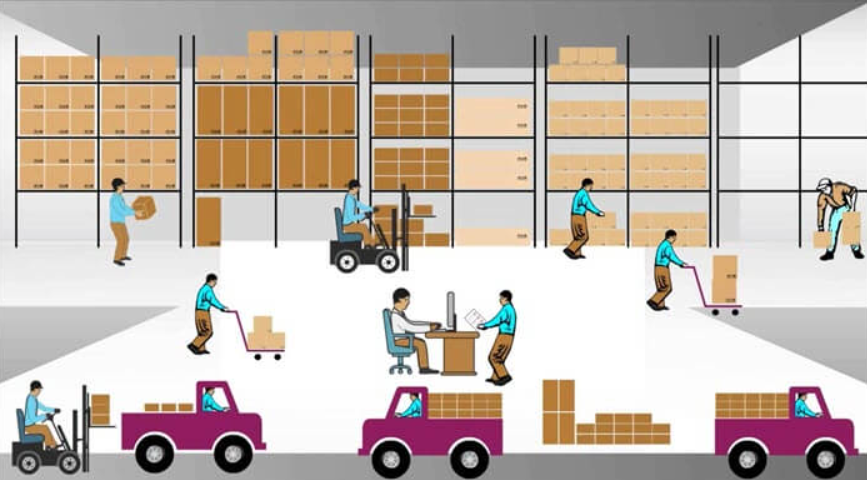 As soon as the material, items, or products enter the warehouse, the warehouse management system will begin recording their whereabouts and status. WMS will monitor the item all the way up till it is delivered to the final consumer.
In the event that it is sent back by the customer, the WMS will begin monitoring it once again until it is delivered to another end customer. As a result, the tasks of WMS include things like receiving products, packaging those items, sending goods out, monitoring the shipment, and updating information about the cargo. A supply chain is a collective term for all of these different functions working together.
Types of WMS
There are three distinct kinds of WMS that may be used by 3PL companies.
Third-party logistics is what is meant by the abbreviation "3PL." Standalone Warehouse Management is the first category, followed by Supply Chain Execution Modules and then Integrated Enterprise Resource Planning for the last category.
Function: Depending on the particular WMS, the functions might vary. Some WMS are tailored specifically for certain categories of companies. Consequently, you should first determine your requirements and then make your selection.
After taking into account the features that your WMS will need, the cost is the second most significant aspect to consider when selecting a WMS since it is related to the budget. The cost of WMS might vary depending on the complexity of the system or the features that it provides.
Customer Requirements: If you are presently using any WMS, then you are required to be aware of its flaws.
On the basis of this, you will be able to determine the requirements of the clients and choose the features of the WMS that will allow you to provide the highest level of service possible to those consumers. This point is similarly about choosing and thinking about different functionalities of the WMS, but this time from the perspective of the client.
Size of the Warehouse: The complexity of the WMS will rise in proportion to the size of the warehouse since bigger warehouses need the WMS to perform a greater number of activities. Because of this, the functions that are available to you will be determined by the size of the warehouse. Consequently, this point is similarly about picking functions, but this time from the perspective of the warehouse.
Top 5 Warehouse Management Systems
Enlisted below are the best Warehouse Management Systems that are available in the market.
#1) Sortly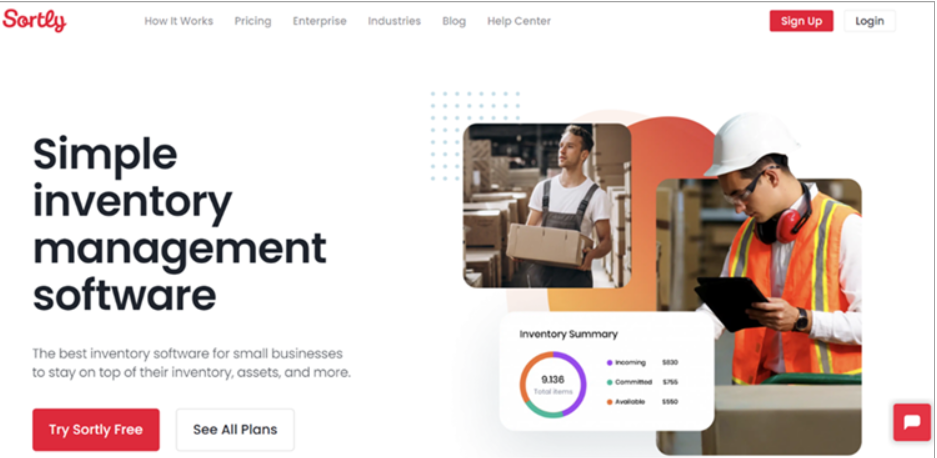 Sortly is without a doubt one of the greatest photo-based and visual warehouse management software options available on the market today for small organisations. You will get a system that is entirely modifiable and is capable of tracking any item or information relating to it across a number of different places when you make use of this programme.
Users of Sortly have the ability to simplify the process of tracking assets by attaching custom data, receipts, and numerous photos to each item. This is possible independent of which warehouse the asset is housed in. In addition, users have the ability to generate and print barcodes and QR labels, both of which may be scanned using Sortly's very own QR code reader, which is built right into the mobile app.
Features
Scan the objects and make any necessary updates using the barcodes and QR labels.
Set up automatic notifications to keep track on the stock levels.
User roles must be assigned, and access permissions must be managed.
Monitor both the stock and the actions of the users.
Make your own reports in CSV and PDF format.
Pros
Very easy to use, no technical knowledge required.
Cross platform software that works on almost all types of devices.
Clean and comprehensive user dashboard.
Easily generate personalized QR labels and barcodes.
A free version is available.
Cons
No integrations
Only help center and email support will be provided unless you opt for their custom plan.
Pricing is as follows: Free for up to one hundred entries, Advanced – $25 per month for up to one thousand entries, and Ultra – $59 per month for an infinite number of entries. Custom plans are also available upon inquiry.
#2) NetSuite WMS

The NetSuite WMS assists in improving the efficiency of the warehouse as well as the manufacturing processes. It provides assistance to the users in completing main operations of the warehouse, such as storing, shipping, and receiving shipments of products. Oracle is the company that developed NetSuite.
Features
Mobile RF barcode scanning.
The definition of a strategy for putting things away and picking them up. This function has three advantages: mobile receiving, mobile picking, and mobile cycle counting. Each of these advantages is described more below.
Administration of Tasks Authorization and Receipt of Returns Cycle Count Plans
In addition, there are other capabilities such as Real-time data, Order management, barcode tracking, billing, inventory management, shipping management, labour and load management, buying, and warehouse maps, amongst others.
Pros
It is simple and very straightforward to put into use.
A warranty is provided by the firm.
The information required to get in touch is readily apparent.
It uses plugins developed by other parties.
warehousing done wirelessly
Cons
it is not an effective ERP. It provides some ERP features but they are not as per the expectations.
#3) Fishbowl Inventory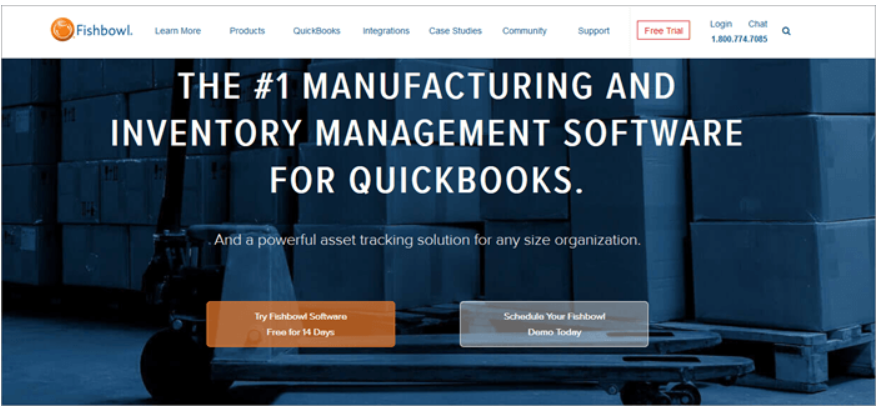 David K. Williams is the founder of the software business Fishbowl Inventory, which has its headquarters in Orem, Utah, in the United States. This system may be scaled to accommodate any kind of organisation. This organisation offers solutions for QuickBooks users' needs in the areas of manufacturing and inventory management.
Features
It provides integration with QuickBooks.
Reporting
Sales and Purchasing
Order Management
Multiple Locations
Multi-Currency
Shipping
Time and Labor
Pros
It offers a free trial to new users.
Both a sales order and a buy order may be placed in any currency that is supported.
Fishbowl offers a wide variety of different plugin items.
Cons
Only the English language is supported by it.
Both the native shipping module and the e-commerce component are not supported by it.
On-premise installation is not available.
Tool Cost/Plan Details: Starts from $4,395/user annually.
#4) 3PL Warehouse Manager

It is a system that is hosted in the cloud and offered by 3PL Central.
It is equipped with sophisticated workflow features and a cutting-edge user interface. John Watkins and Nancy Rohman laid the groundwork in 2006 for what would become 3PL Central. During that time period, they were operating and maintaining their own own warehouse. Therefore, warehousing and inventory management professionals were responsible for developing this system.
Features
Simple growth in size
Integration that is seamless
Accurate billing
Mobile barcode scanning
Management of the many sites, as well as the multiple warehouses and consumers, that are centralised.
Accurately scanning, packaging, and checking each cargo before it is sent out.
You are free to handle your orders and inventory from any location and at any time.
It offers assistance with the integration process with EDI service providers.
Pros
It is not difficult to extend the capabilities of the system or to update the software.
It is simple to put into use.
You are able to get access to data and manipulate it at any time and from any location.
Cons
In order to make advantage of this technology, training is necessary. The billing portion, in particular, is incredibly difficult to understand.
This is for smaller enterprises and storage facilities.
Tool Cost/Plan Details: Contact the company for its pricing information.
#5) Softeon

Innovative services and solutions for the supply chain are provided by Softeon. The United States of America is home to Softeon's headquarters. Cloud computing is the foundation of the Softeon Warehouse Management System.
Features
It is a system that was born on the web.
Manages intricate aspects of inventory in an organised manner.
Architecture capable of scaling up
Order management
Monitoring of production output
Task management
Integration that is completely seamless in order to automate material handling systems.
Pros
The customer service offered by Softeon is of a very high quality.
It is able to handle a large number of orders simultaneously.
The likelihood that this system will call for continuous assistance has been significantly lowered thanks to this update.
It has also resulted in a cost reduction.
Cons
The implementation procedures are not up to the standards that were expected.
The tool does not include any capabilities related to billing administration.
The system is incompatible with both Mac OS and Linux OS operating systems.
Tool Cost/Plan Details: Contact the company for its pricing information.
FAQ's
Which software is used for warehouse management system?
All of the main WMS providers, including IBM, Microsoft, Oracle, and SAP, provide customers with a selection of deployment choices, one of which is the use of cloud-based systems. Fishbowl, HighJump, and SnapFulfil are examples of WMS companies who operate mostly in the cloud or exclusively in the cloud.
What is adnoc WMS?
The Work Management System (WMS ADNOC Refining) course that is provided by the National Centre for Management & Training will assist you in gaining an understanding of how this official document permission is utilised for the purpose of safely carrying out a variety of hazardous activities that are located within an area controlled by ADNOC Refining concession area.
What WMS does Walmart use?
The Logiwa Cloud Fulfillment Platform is a fully integrated WMS and order fulfilment system that gives businesses the ability to develop their direct-to-consumer businesses and conduct fulfilment operations without having to hire extra staff.
Conclusion
As the essay on Warehouse Management Software Systems draws to a close, it is possible to state that Oracle's NetSuite WMS provides all of the necessary capabilities, including wireless warehousing, with a money-back guarantee. If you are concerned about your safety, then Manhattan Associates is the company that can best meet your needs.
If you desire a high degree of customisation in your process, TECSYS WMS is the solution that will work best for you. If you want to add any certain capability to your system, Astro WMS will be the most suitable choice for you to choose.