How to Back Up Facebook Account Data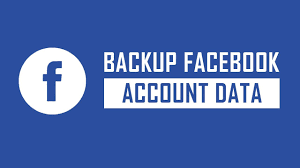 This post will teach you how to download all of the information that you have stored on Facebook so that you may use it as a backup.
Read Also: How to Create a Poll on Facebook
How to Back Up Facebook Account Data on the Web
You can have your own offline copy of the photos and other content you posted to the social media site in one folder that you can easily store on a CD, DVD, or computer if you're planning to delete your Facebook account or if you just want a backup of all of your data from the social network. This is possible regardless of whether you intend to delete your Facebook account or just want a backup of all of your data from the social network.
The following steps will walk you through downloading an archive of all of your stuff that is stored on Facebook using a web browser:
1. Launch a web browser, navigate to Facebook's website, and sign in to your account there.
2. To access your account, click the Account icon located in the upper-right corner (downward facing triangle).
3. Choose Settings & Privacy from the menu that drops down from the top.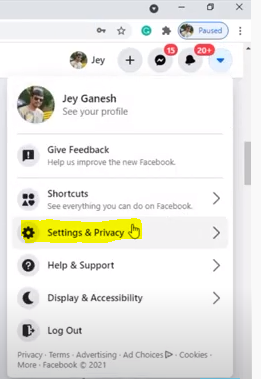 4. Choose Settings > Privacy from the drop-down menu located in the middle of the Settings & Privacy screen.
5. Choose Your Facebook Information from the list of options in the left pane.

6. Select View next to where it says Download Profile Information.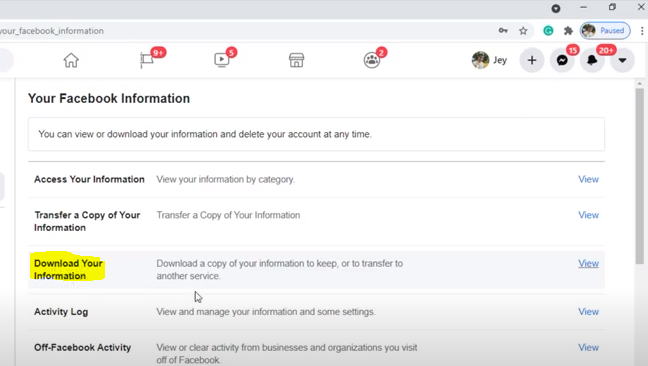 7. Choose the appropriate options for the Date Range, Media Quality, and Format from the respective drop-down menus.
8. Simply scrolling down will reveal that all of the information types are, by default, checked to be downloaded. Uncheck the boxes that are next to the content that you do not want to download if you do not want to download it all.
9. Select the Create File option when you have determined the date range you wish to download and the type of data you wish to download.
10. There is a chance that it will be several days before Facebook sends you a notification informing you that your download is ready. To download the copy of your data that is protected by a password, simply follow the instructions given in the message.
FAQs
Do I need to backup Facebook?
It is imperative that you create a backup of your Facebook account at least twice a year in the event that your account is compromised (or in the event that Mark Zuckerberg decides that he has amassed sufficient wealth and wants to shut down the entire operation). Once a month, I make a backup of my Facebook account to ensure that I will not lose any of the most recent images or posts from my account.
Is there a way to backup Facebook photos?
Simply navigate to the top right of any Facebook page and select the Account menu.
Select Settings for Your Account.
To download a copy of your Facebook data, click the Download a copy button.
Simply click the Start My Archive button.
How long before Facebook is back up?
You won't be able to access your Facebook account for twenty-four hours after completing a security check; first, you must wait. During this period, your Facebook profile will continue to be viewable by your friends on the platform, but you won't be able to access it yourself.
Can you download all your photos from Facebook?
You can download all of your pictures at the same time.
Click the arrow pointing downwards in the top right corner of the Facebook website, and then choose the "Settings" option from the drop-down menu that appears. You can also access the settings by going to Facebook.com/Settings directly. At the bottom of the "General Account Settings" page is a link that says "Download a Copy of Your Facebook Data." Click this link.
What happens to your photos when you deactivate Facebook?
Delete your account on Facebook completely.
Facebook will keep a copy of all of your information, including settings, images, and information, even after you deactivate your account, just in case you later decide to use it again. Your information is not lost; rather, it is simply concealed. Nevertheless, it is possible to erase your account completely and irretrievably, with no other options available.
Can I delete my Facebook and keep my photos?
You have the option of downloading everything to your computer as an archive before you deactivate your Facebook account if you would like to save any of the information and data that is associated with it. Facebook is able to download the posts, photographs, and videos that you have published, as well as the messages and chat discussions that you have had, information from the About area of your profile, and even more.