How To Change Name on PayPal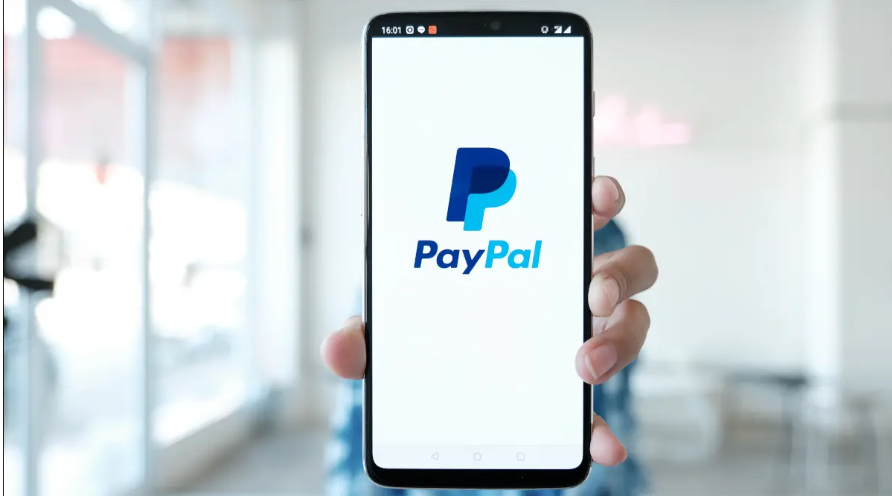 You are unable to alter your PayPal username; however, you are able to modify the display name that is linked with your account and you are also able to disable the PayPal.Me link that is associated with your account. We'll walk you through the steps needed to complete this action in your PayPal account. If you would want to alter the display name associated with your account, PayPal may request that you supply supporting papers to demonstrate that the new name you would like to use is legal. This is due to the fact that PayPal does not want users to conceal their identities or impersonate other individuals when using their platform. Once the PayPal.Me link has been generated, you will not be able to make any changes to it. However, if you do not want other people to use the link to give you money, you have the ability to disable it. In this section, we will go through how to do that.
How To Change Name on PayPal
It is possible that you may be requested to produce a government-issued document proving your new name before your legal name can be updated in your PayPal account. This document may be a picture identification, a marriage certificate, or anything else along those lines.
This document should have at least one of the following facts, depending on the circumstances: a picture of you, your full legal name (first and last name), date of birth, date issued or expiration, your signature, and your identification number. Additionally, when you submit this document to PayPal, it cannot be beyond its expiration date.
When you have all of the necessary paperwork on hand, you can begin the process of changing your name on PayPal by opening a web browser on your device and going to the website for PayPal. You may access your account by signing in to the website.
Click the "Settings" link in PayPal's upper-right hand corner after you have successfully signed in (a gear icon).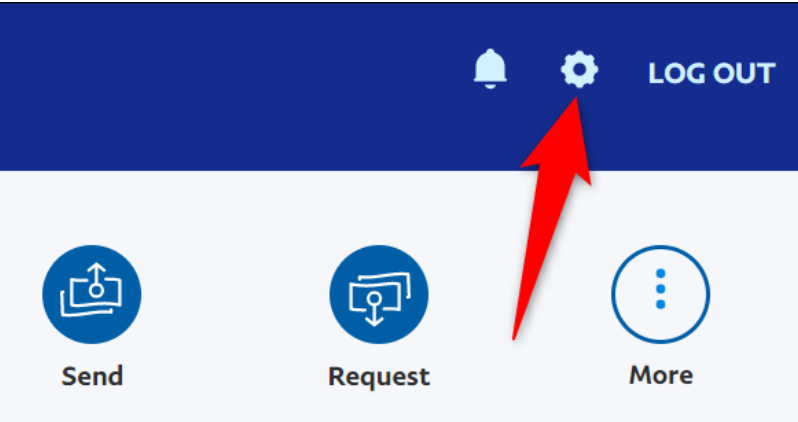 Click the "Change Name" button that is located next to your current name on the next page.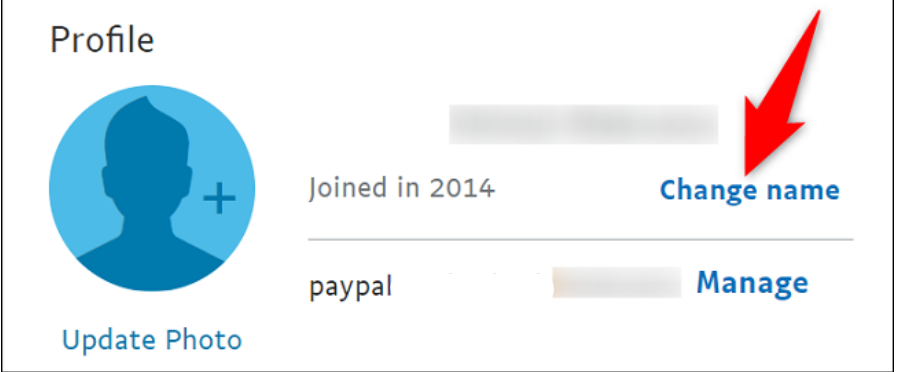 Selecting a name change type will take you to a new screen. Change the name of your PayPal account in this section by selecting the appropriate option. Depending on the option you choose, PayPal will ask for more information.
If your legal name has been formally changed, you should choose "Change Your Legal Name." If you initially registered with a different name and now wish to use your true name, choose "Update Your Name." Regardless of the scenario, PayPal will want proof of your identity. In order to edit one or two characters, you can only use the "Make a Minor Correction" option which does not need papers.
We will go with the "Change Your Legal Name" option that is presented to us.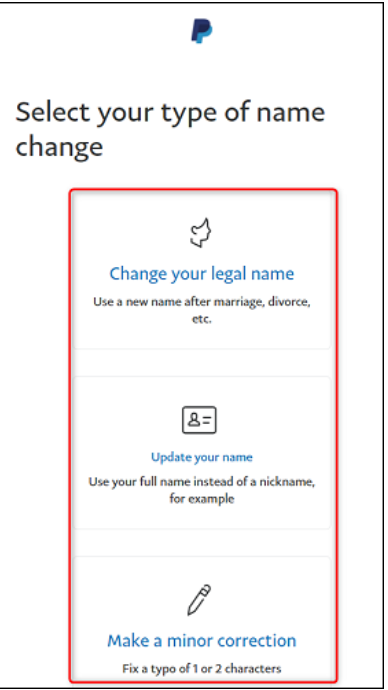 You may legally alter your name in your account by reviewing the document(s) that you are required to submit on the page that appears and is titled "Update Your Name." After that, choose the files you want to upload by clicking the "Choose File" button.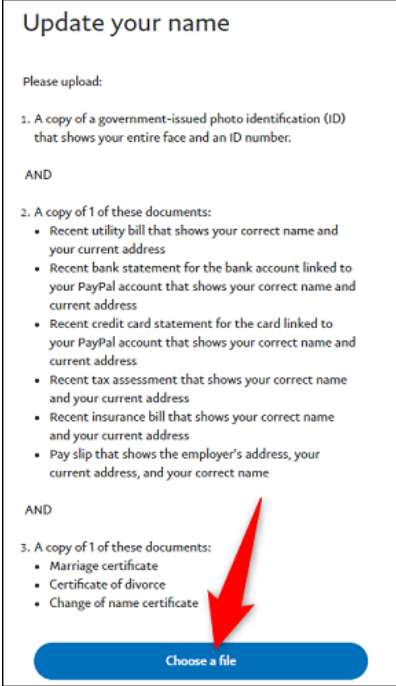 To finalise altering your name, follow the steps that appear on the screen. When your request is processed and accepted by PayPal, the account will be updated to reflect your new name.
And that brings the discussion to a close.
Read More: How To Change Name On Twitter