How to Change the Double-Tap Action on Apple Pencil for iPad Pro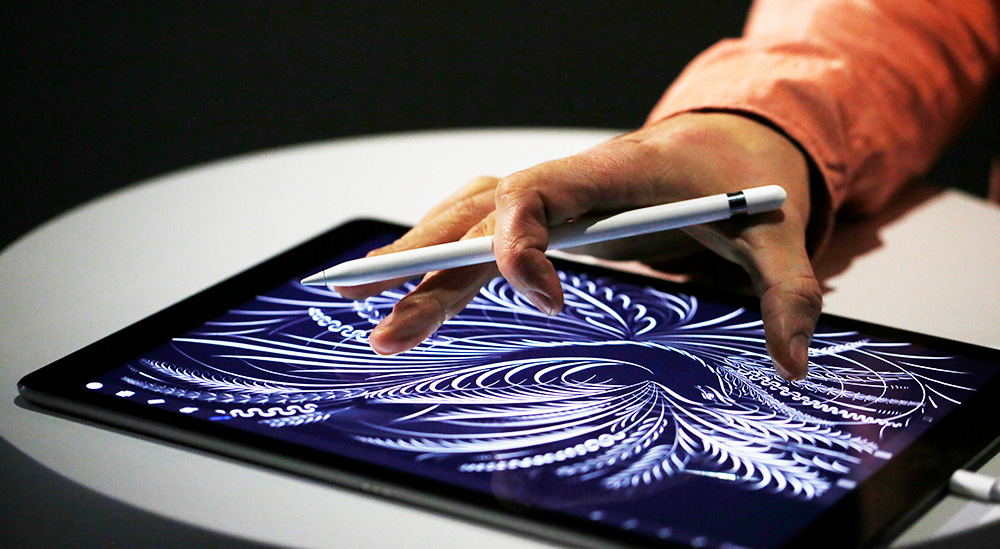 The Apple Pencil, now in its second version, can be magnetically attached to the most recent iPad Pro. However, there is a button hidden on the flat side of your Apple Pencil that you may have overlooked. Here's how to modify the double-tap action on your Apple Pencil to suit your needs.
Read Also: How to Check your Apple Pencil Battery
How to Change the Double-Tap Action on Apple Pencil for iPad Pro
Open the "Settings" app on your iPad Pro to make modifications to the behaviour of a double tap. Use the built-in Spotlight Search function on your Apple device if you are unable to locate it on the home screen of your device. If you have paired and linked your Apple Pencil to your iPad Pro, the Settings app will display a "Apple Pencil" area in the app's sidebar as long as those conditions are met. Tap it.
You should now see a section labelled "Double-Tap." From this point forward, you can select either the "Switch Between Current Tool and Last Used" or the "Show Color Palette" option from the available menu choices.
You have the option of turning off the double-tap action button by tapping the "Off" button in the event that you find it to be too obnoxious or that it gets in the way of your writing or sketching. It is worthwhile to switch to the double-tap action that was most recently utilised if you use your Apple Pencil quite frequently. When you use an app for highlighting or drawing, you often choose between two different tools.
Launch one of your most-used Apple Pencil applications, and then choose a tool from your collection of most-used Apple Pencil accessories once this functionality has been activated (like the pen tool). Next, choose another tool that you make frequent use of (like the fill colour tool). You no longer need to touch the screen of the iPad at any point in order to switch between the two tools because all you have to do now is double-tap the action button.
Explore the Double-Tap Option in Pro Apps
Apple has enabled third-party developers to access the double-tap action functionality on iOS devices. Certain applications will make direct use of the preferences you've set in the Settings app. Therefore, once you move to the option that was most recently used, it will continue to function normally in third-party applications as well.
For instance, PDF Expert 7 is equipped to handle double-tap actions and will present you with an informative dialogue box the very first time you employ the feature.
On the other hand, several apps allow you to correlate specific features with the double-tap actions that only operate within the provided app. These features can only be accessed by using the app in question.
For example, LiquidText enables users to transform the double-tap action into an Undo button, which is a feature that might come in quite helpful when using the app for annotating and taking notes.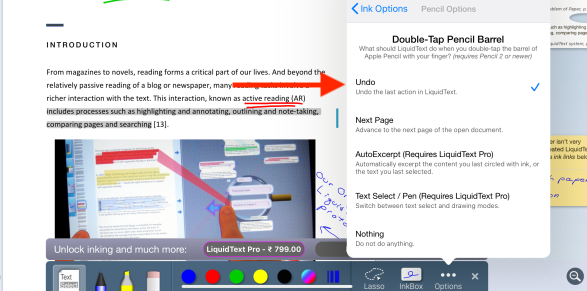 Because Apple chose to design this secret feature in such a way, the functionality is not entirely consistent. You should devote some of your time to experimenting with the many settings that are available in the apps that support Apple Pencil. There is a possibility that the action of double-tapping will lead you to a truly helpful or time-saving shortcut.
After gaining the knowledge necessary to make your Apple Pencil more functional, you can take things to the next level by utilising the Sidecar app. You may now link your iPad Pro to your Mac by using the new Sidecar capability, which was included in macOS Catalina and iPadOS 13.
Once you've linked the two devices, you'll be able to view the screen of your Mac on your iPad Pro and draw straight within programmes on your Mac using your Apple Pencil.
FAQs
Why is my Apple Pencil not double tapping?
There is a high probability that you did not charge the Apple Pencil, which would result in the Double Tap Apple Pencil feature not functioning properly. As a result, the only thing that can be done is to plug it into its charger and let it sit for a time before checking on it and attempting to use it again.
How do I calibrate my Apple Pencil on my iPad?
Re-pair Apple Pencil
Launch the Settings app on your iPad, and select Bluetooth from the list of options. Locate Apple Pencil in the list of connected devices and then select the blue info button that is located next to its name.
How do I adjust the touch sensitivity on my iPad pro?
It can be found in the "Physical and Motor" section of the table. Select 3D & Haptic Touch from the menu to get started. This will access the touch sensitivity options for your device. You can activate or deactivate the feature by tapping the 3D Touch switch.
Does Apple pencil have pressure sensitivity?
Drawing, taking notes, and annotating documents ought to feel natural, accurate, and enchanted; Apple Pencil establishes the benchmark for how this should be possible. All of this with a lag that is unnoticeable, precision that is pixel flawless, sensitivity to tilt and pressure, and support for palm rejection. Extremely simple to utilise and always there for use whenever creativity calls for it.