How to factory reset AirPods or AirPods Pro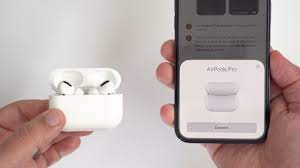 Apple's AirPods are a great product that has the potential to be even greater. One of the few flaws is that it can't be factory reset, meaning all your data will stay on them unless you delete it manually. This article explains how to do just that.
How to Factory Reset Apple AirPods
If your AirPods are not working, you might want to reset them. A factory reset might solve battery problems or make the sound better. Sometimes a factory reset can fix something else too!
With a wireless case, you can charge your original AirPods or the new Airpods Pro. Do not use the old USB charging case that was for first and second generation. It's no longer available.
Easy steps to Reset Your Apple Airpods
1. Place your AirPods in their charging case and close the cover.
2. Wait 30 seconds before opening your case's lid.
3. On your iPhone or iPad, go to Settings > Bluetooth and select the blue i next to your AirPods. (If you don't see your AirPods in Settings > Bluetooth, just continue.)
4. Tap Forget This Device, and then tap it once more to finalize your choice.
5. Hold down the button on the back of the case for about 15 seconds, or until the status light flashes amber and then white with the lid open.
FAQS
Do I need to reset my Airpods to sell them?
Your Airpods are not linked to your iCloud account and do not store any personal information, unlike other Apple devices. It's because of this that resetting your Airpods isn't required before giving or selling them.
Your Airpods are now compatible with the new owner's iPhone, which is all they need to do. Of course, it's a good idea to remove them from your Bluetooth list on your iPhone so they don't get mixed up with a new pair.
Can I pair my Airpods if one of the buds is missing?
Before you reset your Airpods, keep in mind that you won't be able to re-pair them if one of the buds is lost. You may get a replacement from Apple or purchase one from your local Apple Store if you lose one of your Airpods or have an issue with it.