How to Get Your Snapchat Streak Back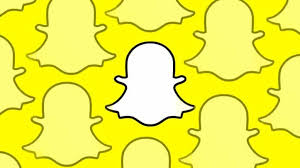 If you've lost your Snapchat streak, don't worry – you can get it back! In this article, we will walk you through the steps necessary to restore your Snapchat streak. We know how important streaks are to many users, so we want to make sure that everyone has all the information they need to get their streaks back. Follow these simple steps, and you'll be on your way to restoring your Snapchat streak in no time!
Read Also: How To Remove Quick Add On Snapchat
How to Get Your Snapchat Streak Back on Mobile
If you want to restore your Snap streak after it has been interrupted, here is a step-by-step procedure to follow:
1. You can access your Snapchat profile by logging in with the correct credentials.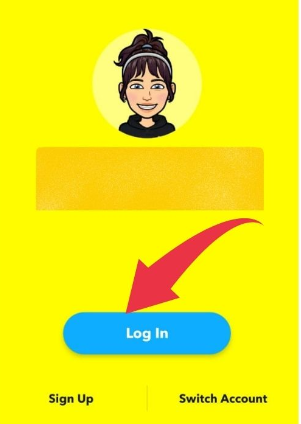 2. Please take note that by default, the camera on Snapchat will open first. You can navigate using the menu located at the bottom of the screen.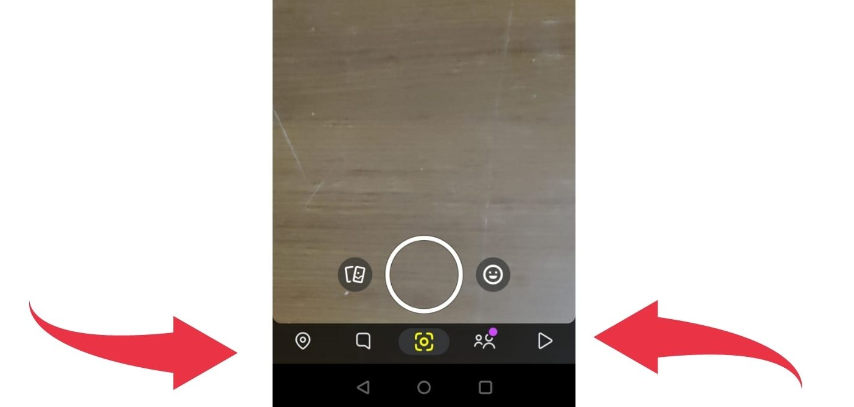 3. You may find a chat sign on the screen by looking at the bottom of the screen where it says "bottom." This icon will bring up a list of other Snapchat users who you can chat with.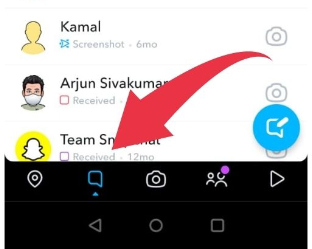 4. Now, in the top left corner of your screen, you'll want to tap on your Bitmoji, which may also be referred to as your profile icon.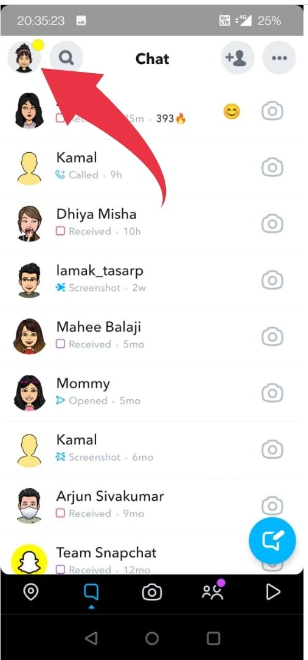 5. You will be able to view your profile page in the screen that follows. Look for a button labelled "Settings" in the top right corner of the screen, and then click on it.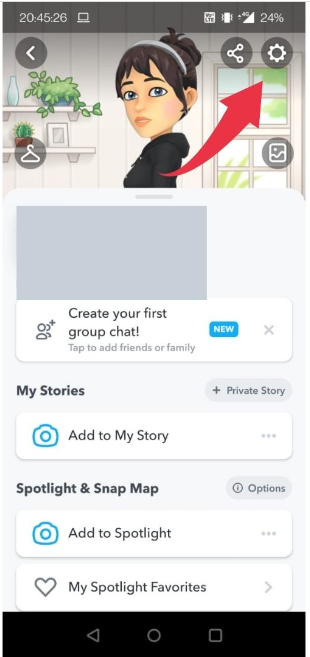 6. If you scroll down, you will eventually reach the "Support" area. After you have done so, click the option that reads "I need help."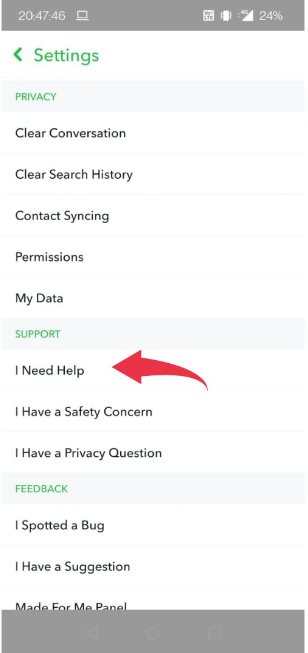 7. This launches a new page that provides Snapchat's help and support documentation for users.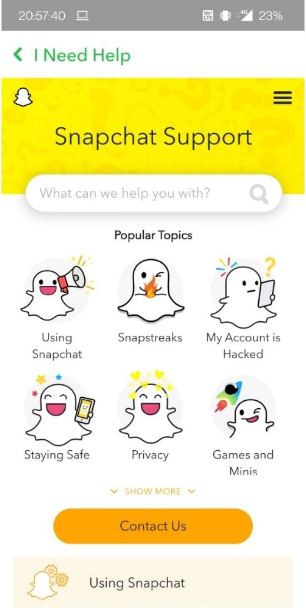 8. Select "Snapstreaks" from the provided list of categories to view all of the support guides that are associated with streaks that are currently accessible.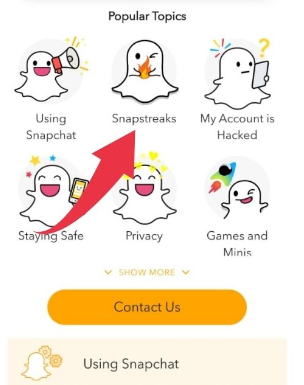 9. Find the question that asks "What if my Snapstreak lost but I know we've sent a Snap (not Chat) back and forth within the 24-hour window?" and read it carefully. Now, proceed to click on the "Let Us Know" button.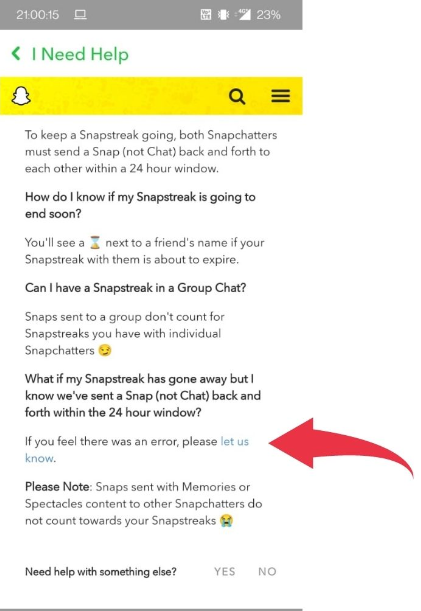 10. You need to choose the option that says "I lost my Snapstreak" on the Snapchat support page, which can be found on the following page under the heading "Contact Us."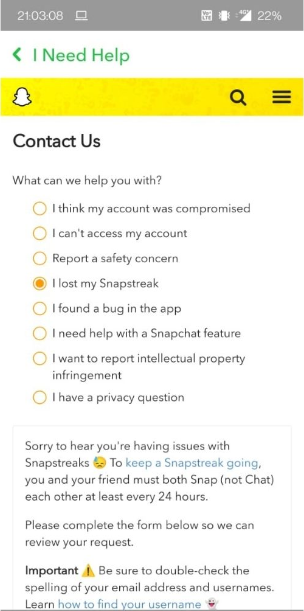 11. You will find a form prompting you to provide details such as your Snapchat username, email address, phone number, details of the smartphone you currently use, and the username of your friend's Snapchat account (the one with whom you lost a streak with), among other things, as the next step. The form will ask you to provide these  details.
12. To submit your request to reactivate the streak, you will need to fill out the appropriate information and then click the "Send" button.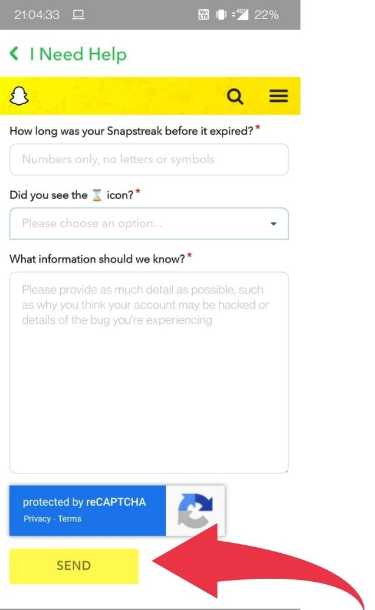 Please be aware that you are only permitted to use the username of a single buddy when making such a request. In the event that your streaks were broken with more than one friend, you will need to send in additional requests.
FAQs
Can I restore my Snapchat streak?
Users who have lost their Snapstreaks can, thankfully, get them back. It would appear that Snapchat users are able to communicate directly with the development team should they experience any difficulties while using the service. Snapchat users who have lost their Snapstreak can utilise this tool to report it, and if they're lucky, they'll get it restored within the next day.
How do I regain my streak back?
Visit the Snapchat Help Center. You will be presented with a selection of probable issues; select "My Snapstreaks Disappeared" from this list. Below the information about Streaks, a contact form will load automatically. This will require basic information about your account, such as your username, email address, cell phone number, and device, followed by particular information on the Streak.
How many times can you restore a Snapchat streak?
If you've lost your Snapstreak on Snapchat, here's how to get it back and continue using it. The first piece of bad news is that if you lost your streak because you or a buddy did not send a Snap for more than 24 hours, there is really nothing you can do to restore your streak. If this happened to you, there is no way to get it back.
What is the longest Snapchat streak?
The streak function of Snapchat was first released on April 6, 2015, and as of May 2022, Amy Brogan and Adao Barai Dafe hold the record for the longest streak with 2597+ consecutive snaps, which is the longest streak that has been recorded up to this point.
Do Snap streaks go past 1000?
What happens if you and someone else keep the same Snapchat streak going for a thousand days? There is, however, a mountain emoji that appears next to a person's name if they have maintained their streak for more than one hundred days. This is obviously meant to denote some type of significant achievement.
Do videos count as streaks?
The number of consecutive days that you and a friend have been sending snaps to one another is referred to as a "Snap Streak." Sending snaps to one another is the only way to keep a Snap Streak alive; voice calls, video calls, and chats do not count.