How to Set Up and Enter Custom Game Codes in Overwatch 2

Although the very competitive nature of Overwatch 2 is a major draw for many players, there are occasions when you might want to take a more casual approach to the game with a large number of your close friends. Even if there is always the possibility of entering Quick Play or Competitive Play through matchmaking, it may be preferable to be able to set up a lobby for just your group so that you have a bit more control over the situation.
You can input one of the several available Custom Game Codes in Overwatch 2 to gain access to a personalised lobby. These customised lobbies, in contrast to the regular 5v5 matches, come with their very unique regulations. You may use them to practise the mechanics of the game, such as movement and aim, or you could play them with your friends to have some fun. However, a number of players questioned where exactly they were supposed to enter these codes. If you are also one of them, then this tutorial will assist you in accomplishing what you need to do. So let's get started:
Read Also: How to Change the Crosshair in Overwatch 2
How to Set Up and Enter Custom Game Codes in Overwatch 2
Set Up Custom Code: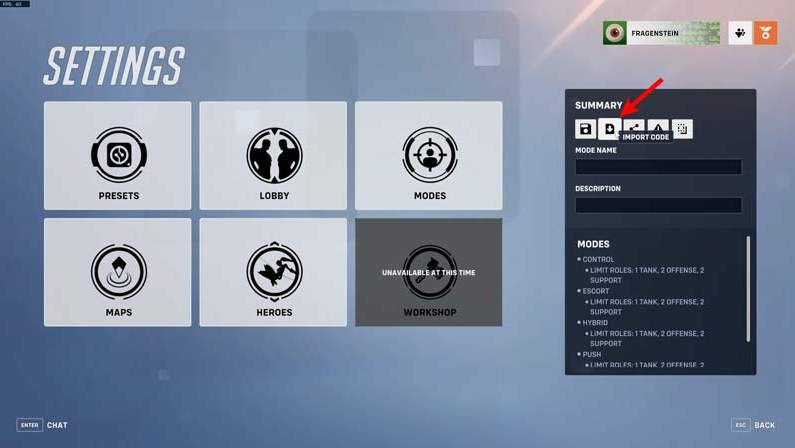 You can play against bots or other people using these codes in order to test out new characters, weapons, and skills, among other things. In addition, there are specific stages in the game that will teach you how to dodge and counter-strafe against foes so that you can evade their strikes. If you can have a handle on these mechanics, you'll have a significant advantage in competitive bouts. Consequently, in addition to being entertaining, the use of these codes can significantly assist you in improving your performance.
Enter Custom Game Codes: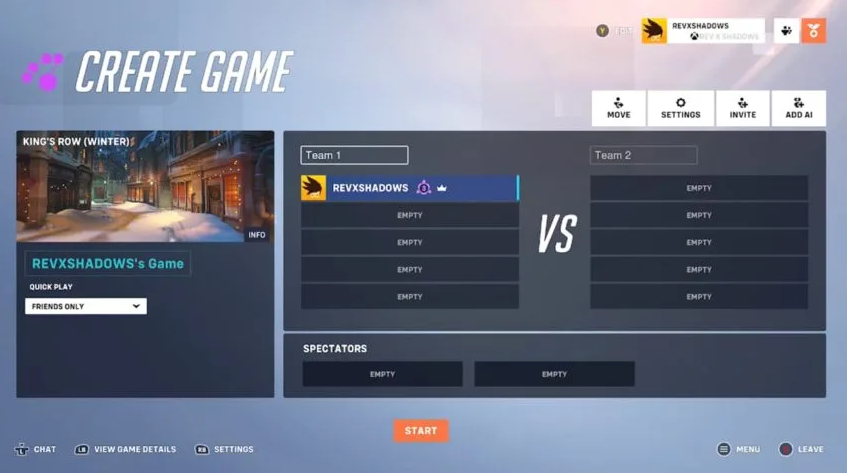 Launch Overwatch 2.
After pressing Play, navigate to Custom Games.
Next to the search bar is a button labelled Create. Click on that.
After that, select the Settings option to continue.
Click on the symbol that looks like it has a down arrow in the Summary tab of the Settings Menu. This icon is designated as the Import Code.
Make a copy of the code, and then paste it into the newly opened window.
Select the OK button.
The customized game should then be saved by selecting the Summary tab and selecting the Save Preset button.
After providing the game's title and choosing an appropriate category, click the Save button.
After that, you need to exit out of it and re-enter the game by pressing Start.
FAQs
Does Overwatch 2 have Custom Games?
With the introduction of Custom Games in Overwatch 2, players now have the ability to enter custom game types by entering a code that is specific to their account.
Are there bots in Overwatch 2?
Killing ten of the robots in the practise area is a prerequisite for moving on to the next level. On the other hand, I would recommend devoting somewhat more time than that to practising on the driving range. Examine each of the heroes that are at your disposal and see which ones you prefer. Before you begin playing a game, you should familiarise yourself with a few of the controls, if you are able to do so.
Is Overwatch 2 going to be paid?
Overwatch 2 is a live game that is always on, completely free to play, and always being updated. Participate in the redesigned player versus player experience by banding together with your friends on any platform.
Does Overwatch 2 have 1 tank?
The transformation from a 6v6 to a 5v5 match format, with each team having one less tank than they did in the previous version, is one of the most significant changes made from Overwatch to Overwatch 2.
How many GB is Overwatch 2?
When Overwatch 2 was downloaded on October 6th, its size was stated to be 22.5 gigabytes (GB). However, before players can download Overwatch 2, Blizzard Entertainment recommends that they have a minimum of 50 gigabytes of free space on their hard drives. The game requires a greater amount of storage space on your solid-state drive because it has a storage footprint that is somewhat larger.
Is Overwatch 2 like fortnite?
Overwatch 2 will employ the seasonal Battle Pass model, which is also used by competitors such as Fortnite, Valorant, and Apex Legends. This model requires players to pay a subscription fee in order to gain in-game benefits such as skins and voice lines. In spite of its unpopularity, the Battle Pass idea is one that I find appealing in concept.