Kioxia Announces 2nd Generation 24G SAS SSD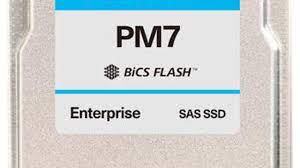 Kioxia Corporation today announced that its KIOXIA PM7 Series of enterprise SAS SSDs are now available for evaluation by customers, following a successful beta test period. Aimed squarely at high-performance computing, artificial intelligence, cache layer, financial trading and analysis and other business-level applications and use cases, the new drives deliver better overall performance as well as reliability and security to corporate servers and storage. The PM7 Series is FIPS 140-2 certified and is now undergoing testing for FIPS 140-3 certification, which places a strong focus on security.
24G SAS (SAS-4) is a high-bandwidth interface designed for current information technology infrastructures that twice the effective capacity of 12Gb/s SAS (SAS-3). The PM7 Series, which uses Kioxia's 5th generation BiCS FLASHTM 3D flash memory, provides sequential read performance of up to 4.2 gigabytes (GB) per second (GB/s) and random read performance of up to 720K IOPS, representing a performance improvement of approximately 20% over the previous generation KIOXIA PM6 Series. The new Kioxia drives are available in sizes ranging from 2TB to 30.72TB, making them the biggest capacity 2.5-inch SAS SSDs on the market.
Additional characteristics include the following:
Dual-port to support redundancy for storage systems that require high reliability.
Flash Die Failure Protection – a Kioxia feature that allows for transparent disabling of a failing flash chip, while maintaining full reliability at the SSD level.
Endurances for a wide range of workloads; read-intensive (1DWPD) and mixed-use (3DWPD).
Security options available; sanitize instant erase (SIE), TCG Enterprise self-encrypting drive (SED) and FIPS 140-2 certification. FIPS 140-3 certification is in process and is expected to be completed in 2022.
Among the industry associations that Kioxia participates in are the T10 and SCSI Trade Association, which are in charge of defining and leading SAS development initiatives, as well as pushing innovation and development of the SAS interface.