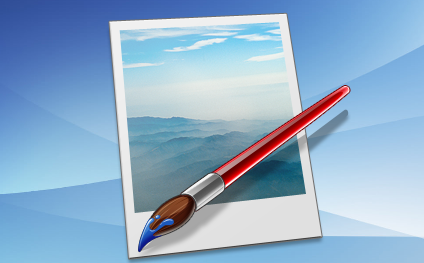 Paint.NET is a picture and photograph control application. Each component and UI component was intended to be promptly instinctive and rapidly learnable without help. So as to deal with various pictures effectively, Paint.NET utilizes a selected report interface. The tabs show a live thumbnail of the picture rather than a content portrayal. This makes route basic and quick.
Normally just found on costly or confused proficient programming, layers structure the reason for a rich picture synthesis experience. You may consider them a pile of straightforwardness slides that, when seen together in the meantime, structure one picture.
Numerous enhancements are incorporated for improving and idealizing your pictures. Everything from obscuring, honing, red-eye expulsion, contortion, clamor, and embellishing are incorporated. Likewise included is our interesting 3D Rotate/Zoom impact that makes it simple to include point of view and tilting.
Alterations are additionally included which help you change a picture's splendor, differentiate, tint, immersion, bends, and levels. You can likewise change over a picture to high contrast, or sepia-conditioned.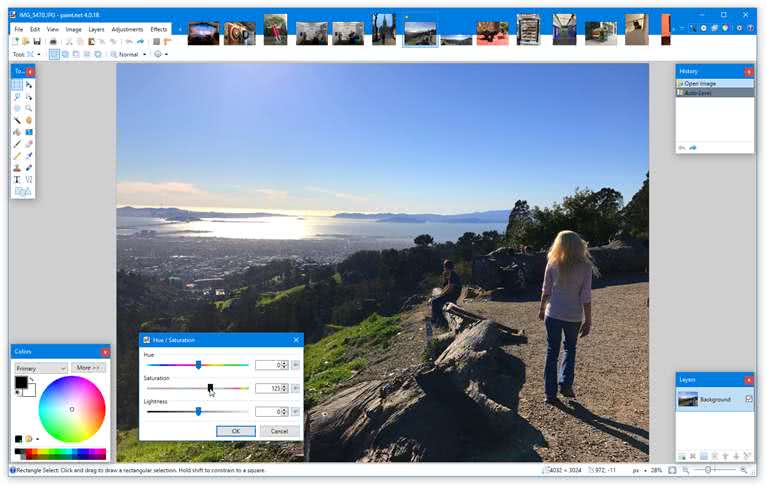 Paint.NET 4.2 changelog basic:
New: Support for stacking and sparing HEIC pictures (Windows 10 v1809+ and codec installation is required). It would be ideal if you note that the "Quality" slider when sparing is restricted to an estimation of 90 (out of 100) while Microsoft explores and fixes an accident in their codec.
New: Keyboard alternate routes for changing the present layer. You can see these in the Layers menu with the "Go to … " directions. Alt+PgUp/PgDown will go to the layer above/underneath, and Ctrl+Alt+PgUp/PgDown will go to the top/base layer.
Fixed: Optimized rendering motor to expel colossal slack spikes (30+ seconds) when zooming or panning extremely enormous pictures (for example 32K x 32K pixels).
Improved: BMP now supports sparing in 32-bit (with alpha!) and 8-bit listed.
Improved: Added DIB and RLE record augmentations to the BMP document type.
Improved: PNG, JPEG, and TIFF presently bolster stacking and sparing of a lot of bigger pictures.
New: PNGs would now be able to be spared as "interweaved".
Improved: JPEG now has designed for the chroma subsampling mode (4:4:4, 4:2:2, and 4:2:0). The default is presently 4:2:2 rather than the unconfigurable 4:2:0 of more established renditions. This may bring about bigger document sizes, yet higher quality, when contrasted with past renditions.
Improved: TIFF presently supports sparing at 24-bit and 8-bit shading profundities.
Improved execution of putting something aside for record types where "Auto" bit-profundity is upheld however isn't the present decision.
Improved impermanent memory utilization when sparing pictures at 8-bit shading profundity.
Improved: TGA pictures currently load about 4x quicker (thanks @null54!)
Fixed: 8-bit TGA pictures should now stack effectively (thanks @null54 for the fix!)
Fixed: Some 32-bit TGA pictures were appearing as totally straightforward because of their utilization of a dark alpha channel type (thanks @null54 for the fix!)
Improved: Added blunder answering to the Save Configuration discourse. Rather than trying to say "See: (mistake)", you'll additionally get the standard blunder discourse that incorporates the exemption which can be utilized for investigating.
Fixed various execution issues in the Save Configuration exchange. Particularly with huge pictures, it should now be a lot quicker to change choices and to click OK/Cancel.
Fixed flashing in the Save Configuration discourse when evolving alternatives.
Fixed: Windows Explorer thumbnails for some picture types (PDN, DDS, TGA) were not rendering their alpha (straightforwardness) effectively, bringing about shading slant. You may not see the impact of this fix for a specific picture until that picture is resaved or you clear Explorer's thumbnail reserve.
Fixed: Mouse cursors presently scale properly for non-whole number UI scales (for example 125% or 175%)
Fixed: AltGr should now work accurately with the Text device. It won't trigger alternate ways like File – > Save All, or Edit – > Paste into New Image. (much-appreciated @Bruce Bowyer-Smyth for the fix!)
Changed: Image->Resize bolsters Super Sampling once more, and favors this over Fant when utilizing Best Quality. Fant is as yet accessible, yet is never again picked consequently.
Changed: Holding Ctrl when beginning to move a choice with the Move Selected Pixels device will never again desert a duplicate of the chose territory
Fixed: Bicubic resampling in the Move Selected Pixels device was not effectively taking care of the alpha direct sometimes. This fix has required a decrease in execution.
Improved: When utilizing Edit->Copy, a 32-bit BGRA bitmap in the DIBV5 arrangement is presently put onto the clipboard so different applications can peruse the alpha channel.
Improved: When utilizing Edit->Paste, DIBV5's are currently upheld on the off chance that they have an alpha channel. On the off chance that they don't, at that point the ordinary DIB loader is utilized which has a few heuristics for identifying a mistakenly characterized alpha channel and amending for it.
Improved: When utilizing Edit->Paste, PNG is presently the most elevated need design. This boosts the capacity to look after alpha/straightforwardness, however, it means that pictures originating from Microsoft Office applications will seem bigger than they used to. This is either a bug or a component of Microsoft Office. For reasons unknown, it places PNGs on the clipboard that are 25%+ bigger than the DIB/DIBV5 bitmap that it additionally puts on the clipboard (yet which don't have alpha/straightforwardness).
Fixed: DIBV5 bitmaps should now work with Edit->Paste, which improves alpha channel taking care of. (much-obliged @null54 for the fix!)
Fixed: Top-down DIBs should now work accurately with Edit->Paste. (much-appreciated @null54 for the fix!)
Improved CPU utilization for thumbnail refreshes (layers and picture tabs) as a rule.
Improved: Slightly expanded the size of the Settings discourse to lessen the requirement for looking in a couple of significant circumstances
Fixed: Simple message boxes would now be able to be shut with the ESC key
Fixed: Magic Wand currently takes a shot at exceptionally huge pictures (for example 65535 x 65535 pixels) without a blunder.
New: Plugins that utilization IndirectUI would now be able to utilize a UriProperty with a LinkLabel control (thanks @null54!)
New: Effect modules can now more effectively utilize the clipboard by means of the IClipboardService. It will deal with the majority of the precarious clipboard issues, for example, stringing, local information marshaling, and maintaining a strategic distance from security vulnerabilities that exist in the standard WinForms and WPF clipboard APIs.
New: FileType modules would now be able to determine separate arrangements of augmentations for stacking and sparing.
Obstructed the WebP FileType v1.1.0.0 module because of flimsiness. An update is as of now accessible.
Obstructed the ImAgif FileType v0.12.0.1084 module because of inconsistency. An update will ideally before long be accessible.
Download: Paint.NET 4.2 | 8.7 MB (Freeware)
Links: Paint.NET Website | Release Announcement
Also Read: