Roblox Error While Updating Worn items [Fixed 2023]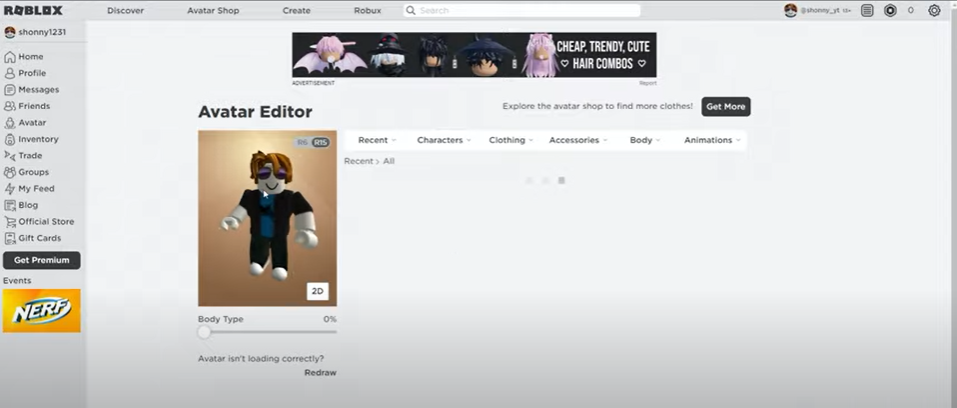 Roblox is a popular online gaming platform that allows players to create and customize their own avatars. Some players are able to customize their avatar with a variety of body parts, accessories, clothing, and more.
These avatars are used throughout all games on the platform and can be modified by visiting the Roblox Avatar Editor. Some items are available for free, while others must be purchased with the in-game currency, Robux. However, a current issue is preventing players from updating their avatars, which can be frustrating and may lead to dissatisfaction among those who have spent money on in-game items.
Sometimes, users may encounter an error message stating "error while updating worn items" when trying to add certain items, such as hats or jackets, to their avatar. This issue can be caused by either server issues or the item not being added to the user's profile.
To fix this error, users can try the following steps:
Log in to your Roblox account and click on the "Avatar" option in the side menu to access your profile items.
Click on the category of the item that is causing the error, such as "Clothing." This will display all the clothing items you own.
Select the item that is giving the error and click on the ellipses icon (three dots) in the top right corner. Choose "Add to Profile" from the menu.
A message should appear stating that the item has been added to your profile.
Next, go back to the "Avatar" menu and select the item from your list of items. It should now be available to wear on your avatar.
For better understaning of this procedure we recommend you to watch this video given below.
It seems that many users were experiencing an error with updating their worn items in Roblox and also had issues with joining games. It is not clear what caused the issue or if it has been resolved. Some users reported that the issue was fixed for them, while others were still experiencing it. It is possible that the issue was caused by a problem with the Roblox website or servers and has since been resolved.
If the error persists, it may be due to a server issue that can only be resolved by Roblox. In this case, it is recommended to contact Roblox support for further assistance.