Samsung Reportedly Working on its Own Gaming Phone
The gaming smartphone segment has been a hotly contested part of the smartphone market in recent years, with many manufacturers better known for producing laptop and computer hardware making their mark on the space with increasingly ambitious gaming oriented devices. It was perhaps only simply a matter of time before Samsung looked to get in on the action. Its flagship phone, the Galaxy S21 Ultra leads the pack among "regular" smartphones with its impressive spec-sheet and price tag to boot.
While that device is a business and multimedia juggernaut, it still struggles to compare with the incredibly high refresh rate displays, and multi-day battery life of the Asus ROG Phone 5 or Lenovo Legion Duel 2. These phones are built from the ground up to be the best gaming devices in the mobile space, irrespective of whether you're playing traditional titles like online blackjack or resource hungry dinosaur sim Ark: Survival Evolved.
All Angles
Of late the rumor mill has been turning in relation to the latest set of patent filings by the South Korean tech company of slogans that point to internal fans, one such filing being "Unleash Your Fan Power". While this alone would just be raw speculation, many have been expecting Samsung to enter the space for a number of years. No other major phone company has more price points and markets cornered than Samsung in the Android space. It offers smartphones beginning at $30 under its 'A Series' moniker right up to the 'S Series' phones and beyond.
Samsung's latest expansion into new territory has been as one of the major pioneers of foldable phone technology, with its $2000 Z Fold 2 leading the pack alongside its Z Flip clamshell style foldable. With Samsung's marketing strategy clearly being oriented around competing in every category and price point, the Seoul company's lack of a gaming phone able to rival the likes of the Nubia Redmagic 6 Pro is conspicuous.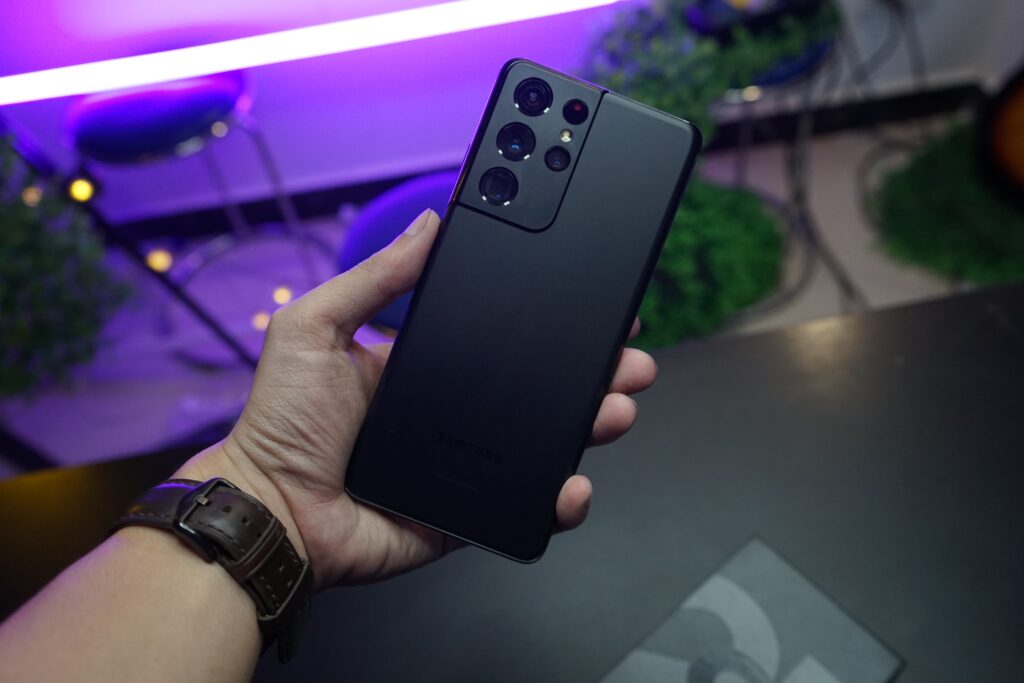 Ice Cold
Why this latest patent filing has got analysts excited about the prospect of an imminent Samsung gaming phone is the fact that gaming phones are the only product category that currently utilizes internal cooling fans. This is because gaming is the most resource hungry and demanding process a smartphone can run.
While gaming laptops and consoles have ample room to assist in cooling and thermal management, the extremely compact design of smartphones means they're uniquely vulnerable to thermal throttling. To counteract this, most gaming phones either offer a peripheral add-on cooling fan, or ship with an internal fan on-board. Lenovo's latest Legion Duel 2 just launched with not one, but two, 1500rpm internal fans.
Another League
Flagship gaming phones are among the most powerful smart devices on the market today due to needing to meet the demands of modern graphically intensive games. The three most prominent phones in the space as of 2021 are Asus' ROG (Republic of Gamers) Phone 5, the Lenovo Legion Duel 2 and the Nubia RedMagic 6 Pro. All three feature the same top of the line processor and RAM capacity that comes with the Galaxy S21 Ultra, the Snapdragon 888 chip and 16GB respectively. But this is where the gaming phones begin to pull away from the pack.
While the S21 Ultra has an impressive 5000mAh battery, this is bested by all three gaming phones, with the ROG Phone 5 offering 28 hours screen-on-time with its 6000mAh power bank. The gaming phones also each have extremely high refresh-rate displays. The S21 Ultra's impressive 120hz is swept aside by the ROG Phone 5 and Legion Duel 2's 144hz, and the RedMagic 6 Pro's jaw-dropping 165hz.
Gaming Optimizations
It's not that Samsung lacks the ability to build such a powerful device, rather there are certain optimizations that are only going to be worthwhile to consumers that intend to use a phone primarily for gaming. Larger batteries are heavier and make the device thicker, which is acceptable if you're primarily using it for sedentary gaming, less so if it needs to fit neatly in your suit pocket. Likewise, when only using your phone to scroll through Instagram, you won't notice the difference between a 120 and 160hz display, but when gaming competitively the response rate can be decisive. Gaming phones often also feature hardware specializations such as shoulder trigger buttons to facilitate comfortable and responsive gaming.
Should Samsung step into the sector, we can expect to see them implement such features in addition to the rumored internal cooling fan in order to make their mark on the sector and differentiate the new device from the Galaxy S line.