7 Best Battery Powered DJ Speakers in 2022
You might be a highly skillful DJ in quality sound production but what if your ordinary speakers fail in the last-ditch? Your production excellence would be at significant risk.
Obviously, every DJ has an audio system, but anyone who owns a high-quality battery-powered PA system as part of their DJing collection knows better that it has the highest possible quality audio output to ensure your audience hears everything you want. Battery-powered PA systems let you relay amplified sound to any audience on any occasion and location within the area.
As a DJ, you're likely to get plenty of functions from powered speakers, and they barely collapse. First of all, they are just the right choice for live audio. Then thanks to the outstanding offstage monitor speakers, you can use them for band preparation or shows. In addition, they come in handy for packed-in concerts, small-scale venues, and big house get-togethers since they are highly flexible.
When looking to purchase the best battery-powered speaker for DJ, there are a number of features you should take into account. These features are vital to ensure that your Battery-powered PA system performs well and comes with the best possible output.
It would be creepy picking one that suits you from the heaps of options, especially with the numerous models and brands that flood in the markets. We came up with this guide that will help you make the best decision without difficulty.
Following is the summary of 7 Best Battery Powered Wireless PA Systems:
You can buy any from Amazon just by clicking on the name as given below.
1.Bose S1 Pro Portable Battery-Powered PA System – Best Overall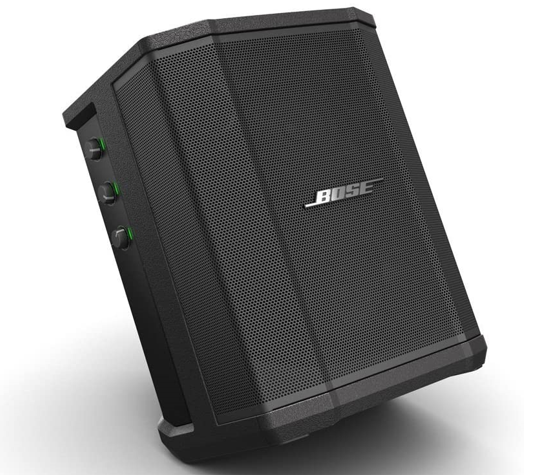 The Bose S1 Pro really is the all-in-one package — one speaker that stands out when compared to others. Whether you are presenting an audience of one or hosting a full event space, this system is sure to impress. Lightweight — just 15 lbs. — with a convenient handle carry which can be seated, stand-mounted, or tilted. If you're on the lookout for a top-rank compact PA system with Bluetooth and wireless capabilities, the Bose S1 is a great choice.
The one amazing feature of the Bose S1 Pro that appeals the most is the unique ToneMatch feature. Two channels with independent EQ, reverb, and ToneMatch technology guarantee pleasurable reproduction of sounds and instruments. To be brief, it automatically EQ's the sound based on the location or area of the building you are at. Generally, there is a need to adjust a very few things or none at all. This feature is very beneficial to speakers or musicians who do not have much idea of EQ.
The hazard of someone toppling the sound by unintentionally disconnecting the wires is also there with a wired connection. In addition to its standard wired connectivity, a big advantage for this speaker is its wireless and Bluetooth capability. This makes setting up hassle-free and fairly easy for you: no more messy wires and dangling receivers. But the real plus of using wireless connectivity is the fact that you achieve more liberty in positioning.
The Bose S1 Pro comes with a factory-installed Li-ion rechargeable battery. On a full charge, you can enjoy up to 11 hours of powerful sound reproduction on the go.
Pros
Portable and compact
Factory-installed Li-ion rechargeable lightweight battery
ToneMatch technology promises pleasurable reproduction of sounds and instruments
Wireless capability
Easy Bluetooth pairing and 30 feet of Bluetooth range
3-channel mixer
Built-in sensors and multiple aiming positions
Cons
2. Roland BA-330 Portable Battery-Powered PA System – Best Portable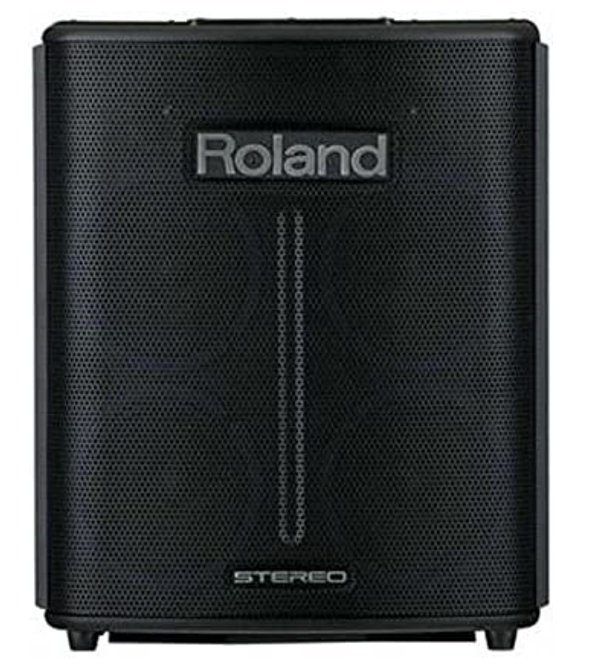 The Roland BA-330 is one of the must-have battery-powered sound systems on this list. The Roland BA-330 is unquestionably the easiest to set up of all the machines on this list. No setup required; just plug in and go. With Four custom-designed 6.5″ speakers and two tweeters, the BA-330 churns out super-wide, full-stereo projection for just about any application. The clear and loud sound coming out of its portable size will surely surprise you.
On the back side, you will see a built-in 4-channels mixer, an anti-feedback feature, 2-XLR, and a master equalizer. Its four-channel configuration: two stereo inputs and two for mic/instruments; and built-in effects: EQ, reverb, and delay; are sure to show up among competitors.
And, if you've combatted the feared feedback giant like many of us, the BA-330 is going to cover you with its Advanced Intelligent Anti-feedback function which surprisingly reduces feedback from any type of microphone.
The BA-330 is powered by AC power or by just eight AA batteries. The only drawback is that it doesn't have a rechargeable battery and must be run with 8 AA batteries for the wireless connectivity for just up to eight hours.
Overall, the Roland BA-330 is one of the top-shelf wireless battery-powered PA systems available in the market. We highly recommend it for pretty nearly any application.
Pros
Extremely easy setup
4-channel mixer and 2 tweeters
Very clear and loud with four 6.5″ speakers
Great sound quality
Anti-feedback feature
Digital stereo amplifier
Great built-in EQ, reverb, and delay effects
Cons
Big-ticket. Expensive than all the others on the list
Must be run with 8 AA batteries for the wireless connectivity. Rechargeable battery is not available
3. Rockville 15″ Rechargeable Powered 800W PA DJ Speaker, 2 Mics – Best for Street Musicians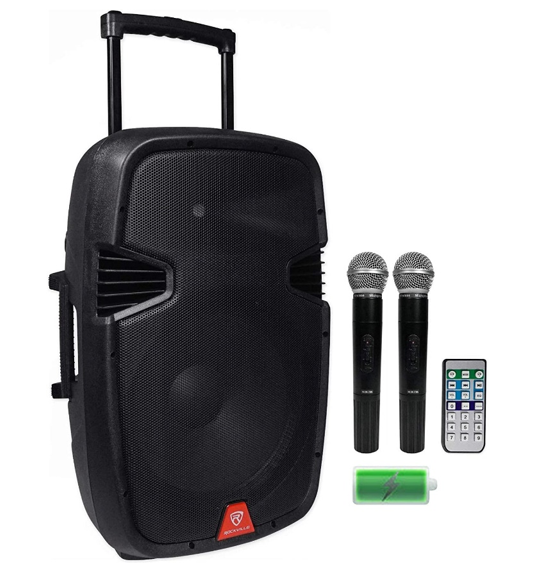 Do you want to take your music anyplace? The versatile, portable, and powerful; Rockville all-in-one PA system lets you take your melody anywhere you need to go. This unit is a must-have for any street fighter.
Featuring integrated carrying handles and wheels, a compact light-weight design, and a high-quality rechargeable battery, your Rockville portable can be picked up and carried easily everywhere.
When you're on the lookout for swift sound propagation, you don't need a stall of a bunch of cables, stands, and extra PA gear — You just need to have on hand the all-in-one Rockville portable system. All-In-One means Speaker, Amplifier, 2 Channel Mixer, 5 Band Equalizer, built-in USB and SD Slots, Rechargeable Battery, 2 Wireless VHF Mics, built-in Bluetooth; Just in one compact light-weight design, nothing else needed to buy!
This system is created to win the roads. No need for traditional batteries, the Rockville portable PA is equipped with a highly efficient internal rechargeable power system, keeping the whole unit compact. With a full charge, the unit will run for up to eight hours. If you need more backup time, more external 12V batteries can be added easily, keeping your system running and running all the day long.
This all-in-one is armed with Bluetooth playback capability and SD/USB inputs. You can plug in your music instrument, keyboard, MP3 player, or Bluetooth music source and be up and running straight away. You can still use the onboard mixer when you're playing music via Bluetooth.
Two VHF long-range wireless microphones are also there with two different frequencies and separate volume controls to be used in tandem. An Echo Effects knob for the microphone and the band system equalizer is also available allowing you to style your music; the Rockville portable system is fantastic for karaoke parties.
Pros
Two VHF long range wireless microphones
Highly efficient internal rechargeable power system
Bluetooth playback capability and SD/USB inputs
Comes with a 5-band equalizer
Remote control included
Bluetooth and Wireless Capabilities
Cons
Not the loudest on the list
4. Behringer MPA40BT-Pro Portable PA System – Best for Newcomers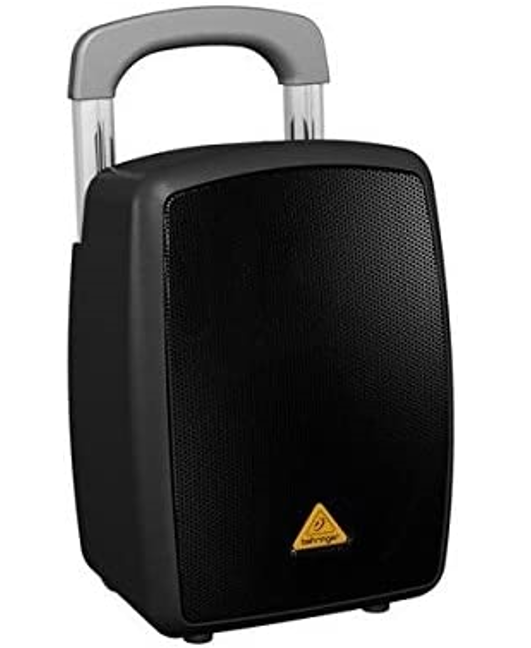 The Behringer Europort MPA40BT-Pro portable PA system dish up quality sound boosting anywhere you want it — with a useful carry handle for easy transport. This very easy-to-use PA is perfect to operate for newcomers with no audio experience.
An 8″ loudspeaker with a substantially efficient 40-watt, class D amplifier delivers plentiful volume for parties, speeches, or small concerts. In addition to two microphone inputs, the MPA40BT-Pro's 4-channel built-in mixer can be integrated with the Behringer ULM digital wireless microphone systems. With the two microphone preamplifiers, it is ideal for musical instruments and oral performances. The Bluetooth pairing lets you wirelessly stream audio from your phone or music player.
This little workhorse has an AC-power option along with the ability to run off of internal battery power for up to 12 hours. This makes street artists get significantly advantage of the Behringer MPA40BT-Pro portable PA system
A drawback with this unit is the make quality of the microphone that comes with is not up to the standards. Yet, you wouldn't complain about the sound quality the microphone produces. It does the job and is very clear.
Pros
Built-in D class amplifier
Easy setup
Lightweight and portable
Treble and bass EQ knobs
12-hour wireless battery life
Battery life LED indicators on the back of the speaker
Bluetooth connectivity
Comes with a wired microphone
Cons
Microphone build quality is not so impressive
5. JBL Eon One Compact Pro Portable Battery-Powered PA System – Best for Deep Bass Sounds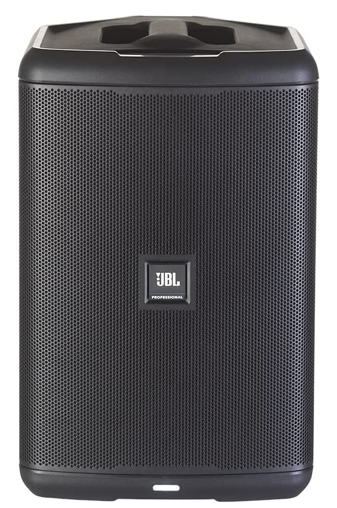 With the JBL EON One Compact, you can play a gig in the middle of anywhere — no AC power required! JBL EON One doesn't take space more than a passenger seat to fit in, and a few seconds to load into the gig. Just plug in and rock on.
The JBL EON One Compact's efficient amplifier supports a 1" high-frequency driver and 8″ to deliver 112dB of crunchy, full-range audio anywhere. And the 8″ low-frequency driver carries the thunder with bass response down to 37.5Hz if you want the dance floor vibrating.
The JBL EON One Compact Portable PA comes with plenty of connectivity options — one 1/4″ hi-Z input; one 3.5mm aux input; and two XLR-1/4″ combo inputs — letting the DJs, speakers, or performers connect their mics, phones, portable media player, and musical instrument. The 8-band EQ allows you to set your tone as per your requirement and balance the levels.
The JBL EON is armed with Bluetooth that allows you to stream audio from your mobile devices from anywhere within range. Especially, in-home functions and weddings it keeps unsafe wires off the floor and saves people from an accidental collision with the wires.
Along with the AC power option, the rechargeable battery gives you a decent 12-hour time for nearly any piece of presentation and performance. The JBL EON One Compact is light enough to carry with one hand as it weighs only 17.6 pounds.
But that's not all, you can link up to four other EONs using its 1/4" passthrough if you required the system to expand for a larger area.
Pros
Plenty of connectivity options
8-band EQ
8-Inch woofer with deep low-frequency performance down to 37.5 Hz
Passthrough feature to link up to four other EONs
A decent 12-hour rechargeable battery time
Cons
No remote control included
6. Fishman Loudbox Mini BT Portable Battery-Powered PA System – Best Mini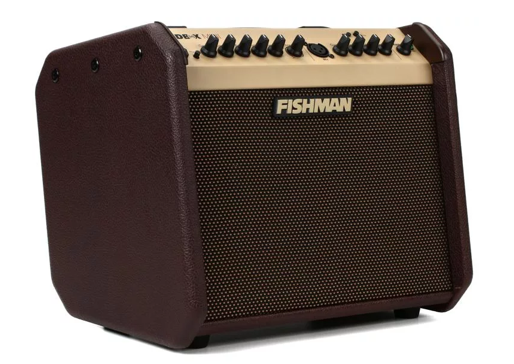 The Fishman Loudbox Mini BT offers the typical amplified tone, classy style, and reliability that the Fishman is known for. It may be small, but it delivers a big, natural-sounding amplified acoustic tone. With its awesome tone control ability and natural-sounding projection, this is the PA system you've been waiting for. The Loudbox Mini has been designed in a way that is both powerful and portable enough for easy carrying.
The Fishman Loudbox Mini is a feature package that brings two channels with the tone control designs and Fishman's popular preamp. And the built-in Bluetooth — it's more powerful than ever. Whether you want to enhance your performances by adding music tracks or to show up break music between sets, you'll find endless uses of the Fishman Loudbox Mini's Bluetooth utility.
You'll also find a reverb for the microphone channel and a digital reverb and chorus for the instrument channel. When adjustments are required, the set of Gain, Low, High, and Reverb knobs on the Mic channel give you control over the vocal mix. And the Instrument channel on the far-left side with the Phase switch and Gain, Low, Mid, High, Reverb, and Chorus knobs allow you to change the tone and styling. These controls are very simple but would put a rich impact on your live performances.
What's more, it also includes a balanced XLR DI output and an Aux input — great for capturing your live performances or playing alongside.
The Fishman Loudbox Mini offers outstanding value for money, versatility, and great power with its excellent features.
Pros
Suitable for small rooms and coffeehouses.
Decent tone control ability
Natural-sounding projection
Cons
7. Costzon Portable 1600W 2-Way Powered PA Speaker System, Professional DJ Speakers with Active + Passive Loud Set – Best Value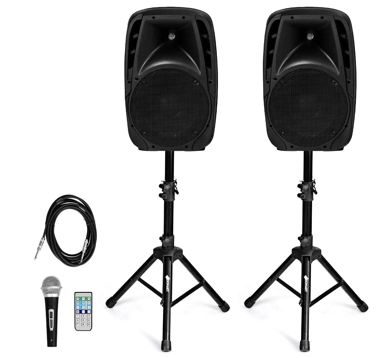 For the DJs looking for a powerful 2-way powered set, the Costzon Portable 2-Way Powered PA Speaker System is the ideal choice.
The comprised speakers in this set offer a power capacity of up to 1600 watts and go on 12 inches drivers – Not a bad value for the price. When it comes to frequency range it sits between 65 Hz and 18 kHz. This all-in-one speaker system features several inputs such as AUX, USB drives, and SD cards. Bluetooth is also there to connect your phone or media players wirelessly.
The active speaker of the Costzon Portable 2-Way Powered PA Speaker gives you control to set MP3 level, mic level, line level, treble, and bass with the built-in controlling knobs. it also includes an amplifier to set the audio level and quality according to your requirement.
One more thing, you can see the currently playing track on the LCD display of the speaker.
There is also an LCD display that will show you the currently playing track on the speaker. This system is warranted against manufacturing defects for only 90 days.
Pros
Powerful and affordable
1600 watts Power capacity
Powered by 12 inches drivers
Supports Multiple input options: Bluetooth, USB, and SD card
Cons
Final Thoughts
Battery-Powered speakers have become a must-have for DJs, musician, or any kind of performers because they are easier to set up and compact. In addition to standard wired connectivity, the big advantage of these speakers is their wireless capability. This makes setting up free of irritation and really easy for you: no more nasty wires and dangling devices. The real plus of using wireless connectivity is the more freedom you achieve in positioning your system.
While many of these Battery-Powered speakers are spot-on for street musicians, home parties, coffee shop acoustic gigs, outdoor occasions, classes, and conferences; some of these battery-powered PA systems can be intended for larger gatherings as well.
As a DJ you should understand first that popularity sometimes does not associate with excellence. Also, it is worthy to note that the best will not essentially be the most expensive system on the list. Rather, it is the one that fits best to your needs.
Irrespective of the reason you have come here to hit upon the best battery-powered PA system, as a minimum one of our top 7 selections would be the perfect pick for you and your needs.