ADATA launches new compact SE880 External SSD
It is becoming increasingly difficult for external SSDs to keep up with internal NVMe solutions in terms of size and speed. All of this is possible because of the continuous improvement of USB and TB technologies. In this scenario, the new ADATA SE880 External SSD is connected through USB 3.2 Gen 2×2.
As a result, the new SSD can achieve read and write rates of up to 2,000MB/s, making it a strong external option for enthusiasts, competitive gamers, and professionals. Because the drive is smaller than the casing for an Apple AirPods, it is one of the tiniest alternatives available with such transfer capabilities, according to ADATA.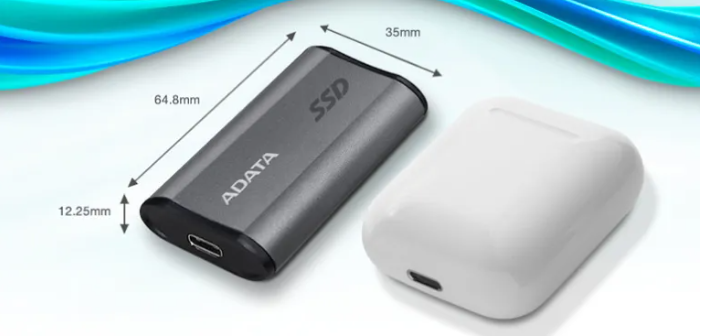 When in use, it's small enough to draw the user's focus away from the rest of the room. The drives look to be slightly larger than a typical thumb drive, but only by a little margin. This means that you won't have to worry about fitting it into your pocket or purse because it's so little.
It will be offered in sizes ranging from 500GB ($79 MSRP) to 1TB ($199 MSRP) (Price TBD). While the 500GB variant appears to be the only one available at the moment, the 1TB model is also available. It will first be offered through Amazon, and it is anticipated that it will eventually become available through other retail outlets as well.
If we manage to get our hands on one, we'll have to see how well it lives up to the specifications that have been promised.
Specifications:
Color: Titanium Gray
Capacity: 500GB / 1TB
Dimensions (L x W x H): 64.8 x 35 x 12.25mm / 2.55 x 1.38 x 0.48inch
Weight: 31g / 1.1oz
Interface: USB 3.2 Gen2 x2 Type-C
Sequential Read (Max): Up to 2000 MB/s
Sequential Write (Max): Up to 2000 MB/s
Operating system requirements:
Windows 8/8.1/10/11
MacOS X 10.6 or later (reformatting required for use)
Linux Kernel 2.6 or later
Android 5.0 or later
Op. Temperature: 0C (32F) to 50C (122F)
Op. Voltage: DC 5V, 900mA
Accessories: USB 3.2 Type-C to C cable,USB 3.2 Type-C to A cable, Quick Start Guide
Warranty: 5-year limited warranty