5 Best Artificial Intelligence Software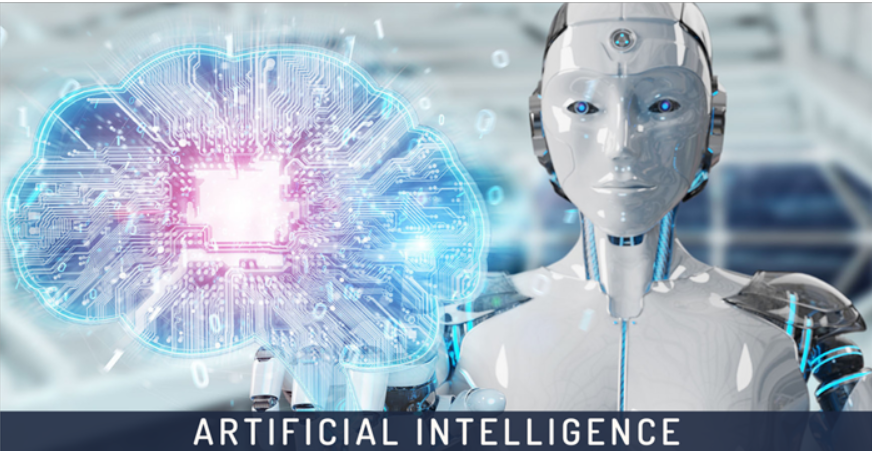 The term "artificial intelligence" (AI) refers to software that, via the process of seeing and learning from a variety of data patterns and insights, may simulate human behaviour. Machine learning, speech and voice recognition, virtual assistants, and other similar functions are among the most useful aspects of AI software.
Users are provided with the necessary functionality via the use of AI in conjunction with machine learning, which also serves to significantly simplify the business process. With the assistance of machine learning and deep learning capabilities, AI software is used to construct and create intelligent applications from the ground up.
Types Of AI Software
Platforms based on artificial intelligence: This will give the foundation on which to build an application from the ground up. This comes with a large number of algorithms already installed. The ability to drag and drop items makes it simple to use.
Chatbots are a kind of software that simulates the behaviour of a person or human being while participating in a discussion.
Speech recognition, picture identification, and other features are included in this deep learning software.
Software for machine learning Machine learning is a technology that teaches a computer new information by using previously stored information.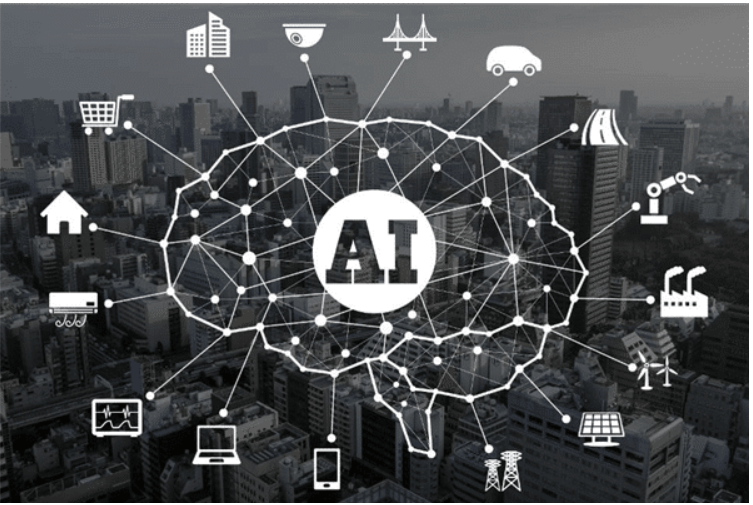 What AI Can Do?
We are able to construct intelligent systems with the assistance of AI that will not only support us in our places of work or employment but also in our homes. Smart systems are able to carry out a vast array of errands on our behalf, from activating the alarm clock to turning the lights on and off.
It is made much simpler to obtain or collect data from many websites with the use of artificial intelligence. ML enables us to apply a variety of algorithms to data in order to transform it into the format that best suits our needs.
When we buy online, we are given suggestions based on the products that we have previously seen or purchased. This, in turn, will aid in the process of acquiring further business. All of this is realisable only as a result of AI (Deep Learning and Machine Learning).
When you want to acquire some goods or services, you usually go to the website for the company in question. There, you may receive assistance by engaging in an online discussion or using the chatting window, which is always open. AI is the only thing that makes round-the-clock assistance feasible (Chatbot).
Top Artificial Intelligence Software
Enlisted below are the best Artificial Intelligence Software that is available in the market.
#1) Google Cloud Machine Learning Engine

You will get assistance from Google Cloud Machine Learning Engine in the process of training your model. The Google Cloud Platform Console, gcloud, and REST API are examples of the components that are made available by the Cloud ML Engine.
Features
Your model may be trained, analysed, and fine-tuned with the assistance of Google Cloud.
After that, the trained model will be deployed, at which point you will be able to get predictions, monitor those forecasts, and also manage your models and its versions.
Google Cloud ML contains 3 components, i.e. gcloud is a command line tool for managing the models and versions, while the REST API is for making online predictions. The Google Cloud Platform Console is a graphical user interface that is used for deploying models and maintaining these models, versions, and tasks.
Pros
Provides good support.
The platform is good.
Cons
Needs improvement in documentations.
Difficult to learn.
Tool Cost/ Plan details: The United States of America, Europe, and the Asia Pacific all have very varied training costs.
In the United States of America, the cost per training unit is $0.49 per hour.
In Europe, this translates to $0.54/hour for each training unit.
For the Asia Pacific region, the hourly rate for each training unit is $0.54.
The predetermined scale tyre may be purchased at a variety of pricing points, and these points change depending on the locale. Therefore, you must get in touch with them if you want specific price information.
Click here for the official URL.
#2) Azure Machine Learning Studio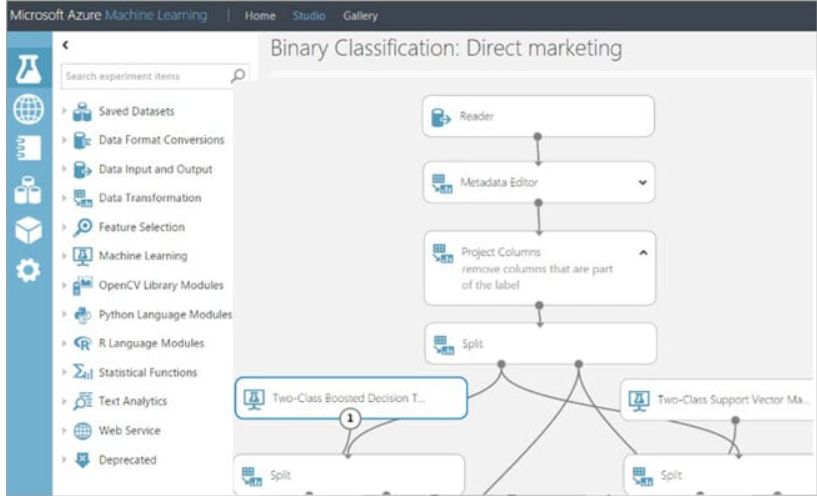 You will be able to deploy your model as a web service with the assistance of this tool. This web service will not be reliant on any particular platform and will be able to make use of any data source.
Features
It is able to deploy models in the cloud, on premise, and at the edge of the network.
Offers a solution that may be accessed using a browser.
The ability to drag and drop items makes it very user-friendly.
It can be scaled up.
Pros
No programming skills are necessary
It is compatible with open-source technologies and may be integrated with them.
Cons
Lack of transparency in pricing details for the paid features.
Tool Cost/ Plan details: It gives you access to a free account. More than 25 different services will be made available to you when you sign up for this account. You are free to upgrade at any time for an extra fee, should this become necessary.
#3) TensorFlow

It is both a computational tool for working with numbers and an open-source operating system. The primary functions of this ML library are research and production.
Features
CPUs, GPUs, and TPUs.
Desktops
Clusters
Mobiles and
Edge devices
Beginners and experts can use APIs provided by TensorFlow for development.
Pros
Strong backing from the local community.
Both the features and the functions are beneficial.
Cons
It is difficult to learn and will take time to learn it.
Tool Cost/ Plan details: Free.
#4) H2O.AI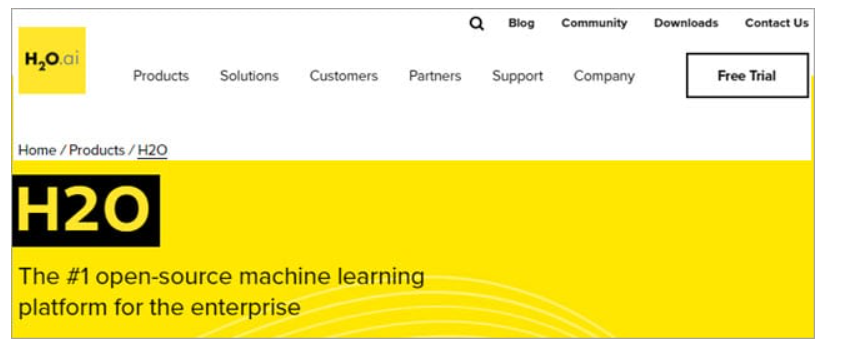 H2O AI is used in the financial sector, the healthcare sector, marketing, and telecommunications. Using this tool, you will have the ability to construct models using computer languages such as R and Python. Everyone might benefit from using this open-source machine learning technology.
Features
Functionality related to AutoML is offered.
It is compatible with a wide variety of methods, such as gradient boosted machines, generalised linear models, deep learning, and so on.
Platform that can be scaled linearly.
It employs a structure that is dispersed over the memory.
Pros
Easy to use.
Provides good support.
Cons
Documentation needs improvement.
Tool Cost/ Plan details: Free
#5) Cortana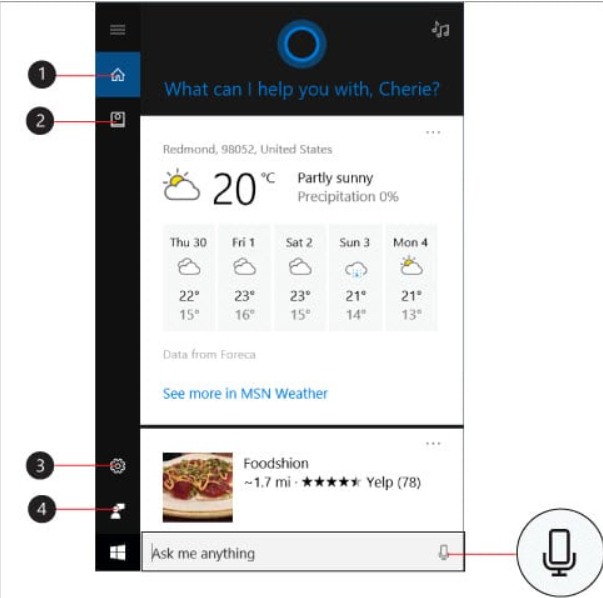 A virtual assistant known as Cortana will carry out a variety of duties for you, such as creating reminders and responding to your inquiries, among other things. Windows, iOS, Android, and the Xbox Operating System are all examples of supported operating systems.
Features
It is capable of doing a variety of functions, from ordering a pizza to turning the lights on and off.
The web browser makes use of the Bing search engine.
Languages such as English, Portuguese, French, German, Italian, Spanish, Italian, Chinese, and Japanese are among those that are supported.
It is able to recognise spoken commands.
Pros
Voice recognition can save time.
It provides many featured skills.
Cons
Some of the included talents, such as FitBit scenarios and OpenTable, are only accessible to users in the United States.
Tool Cost/ Plan details: Free
FAQ's
Which software is best for making AI?
The United States, China, the United Kingdom, France, Germany, and Japan are the countries that have made the most progress in artificial intelligence, ahead of India. According to the findings of the survey, Canada, South Korea, and Italy are following India on the list of the top 10 countries that have used AI. The findings of the research provide credence to the assertion that the use of AI across a variety of industries in India has been quickly expanding.
Is AI or ML better?
We are able to draw the conclusion that AI has a larger variety of application than ML does, based on all of the characteristics that were used in the process of outlining the differences between AI and ML. Artificial intelligence is a result-oriented field that comes equipped with its own intelligence system. However, we cannot deny that AI is pointless if it does not make use of the insights provided by ML.