5 Best Property Management Software For Small Landlords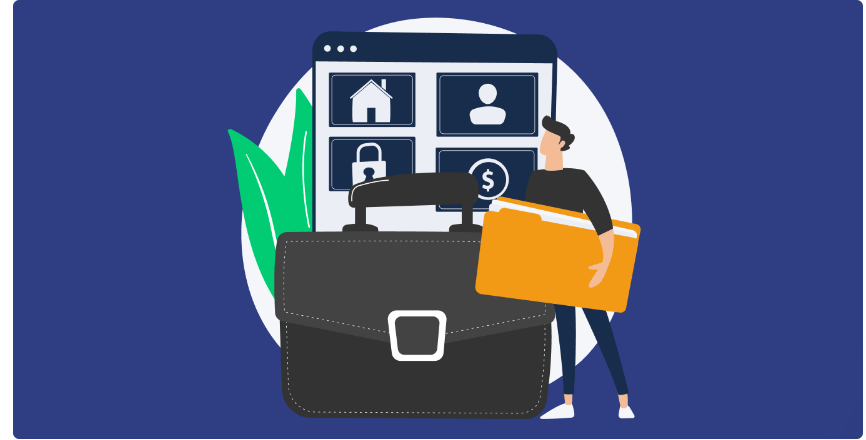 It is easy to fall into the trap of maintaining your properties manually as an investor or property manager with a modest portfolio of rental homes or apartments. You're probably familiar with the tried-and-true Excel spreadsheet.
It is indisputable that using this method is more effective than using the Notes app on your mobile device to keep track of things. However, even if you simply manage a few properties, there are far superior solutions open to you in this day and age. Property management software may do a wide variety of tasks, including the following, regardless of the size of the landlord's portfolio:
Make it simpler to collect rent, increase the amount of money you collect, and speed up the process.
Requests for maintenance should be streamlined, as should contacts with tenants overall.
Reduce the number of steps involved in the screening and application process.
Provide you with accounting solutions that were developed specifically with property management in mind (instead of using a general accounting system like QuickBooks, which can be inconvenient)
Because of this, we have compiled a list of the best property management software for landlords with a smaller number of rental properties.
5 Best Property Management Software for Small Landlords
The following is a list of the top five property management software programmes for small landlords and property managers.
Each of the tools that are provided here is intended to assist you in managing your properties in more than one location. Some are even all-in-one systems you may use to manage your complete portfolio.
First, let's take a look at some of the most effective tools that come with free plans (or free trials).
Best for: Free plan
A number of the property management solutions on the market now come with either a free trial period or, in other instances, an entirely free plan.
However, bear in mind that while a free plan seems like a wonderful starting point, the alternatives below tend to be restricted in terms of the services that they provide. This is something that you should keep in mind.
On the other hand, if you do not currently have the financial means to invest in software, these can be an excellent place to begin looking.
1. Landlordy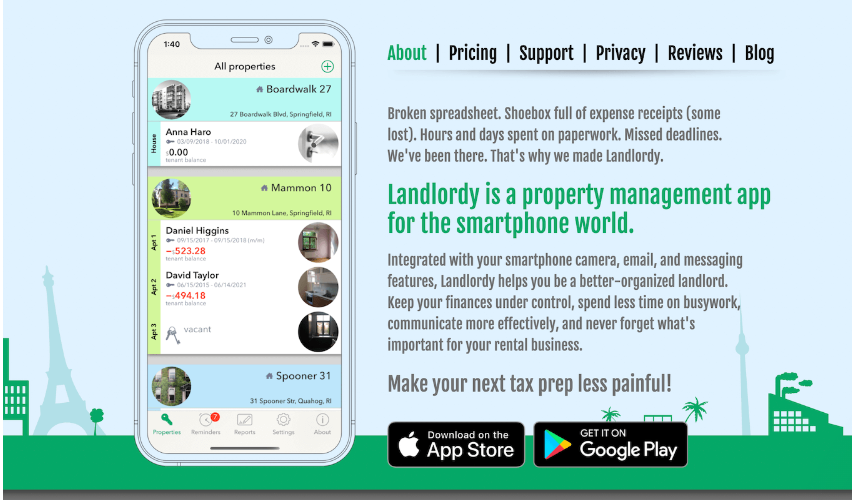 Landlordy is an excellent choice to consider if what you need is a straightforward answer that can be accessed from anywhere using your mobile device.
They offer app versions for both iOS and Android as well as a nice enough user interface (though not the greatest), but as you will see in the next section, the feature set of Landlordy is somewhat limited in comparison to some of the other alternatives that we will discuss later on.
In spite of this, you should give it a try if all you need is something that assists you in keeping track of rent payments and you are ready to forego some of the more robust functions that are often included in software designed for managing rental properties.
Landlordy pricing
Landlordy has a completely free version; nevertheless, it is restricted to to a handful of the most fundamental functionalities.
A premium edition of the software may be purchased for $14.99, giving users access to more fundamental accounting elements as well as data backup capabilities.
Even with all of these add-ons, Landlordy still does not come close to competing with some of the more sophisticated features that are included on this list.
2. Avail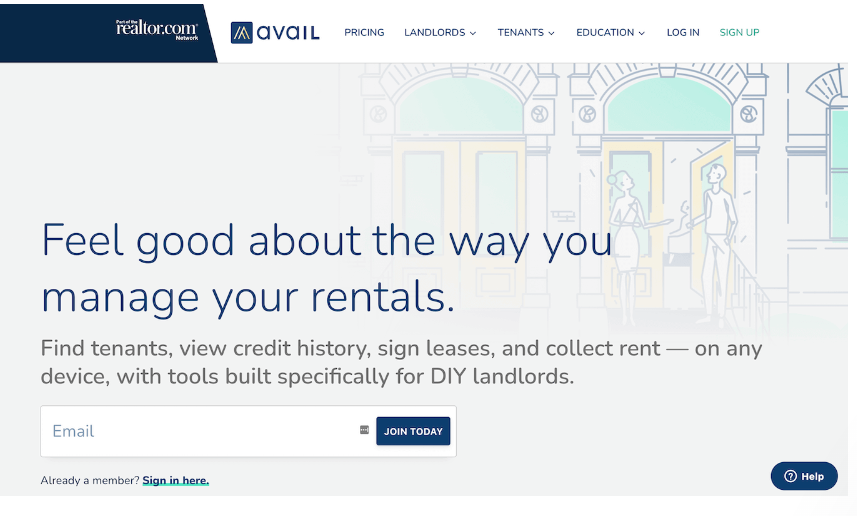 Avail is yet another excellent choice that competes well with Landlordy in terms of available features while also providing a free plan to its users.
On the other hand, in contrast to Landlordy's reasonably priced premium plan, Avail's paid plan is rather pricey.
A good user interface that is straightforward to navigate is another advantage and disadvantage of the product. Avail does not provide helpful tutorials or a reliable knowledge base that can be used to understand how the software functions, which might make it difficult to get started with the programme.
Features include
Online rent payments
Work order management
Tenant screening
Automatic listings
Avail pricing
Avail provides a free plan that has no limits on the amount of units you may use. However, even when compared to some of the higher-end services on our list, the price of their premium Unlimited Plus plan is much greater. If you want access to several of their more important services, you will have to pay an additional $5 per device, each month in order to do so.
3. TenantCloud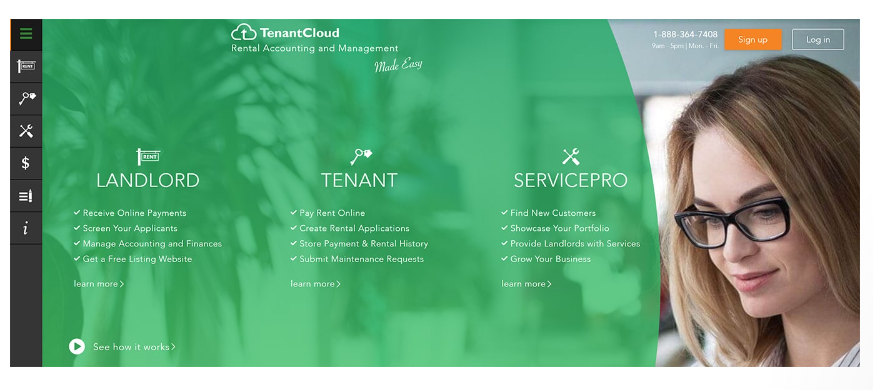 TenantCloud provides a free plan that is most comparable to the one that Landlordy provides, in that it is free up to 75 units. It does not have a limitless capacity, but if you have a restricted portfolio, it should be sufficient for your needs.
Landlordy is almost certainly going to be your best choice if you're searching for a handy app that you can carry with you everywhere you go and that comes with a free subscription.
However, compared to Landlordy, TenantCloud offers a superior feature list on both its free and premium plans. This is the one advantage TenantCloud has over Landlordy.
Features include
Online rent payments
Work order management
Vendor payments
TenantCloud pricing
TenantCloud offers a free subscription that can manage up to 75 different units. If you want anything further or are interested in additional features, they offer two different plans: the Standard plan, which costs $12 for up to 150 units, and the Growth plan, which costs $40 for up to 150 units.
However, in order to acquire a reasonable list of features that is equivalent to the other alternatives on our list, you will need to choose their $40 Growth plan as your payment option.
Best for: Affordability
So, you've made the decision to put some money into purchasing some property management software.
But you want to get the most out of your investment, and in order to do so, you need to know which software is not only inexpensive but also capable of doing the tasks that you want it to perform.
If you are an investor or property manager with a modest portfolio, here are two additional excellent possibilities to consider. These are especially helpful if you are seeking for a decent feature set that does not cost an arm and a leg.
4. SimplifyEM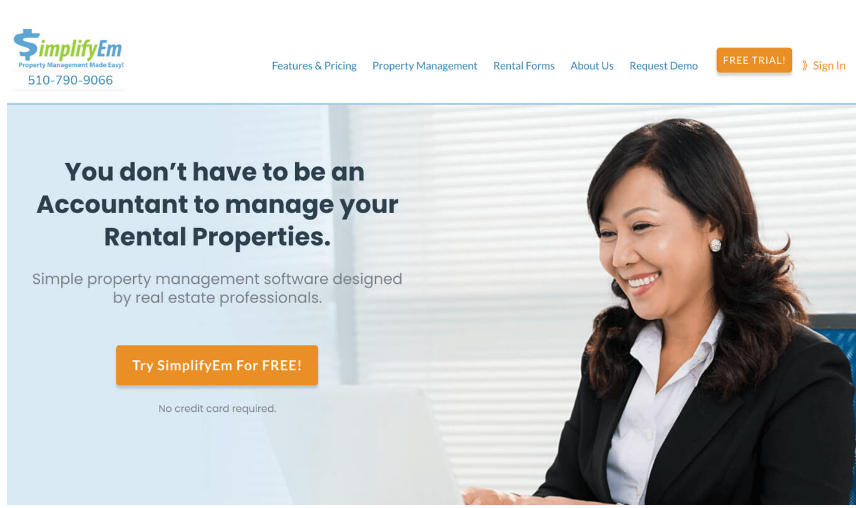 If you are mainly interested in finding an accounting solution for the management of your properties, SimplifyEM is a fantastic choice to consider.
SimplifyEM's primary function is to simplify the process of monitoring and collecting rent, and it also includes some innovative features like automatic payment reminders.
They offer a free trial version of the software that differs from other property management software tools in that it allows you to test out the full software for a set period of time without requiring you to enter any sensitive information. This makes it unique among property management software tools.
Features include
Robust accounting features
QuickBooks integration
Reminders
Automated rent payments
SimplifyEM Pricing
SimplifyEM offers a free trial version of the programme for users to test out. Their paid plans begin at only $20 a month, making it one of the most reasonably priced paid plans on our list; however, it only covers a maximum of 10 units at a time.
5. Property Matrix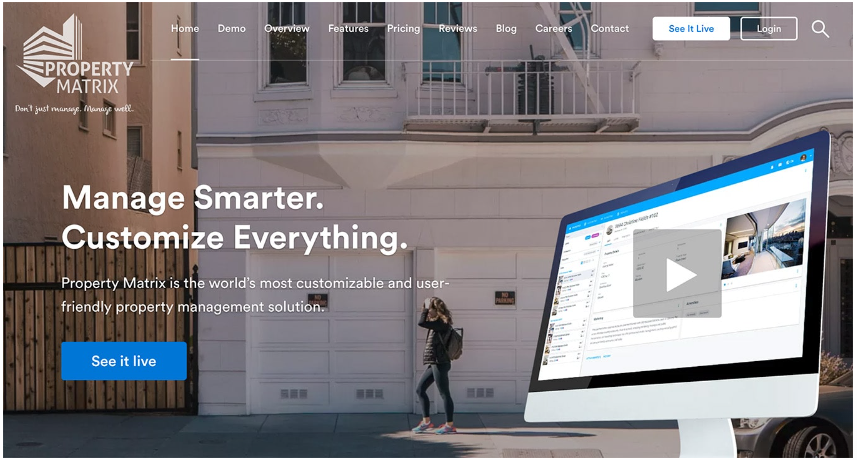 Property Matrix is a wonderful choice for companies who have requirements for their reports that are highly detailed. This programme gives you the ability to make practically any report you could possibly want, since it has over 500 reporting fields that may be customised.
Users have reported that the pricing point for Property Matrix is extremely costly for smaller organisations. This is particularly true when compared to other software solutions that provide capabilities that are analogous to those that are offered by Property Matrix. The company's Starter plan begins at $400 per month and can support up to 250 units.
Features include
Mobile app
Custom user roles
Custom fields and reports
ACH and credit card payments
Property Matrix pricing
Property Matrix is an excellent choice for companies who have particularly particular reporting requirements. This programme enables you to produce practically any report you could ever want thanks to its over 500 fully customisable reporting fields.
However, it is crucial to note that consumers claim that the pricing point for Property Matrix is fairly costly for smaller firms. This is particularly true when compared to other software solutions that have capabilities that are equivalent. The beginning price for the Starter plan is $400 per month for up to 250 units.
FAQ's
Should I use property management software?
The use of property management software enables landlords to operate more effectively, so improving the administration of their properties and often adding to the value of the investment they have made. Modern software systems provide landlords with a broad range of management styles with access to a wide array of tools that are specifically designed for them.
Is there an app for landlords?
The Landlord Studio app is a property management tool that was developed by landlords themselves. It may assist you in keeping tabs on rent payments and costs, generating reports for accounting, automating reminders, and invoicing renters, among other things.
Can QuickBooks track rental?
On their website, QuickBooks provides the following explanation for accounting for rental properties: "QuickBooks Desktop enables you to set up a company file that enables you to run your property management business and do tasks such as receiving and tracking rent from tenants, paying property owners and management companies, and fees."