5 Best Streaming Software For Gaming
The fact that you're reading this suggests that you're either a gamer or a streamer, or maybe both.
Why wouldn't you want to?
A huge benefit of streaming is the chance to connect with your audience in real time. It's a lot of fun, too!
Just watch one of Ninja, Tfue, or Shroud's live broadcasts and you'll realise why broadcasting is a tremendous option.
Not only that, but the worldwide business video industry is expected to reach $25.6 billion by 2025, according to data, with a growth rate of 99 percent in the previous year alone.
Businesses and people that are ready to put themselves in front of a camera and engage with others may see that the video streaming market is expanding at an incredible pace.
But how can you pick the finest live streaming software when there are so many options?
In today's article, we'll be discussing that topic. When it comes to live streaming, I've done my research for you, so you don't have to. In the comments, please share your thoughts.
What is the Best Streaming Software?
On this list, you'll find a live-streaming platform that suits your needs whether you're a content producer who wants to experiment with Twitch or a company owner who wants to experiment with YouTube.
1. OneStream Live
The best software for Twitch and YouTube live broadcasting (Starts from Free)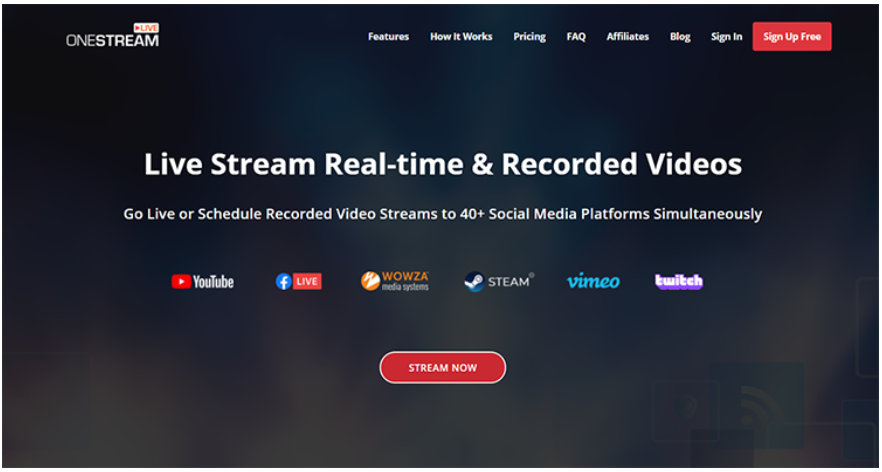 When it comes to streaming software solutions, OneStream is among the top choices for both live and pre-recorded video.
You have the ability to publish via various channels and over 40 social media platforms when you use the OneStream live stream software. Some of these sites include YouTube, Facebook, Steam, Instagram, Periscope, and Twitch.
On social media, you have the ability to effortlessly arrange pre-recorded broadcasts up to one hundred and sixty days in advance. Uploading the video clip, selecting a date and time, and deciding where the broadcast will go are all that is required.
When you are broadcasting live, you have the ability to stream on different platforms using a variety of additional streaming technologies. Configuration is straightforward, and one may begin multicasting in almost no time at all.
Key Features
Embed Player: Embedding live broadcasts allows you to more easily reach a bigger audience.
Streaming allows you to queue pre-recorded videos and plan them to go live in whatever order you wish. You may even schedule them to go live at certain times.
Streaming to a custom destination is possible with custom RTMP streaming by entering the server URL and stream key.
Pros 
Streaming of social media to more than 40 networks
Streaming of pre-recorded content may be scheduled up to sixty days in advance.
Utilize streaming technologies such as Zoom in order to multi-stream in real time.
Live feeds that have been prerecorded should have subtitles and captions added to them.
Live chat functionality that may be used on a single platform or across many platforms concurrently.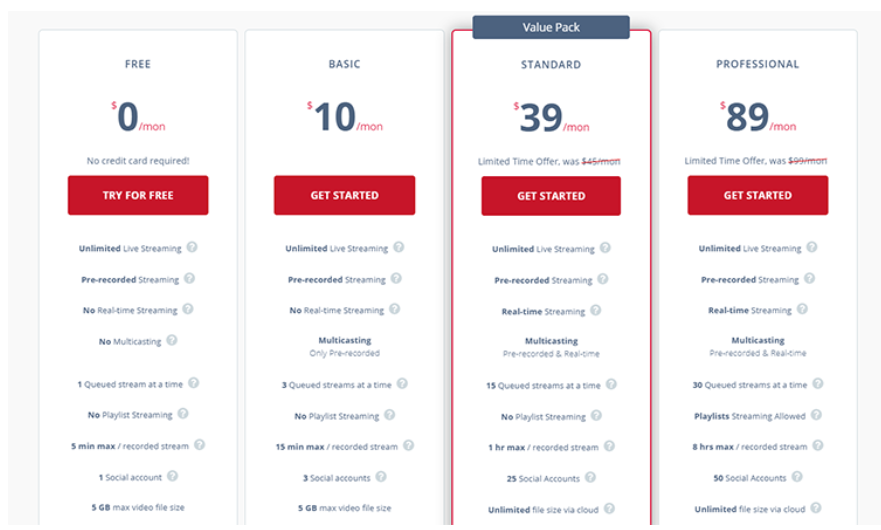 2. XSplit Broadcaster
The best streaming software available, tailored specifically for broadcasting professionals ($15 per month).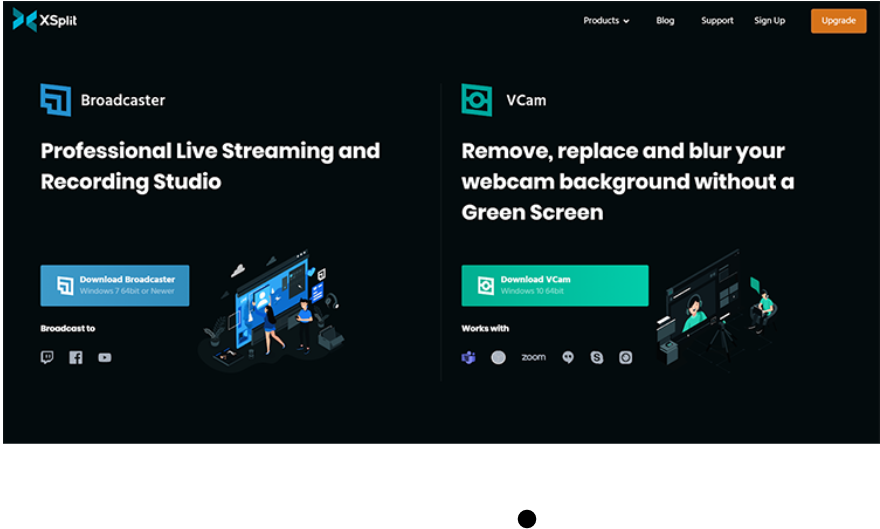 XSplit, which is considered to be one of the best live streaming software platforms, is available in two different editions: XSplit Gamecaster and XSplit Broadcaster. Both editions come with an intuitive user interface that is packed with all of the essential features that are required by the majority of live streaming software applications.
The Broadcaster option is essentially an upgraded version of the Gamecaster, which is designed specifically for broadcasting video games but only has the most basic features.
XSplit, which is one of the most important participants in the online arena, is compatible with Windows. As a consequence of this, it is an excellent choice for streamers who need specialised support, complex settings, and a collection of tools that have been developed especially for video content providers.
After you have registered, there will be no need for you to hunt for any more extensions or plugins. You will find everything you need in a single, easily accessible location. Because of this, XSplit is considered to be one of the most effective streaming systems.
Key Features:
All-in-One App: XSplit Broadcaster is a complete streaming and recording live streaming platform that is chosen by a large number of content producers in a variety of fields, including gaming, sports, and more.
Support for a Vast Number of Platforms: The programme is able to broadcast on all major and numerous platforms by using native plugins and a bespoke RTMP.
Unlimited Customization Capabilities The platform has a robust user interface that provides complete personalization of its settings.
Because of this, it is regarded to be a component of the finest platform for live broadcasting.
Pros 
User interface that is easy to utilise
Simple in terms of both configuration and operation.
Integration of third-party applications by use of URLs and files
Amazing 24/7 native support
It is possible to enhance the functionality by making use of other plugins.
Pricing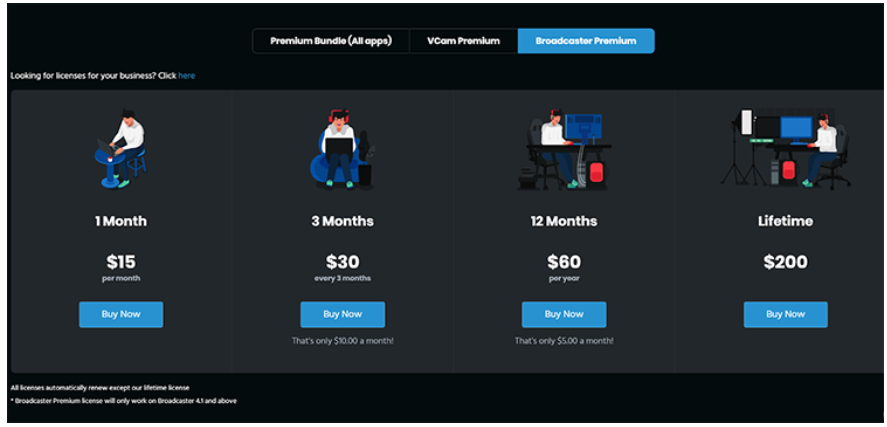 The cost for XSplit Broadcaster begins at $15 per month.
A licence for one year will cost you $60, and a lifetime licence may be purchased for $200.
3. OBS Studio
The best open-source software for streaming media (Free)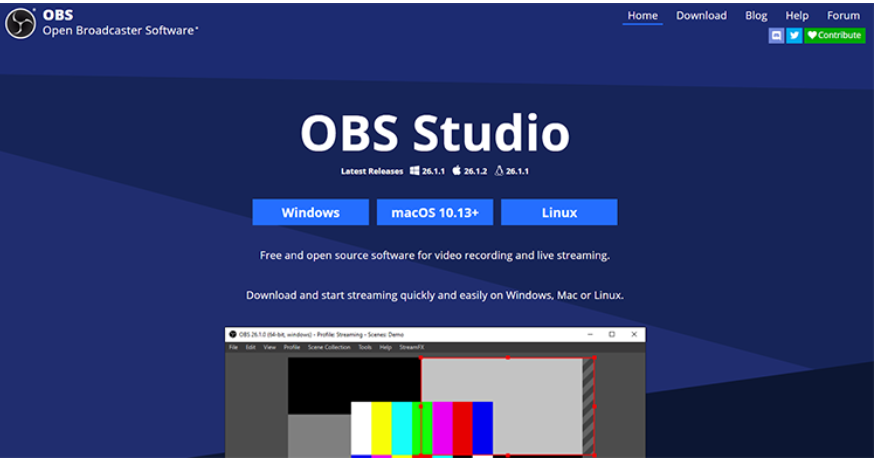 My #1 recommendation for free streaming software is OBS Studio, often known as Open Broadcaster Software. Don't be fooled by the fact that it's available at no cost, for starters.
The OBS Studio platform is one of the top live streaming software solutions available. With this platform, you can live broadcast your content to a variety of websites, including YouTube Live, Facebook Live, Twitch, DailyMotion, and Hitbox.
The Open Broadcaster Software (OBS) Studio has a user interface that is straightforward and simple, making it suitable for usage even by novices. However, it is also an excellent choice for more experienced users who want a high degree of customization and don't mind beginning the configuration process from start.
OBS Studio is available for usage on computers running Windows, Linux, or Mac OS. It is one of the greatest live streaming software solutions available and is completely free to download and use. OBS Studio is an excellent piece of software for Twitch broadcasting since it allows you to record sources in a variety of formats, including whole screens, screen areas, cameras, direct game capture, and more.
Key Features:
Extremely Versatile: OBS Studio offers a multitude of features and capabilities, such as studio mode, that are difficult to compete with, especially when compared to certain premium software.
You are able to set up hotkeys for practically every activity, including beginning or terminating a stream, muted audio, and flipping between scenes, among other things.
Studio Mode is a feature that rapidly previews scenes and sources for last-minute edits, which is one of the reasons why it is considered to be among the best live streaming software options.
Pros 
The solution for streaming media that is open-source and free to use
Simple to operate
There are a tonne of lessons and guidelines available online.
Easy on the CPU while being lightweight
Extremely customizable
Pricing:
You can download and use OBS Studio for free.
4. Streamlabs Desktop
Software that is streamed together with the most superior free app store (Free)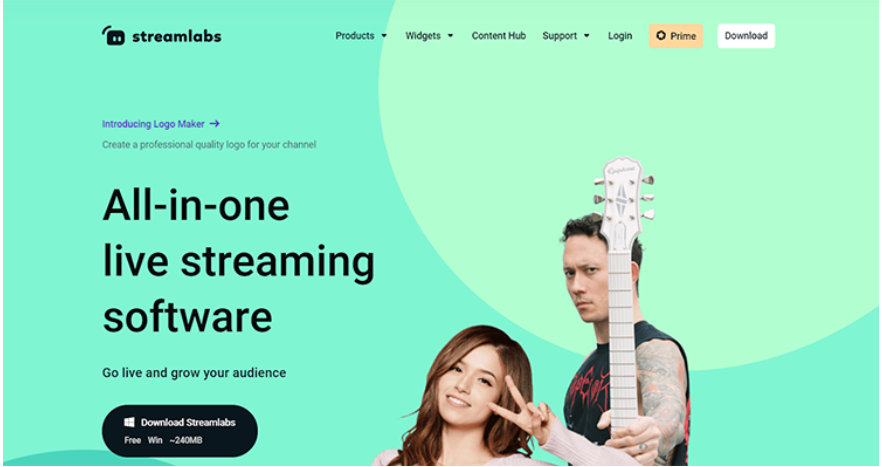 One of the most well-known and often used live streaming software packages among Twitch users is called Streamlabs Desktop. This free streaming application was developed on top of the OBS technology, with a primary emphasis on user friendliness and adaptability.
It is a streaming solution that includes everything you need, making it perfect for novices as well as seasoned professionals. In addition, by subscribing to a subscription plan, you will have access to a greater number of features and interactions.
The free live streaming programme Streamlabs Desktop can sync with a number of different networks, including Facebook, YouTube, Mixer, and Twitch, amongst other social media platforms. Moreover, it automatically changes all of the essential parameters for optimum output, which is another reason why Streamlabs Desktop is such an excellent piece of software for Twitch broadcasting.
In addition, you have the ability to customise the style and feel of your stream, which is a characteristic that assists established companies.
It is without a doubt one of the most astounding aspects of this platform because it comes equipped with its own own app store.
You will be able to automate more tasks, delve more deeply into statistics, develop more interactions with viewers, broadcast to various platforms, and more as a result of using the applications in this section.
Key Features:
Streamlabs Desktop Dashboard: If you utilise this dashboard, you won't need to open your browser to handle any of the software's components.
Themed Visual Layouts: You get themes for a variety of games and genres, which will assist you in delivering an experience that is both more customised and immersive.
Choose from a variety of different widgets that have been specifically built for a variety of broadcasts.
App Store: The capability of downloading applications that cater to one's particular requirements is a feature that might be considered rather desirable.
Pros 
Free to use and easy to set up
Massive library of add-ons and elements
Tons of functionality for creators
Easy on the CPU
"Face Masks" bonus feature
Pricing
Github provides access to free and open-source versions of Streamlabs Desktop and Open Broadcaster Streaming Software.
You may begin your live streaming and recording immediately after downloading it from the website and installing it on your computer.
5. vMix
The best software for premium streaming (Starts from Free)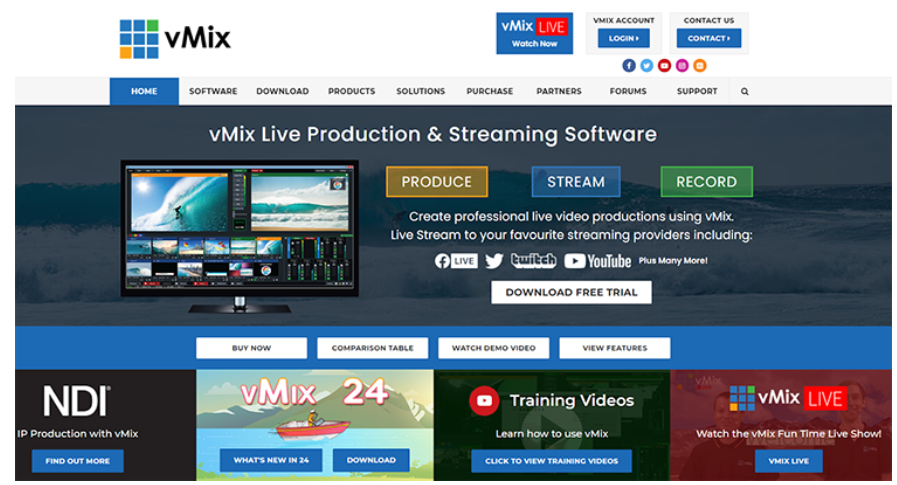 The live streaming software vMix is of the highest calibre and was developed with power users in mind.
It comes with a set of sophisticated capabilities, such as immediate replay, scripting controls, PTZ camera control, and a virtual scoreboard, and it provides a price structure that is centred on growth.
The application offers a cutting-edge user interface that is really sleek, but it has a steeper learning curve than other streaming applications, which is likely to frustrate first-time users.
However, the platform also provides excellent technical assistance, and if you get the hang of it, this is an incredible tool that will bring both the quality of your video streams and the number of viewers they attract to a whole new level.
Key Features:
Live Chat: The programme provides capabilities that enable you to read comments and respond to them while they are being broadcast live on your channel.
With vMix Social, you can simply include material from Facebook Live, YouTube, Twitter, and Twitch into your live broadcast. vMix
Social also allows you to incorporate information from other social network accounts.
Replay Tool: vMix also has a replay feature that enables users to display slow-motion versions of instant replays, which may be used to boost audience engagement.
Pros 
"Lite" The free version of live streaming software vMix
Dozens of powerful features
Robust technical support
High-quality 4K output
Plans for every budget
Pricing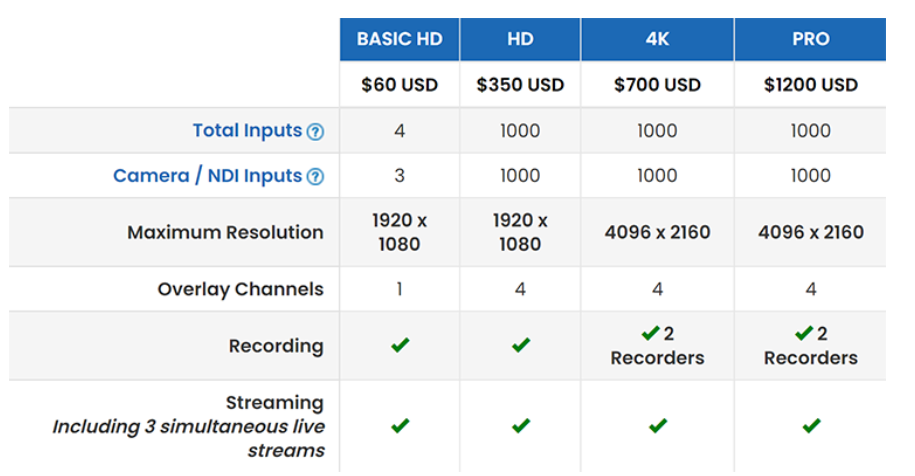 FAQ's
Is OBS good for streaming?
OBS Studio is the greatest free streaming software in our opinion and is our top selection. This streaming programme has a lot going for it, including the fact that it is open source, that it is strong, and that it is versatile.
Is OBS better than Streamlabs?
OBS is the right choice for you if you are a seasoned professional who places a primary emphasis on your work and does not need any extra bells and whistles. The Streamlabs version, on the other hand, is the one that users should choose if they are interested in gaming and other enjoyable streaming.
Does Streamlabs OBS cost money?
How much does it cost to use Streamlabs? Everything you need to properly capture video and live stream it for free is included in the Streamlabs package. This includes live streaming software with hundreds of widgets, built-in overlay styles and alerts, a tip page (we don't take a cut), and Cloudbot moderating capabilities.