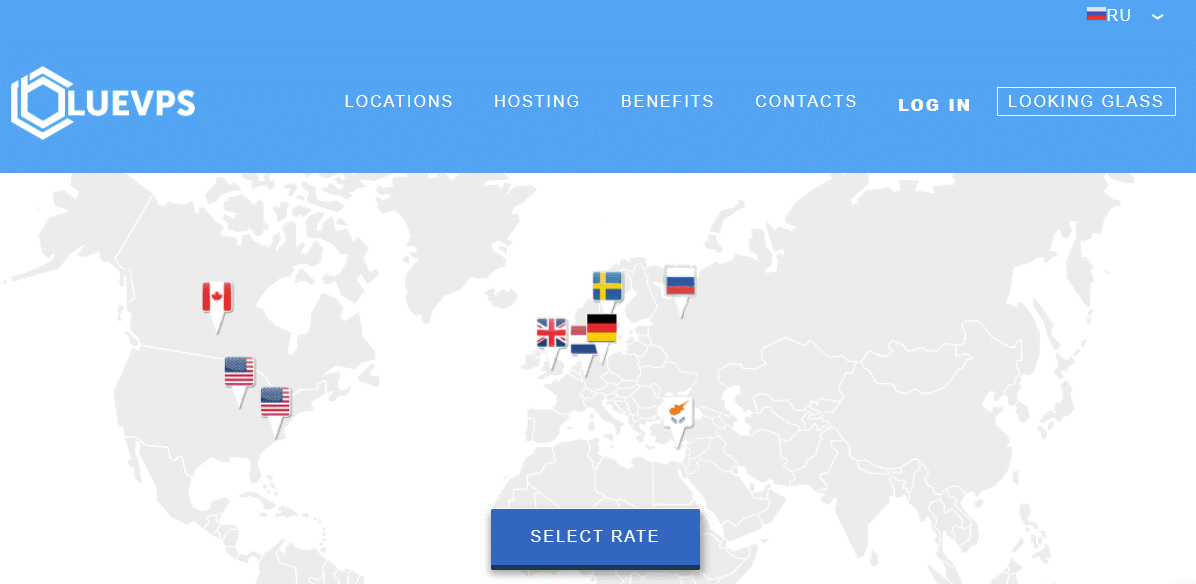 BlueVPS provides virtual private server services, which is reflected in the company's name. Its plans are appropriate for websites that receive a large amount of traffic and those that require more resources than can be provided by a shared server but do not have the financial means to acquire a dedicated server. BlueVPS has clients in a variety of locations around the continent, and its data centres are spread across 10 different nations. The website is available in both Russian and English.
Features and Ease of Use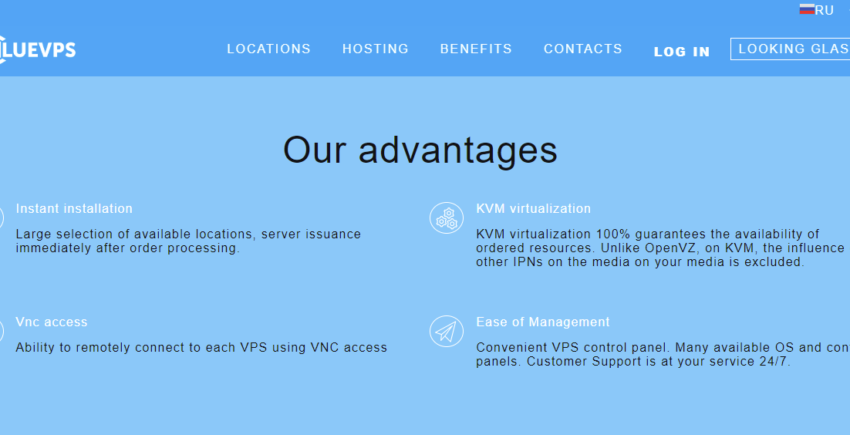 BlueVPS.com provides plans for both Linux and Windows operating systems. It also provides bKVM, HD-KVM, and SSD-KVM virtual private server (VPS) plans on both platforms. On the Linux platform, there are also unique VPS options available. On its VPS platform, it offers a total of twenty-eight different options. The following are some of the characteristics of these plans:
A 99.9 percent uptime guarantee is provided.
Disk space ranges from 7GB to 2TB.
From 5TB to a limitless amount of bandwidth.
Following up on what we said previously, the company's plans are hosted on both Windows and Linux operating systems. A client's choice of operating system is determined by the type of apps that they want to run on their computer. While the vast majority of control panels, applications, and modules are compatible with Linux, a few, such as ASP.NET and MSSQL, can only be used on a Windows platform.
BlueVPS makes use of KVM virtualization, which has several advantages, one of which is the capacity to function just like a dedicated server. It also provides direct access to the kernel, and the system may be tailored to meet special requirements.
It provides both free and paid selectable control panels, which include DirectAdmin, cPanel, ISPmanager, VestaCP, and VirtualMin. It also provides both free and paid selectable control panels. These control panels may be used to access any part of the hosting account, including the domain name. Furthermore, it is compatible with popular content management systems (CMS) like as WordPress, Drupal, Magento, and OpenCart. Besides that, it supports frameworks such as Node JS, JQuery, Zend, Django, and many more similar ones.
For those times when you need to administer your account from a distance, BlueVPS provides remote access using virtual network computing (VNC).
All three plans employ RAID 10 hard disc drives (HDDs), with the exception of the SSD-KVM plan, which uses solid state drives (SSD) (SSD). In addition to this, SSD caching is provided on certain plans, which boosts the processing speed of frequently loaded items.
Pricing and Support
The bKVM and SSD-KVM plans are so inexpensive that it would be reasonable to believe they are shared plans. The HD-KVM and the special offer plans, on the other hand, are within the price range that is currently available in the market. Monthly, quarterly, semi-annual, and yearly billing periods are available.
When it comes to virtual private servers, there is no mention of a money-back guarantee, thus it is preferable to choose for the one-month paying option. Aside from that, there is no free plan or trial period to evaluate the service. In addition to WebMoney and cryptocurrency payments, BlueVPS allows payments via PayPal, PayPal Express, Payeer, Unionpay, QIWI, Yandex Money via Payssion, Alipay, and InterKassa.
Client assistance is offered by email, phone, live chat, and a ticketing system within the BlueVPS platform. I wrote an email, but I never received a response from the sender.
BLUEVPS REVIEW: BOTTOM LINE
BlueVPS provides virtual private server (VPS) options that are hosted in data centres located in 10 different locations across the world. There are two different operating systems and five different control panels from which to choose. These blueprints make it feasible to automate the installation of software programmes. Furthermore, with these plans, you have a plethora of alternatives to choose from, all at reasonable pricing.
Pros
Plans are compatible with both Windows and Linux operating systems.
SSD and HDD with RAID 10 servers are offered with a variety of control panels to choose from.
Installation of apps is carried out automatically.
Cons
The hosting provider does not provide shared hosting options.
There are no self-help options available.