Customized Diamond Painting for Children
Children love to do a variety of things and learn something new every day. Painting, sketching, crafting, and other such activities increase the creative and motor skills of your child. However, parents also need to spend time with their children and observe things that attract their child's interest.
Kids learn more effectively without getting bored if the subject is of their interest. There are possibilities of generating interest in a particular field. For instance, you can develop the interest of your kid in creative-fields through arts and drawings. Moreover, kids through arts, paintings, and drawings produce a visual image of their imaginary world.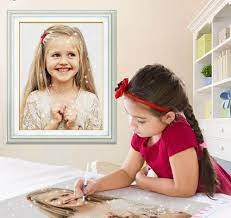 Customized diamond paintings aid children in generating a unique painting of their favorite character, scenery, animals, and professional individuals, in the form of a three-dimensional pattern or image.
Why You Should Choose Customized Diamond Paintings for Children?
Paintings of various types including glass painting, water painting, oil painting, and many others, increase the creative skills of children. But in customized diamond painting, children can use gems or diamonds to create a 3D image in mosaic-style of their favorite painting. It enhances the creative-skills of children to another level.
Diamond Paintings allow children to enjoy and experience the new technique of painting and think to explore novel methods for it. Children will no longer be confined to using specific colors in the liquid form. They will learn and think about developing new paintings in other forms. It allows children to think out of the box and believe nothing is impossible, they are recreating something they have already seen before and this gives them a sense of achievement.
Diamond Painting Kits for Children
There are different kid-friendly themes for kits of diamond painting. But nothing comes close to the personal touch of a customized diamond painting. Just order your customized diamond painting that will transform into a familiar photo and your children will love it. Also, for children, the size of the diamond is larger than the diamonds used by adults for diamond painting.
Customized diamond painting kits for children are modified to make them user-friendly. So that, children can easily use a stylus, wax, and larger diamonds for painting while enjoying themselves.
The holographic stickers and sun-catchers come with a customized diamond painting kit for children. Customized diamond painting enables you to have customized holographic stickers that allow the designing of specific diamond paintings.
The number of gems and colors available in the diamond paint kits varies depending upon the size and price of the kit. Furthermore, different kits provide different features, the number of holographic stickers, sun-catchers, card stock sheets, and canvas can vary in different diamond painting kits for children. Some kits provide stylus and wax within the kit, and some do not.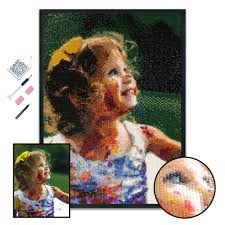 When Can You Buy Customized Diamond Painting For Your Child?
Anyone can order customized diamond paintings irrespective of their age. However, as a parent, it is best to buy diamond paintings for your child from the age of eight or above.
Giving your children a diamond painting of customized patterns and images encourages them to do new things and adapt to them. Besides, while doing diamond paintings, you can spend more and more time with your children. Allowing more children to do the diamond painting in a team generates certain team cohesion.
Children that develop creative skills from an early age and the ability to work in a team are usually able to perform well in life. It depends upon the kit whether it is useable for kids above six or eight years old.
A perfect Indoor Activity
Peinture Diamant for children are a great indoor activity that enables children to enjoy their time indoors. During harsh environmental conditions or unfavorable outdoor conditions, it is best to do some fun activities that can be done within your home.
You can let your children do their favorite customized diamond painting freely and observe them. You can also arrange a competition of diamond painting among your children. Competing sharpens their skills and alerts them to achieve the target in the shortest time possible.
Diamond paintings for children can be customized and you can select shape, size, style, and theme for your specific painting. It is not only a simple indoor fun activity; you can decorate your home walls or children's bedroom walls with these diamond paintings.
Children Recreate Their Masterpiece
Customized diamond paintings for children allow sticking various diamonds on canvas and holographic sheets that ultimately lead to recreating their favorite memories. The diamonds are stuck on canvas to formulate a three-dimensional image using glue, wax or self-adhesive canvases.
With customized diamond paintings, you can select the shape of diamonds depending upon your liking. Mostly round and square-shaped diamonds are available for painting purposes.
The color of diamonds and the number of diamonds with the same color varies. It depends upon the overall image that you intend to customize for your painting and generate a masterpiece. The diamonds are resin rhinestones that produce shiny, vibrant, color-rich, and mosaic-style art.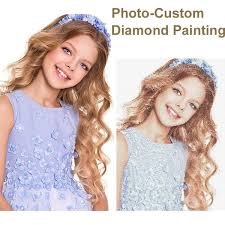 Benefits of Diamond Paintings for Children
Art is a fantastic way to develop your child's imagination and creativity. It also provides an opportunity for parents and children to spend quality time together. One of the most popular art forms used in homes and schools is painting, but traditional painting can be messy and difficult for young children.
Diamond painting is a fun alternative to traditional painting that allows children to create their own art without the mess or difficulty of other methods. Here are some benefits of diamond painting personnalisé for children:
Enhance Focusing
Children who are habitual of playing and doing diamond painting learn to stay focused and enhance concentration. Such children through diamond painting learn to concentrate on the goal and achieve them by following some steps.
Customized diamond paintings for children enhance focus to such an extent that they do not get distracted by TV shows, music, or online games. Furthermore, customized diamond paintings are also addictive and time-consuming.
Relaxation
Diamond painting is a meditating activity that allows children to relax and have fun. Children can release their stress and become calm by doing fun activities like customized diamond painting.
Stress levels reduce more quickly when children paint a customized diamond painting as it allows them to create a pattern or image that they love the most. Seeing things you love increases endorphin levels, lowers stress, and makes children happy.
Patience
Customized diamond painting is a fun and relaxing activity, but it is time-consuming too. Besides, children need patience and consistency to complete it. As a result, children who do diamond paintings learn to be patient to achieve their ultimate goal by working consistently. Customized images keep them engaged and they work towards a goal of reliving their favorite memories.
Self-esteem
After much time and effort, children complete their diamond painting. The completion of the customized diamond painting gives children a feeling of accomplishment. Being able to achieve their target increases their self-esteem and encourages them to do more and better.
The diamond painting for kids is a good way to get their creative ideas flowing. In this new trend of painting for kids, various creative paintings are being introduced in the market and one of them is diamond painting for kids. Although the aim of this activity is to make money by selling these diamonds, you can also make your own diamond painting as part of your leisure time. It might seem difficult to make at first sight but there are detailed instructions in the book that make it quite easy to create a beautiful piece of art. Diamond painting is a great pastime for pre-teens. It is entertaining, artistic and can help children cultivate problem solving skills and follow simple directions. It's a great way for the kids to keep occupied during long car rides or just when you need them to be entertained for a few hours.
Diamond painting is an art activity which can be done indoors or outdoors. There are a wide variety of diamond painting patterns and painting kits available. It's relatively cheap, easy to set up and fun for kids of all ages.