How to Add the Disney Plus Bundle with ESPN+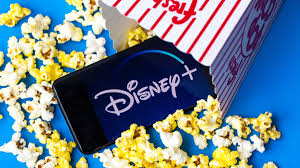 The new streaming service known as Disney Plus (or Disney+) has prices that are affordable. You may, however, maximize your savings and obtain more material by subscribing to the Disney Plus package. This provides you with a subscription to Hulu (with advertisements) in addition to ESPN Plus (or ESPN+), which allows you to watch additional sports programming. If you already have a subscription to Hulu, you are eligible for the discount, even if you have the Hulu plan that includes advertisements. Nevertheless, at least for the time being, the process is not completely streamlined.
Read Also: How to Download Disney Plus Movies To Watch Offline
How to Add the Disney Plus Bundle with ESPN+
If you would like to switch to the Disney bundle, the following actions should be followed:
Check to see that your email address is the same on all of the platforms. If they are different, you will need to update the information on your ESPN Plus and Hulu accounts so that they are consistent with the information on Disney Plus.
After confirming that the emails are the same, check in to Disney Plus on the website for the service.
To access your profile, use the link located in the top right corner.
Click the Edit Profiles option.
Make sure you select the primary Disney Plus account. When you initially signed up for the service, this should have been the first profile you created.
Return to the main Disney Plus screen with the primary Disney Plus option still chosen.
Again, navigate to the top right of the page and click on the link for your profile. Your primary Disney Plus account has been selected at this time.
Choose the Account option.
Select the Disney Bundle from the available options, then proceed to follow the on-screen instructions, which will require you to provide your financial information.
A confirmation email will be sent to your inbox as soon as your new bundle has been successfully created. After some time has passed, you will be sent a follow-up email that will validate any credits that you may have earned as a result of making the transition. As you can see in the following illustration, Disney will give you credits toward the cost of the bundle in an amount that is equivalent to the actual monthly cost of your current membership, and they will continue to do so for as long as you continue to pay for that subscription: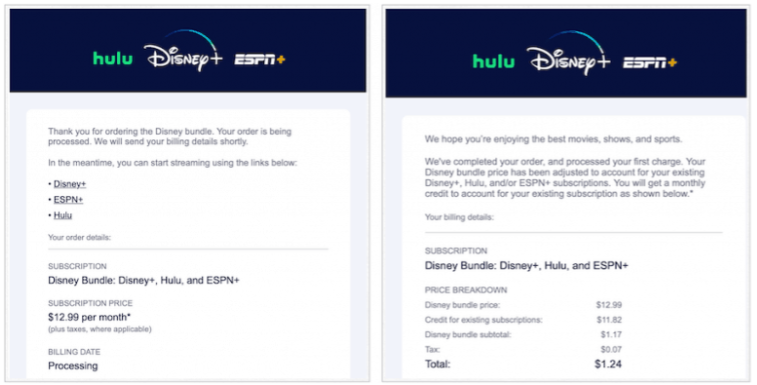 During the process of signing up for Hulu, you will have the opportunity to upgrade to a bundle that does not include advertisements on Hulu.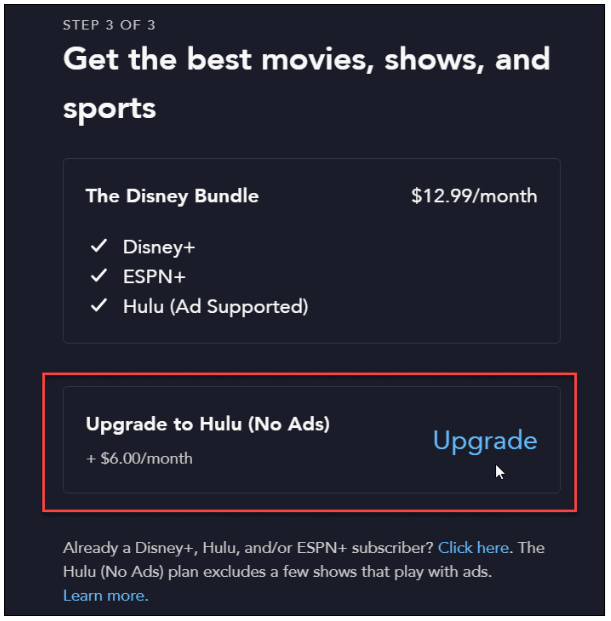 FAQs
How do I install ESPN Plus on my TV?
There are still a few solutions available to you even if the ESPN app is not included with the streaming hardware that you use. Cast ESPN+ allows you to push the stream from your phone to a Google Chromecast. This app is only available for Android users. You can stream content from your iPhone to your TV using an application called AirPlay ESPN+. This application is compatible with previous models of Apple TV.
Where can I watch ESPN Plus?
You can use your personal computer to view ESPN+ by going to espn.com/watch (opens in new tab). You can also watch it on the ESPN+ app, which is available for Apple TV, iPhone, iPad, Android TV, Amazon Fire TV and Fire tablets, Xbox, Roku devices, Google Chromecast, PlayStation, and Oculus Go. You can send ESPN+ content from your mobile device to your television if you have a Chromecast.
Does ESPN Plus include ESPN?
What doesn't come with the ESPN+ subscription? Because ESPN+ is distinct from the cable networks ESPN, ESPN2, and ESPNews, purchasing a membership to ESPN+ will not give you access to live sporting events that are being shown on the aforementioned networks.
How do I activate ESPN?
When you register, it is imperative that you use the credentials provided by your TV service provider. if you have an ESPN+ membership, you can pick ESPN accounts, and then check a box to have an ESPN account created for you so that you can log in automatically. You can activate your ESPN account by going to espn.com/activate in any web browser on your home computer or other smart device.
What channel is ESPN Plus on?
Because ESPN Plus is not a traditional television station, you will need to download the ESPN app in order to watch it. If you have a smart TV that is either wirelessly linked to the internet or connected to the internet via an ethernet connection, downloading the ESPN app should not present any difficulties for you.
What streaming service has ESPN?
Sling Orange, Hulu, Fubo, Fubo Elite, YouTube TV, Vidgo, and Spectrum TV are some of the services that allow you to watch ESPN without a cable subscription. Following is a rundown of the top five methods that cord-cutters can still watch ESPN without a cable subscription.