How to Change the YouTube TV Location
One of the most popular streaming services, YouTube TV, enables users to watch over 70 live channels by streaming them on their computers or mobile devices. It is only accessible to users in the United States, where it costs $64.99 monthly to subscribe, and you can terminate your YouTube TV membership anytime. It allows you to stream various on-demand videos and record your favourite streaming for later viewing when you are not connected to the internet. If you want to stream YouTube TV material but are located in an area where YouTube TV is not available or you are outside of the coverage area and want to stream YouTube TV content, you may avoid the restriction or alter the location of YouTube TV simply by moving to a different part of the country. In the following post, you will learn how to change the location of YouTube TV:
Read Also: How to Stream YouTube TV on your Apple TV
How to Change the YouTube TV Location
Before you go ahead and do that, you need to keep in mind that there are limitations, such as the fact that you can only switch the home area on YouTube TV twice a year.
Change your Home Area on Android
1. Launch YouTube TV and enter your login information if prompted.
2. Click the icon that looks like your profile.
3. Go to the Settings menu. After that, select Area by clicking on it.
4. The location and the home area will be updated automatically based on your current location once you click on Update and then touch on Update Home Area.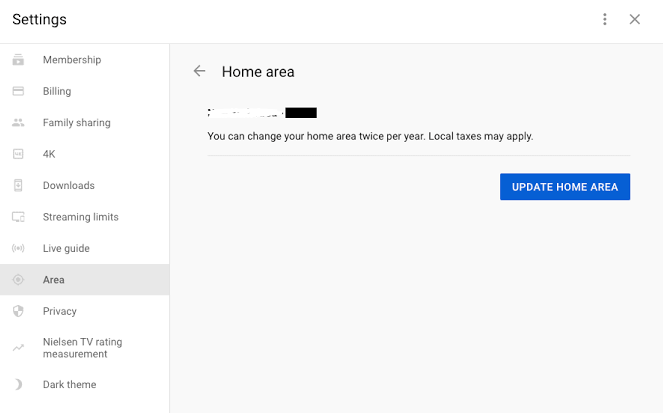 Change Your Home Area on iPhone.
1. Launch the web browser on your iPhone's mobile device, navigate to the official YouTube TV website, and sign in to your account there.
2. Click the icon that looks like your profile.
3. After that, select the Settings menu.
4. Choose This Area. After that, select the Home Area from the menu.
5. Now, select Update > Update Home Area from the menu.
How to Troubleshoot Location Permission
If you are utilizing the Chromecast gadget, you are required to take it with you whenever you travel, and you also need to troubleshoot the location authorization.
1. Launch the Chrome web browser, and select More or Menu from the drop-down menu.
2. Choose Settings from the drop-down menu, navigate to the Privacy and Security section, and click there.
3. After that, select the Site Settings option.
4. Select the area you wish to go to by tapping on Location and then making your selection.
FAQs
Is YouTube TV region locked?
Users have access to 85 different channels through the usage of the highly-rated streaming service YouTube TV. You will get the warning "This content is not available in your region" if you try to access it from any other nation because it is only available in the United States. Unfortunately, it is only available in the United States.
Why is YouTube TV so expensive?
People are now wondering why YouTube TV is becoming more expensive and how much it currently costs as a result of this move. The expansion of the channel portfolio is one of the primary drivers behind the price increase that has been implemented. BET, Comedy Central, MTV, Paramount Network, and Nickelodeon are some of the new channels that have been introduced to YouTube TV.
Does VPN work for YouTube TV?
If you use a virtual private network (VPN), however, you will be able to access YouTube TV no matter where you are in the world. It does this by providing the user with a temporary IP address that differs based on the location of the server that you choose. While the user is traveling or conducting business in a country other than the United States, they will be able to watch YouTube TV if they connect to a server located in the United States.
Is YouTube TV better than Netflix?
You may view brand-new episodes of network TV series as soon as they are broadcast by using YouTube TV. Netflix is home to a selection of original programming as well as archived seasons of other popular shows. You might think of YouTube TV as a streaming version of a "skinny bundle" for traditional cable television. If you use Netflix, your viewing options are restricted to what Netflix currently has available.