How to Get Hollow Denial in Destiny 2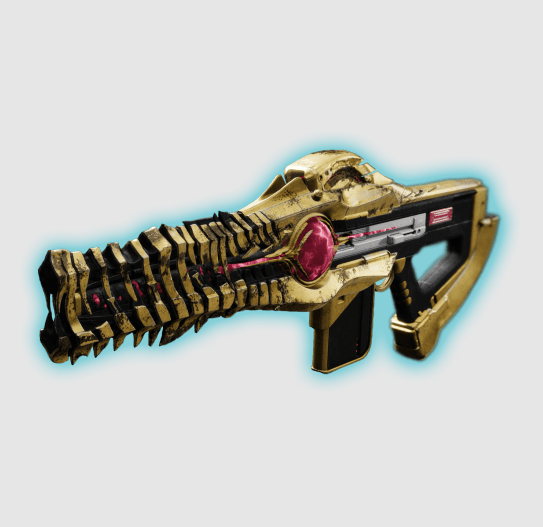 In Destiny 2, one of the more recently added Trace Rifles is called the Hollow Denial Trace Rifle. This weapon was introduced into the game alongside the Season of the Haunted expansion, and it is a component of the Haunted set. There are a few different methods that players can acquire this weapon while playing the game. Since Trace Rifles require a unique type of ammunition, employing this weapon in circumstances where there is a dearth of standard ammunition could prove to be challenging. On the other hand, this weapon has the potential to be quite useful in everyday circumstances, particularly in PvE-related pursuits. This post will walk you through the steps necessary to obtain the hollow denial in Destiny 2. So let's get started:
Read Also: How to Get Battle Scars (Auto Rifle) in Destiny 2
How to Get Hollow Denial in Destiny 2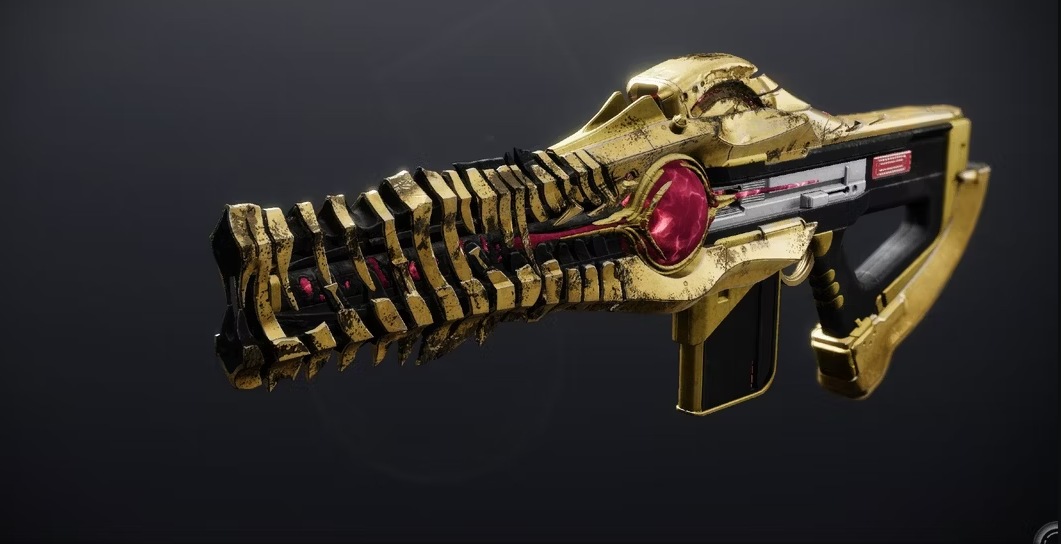 The easiest way to obtain Hollow Denial is to simply finish the Nightmare Containment Tier III and Sever activities aboard the Derelict Leviathan just above the Moon. This is the best way to achieve Hollow Denial. Although it is possible to acquire any Haunted weapon through this means, the Trace Rifle will be the primary focus of this approach. In addition, if players have completed the necessary upgrades for the Crown of Sorrow, they will be able to focus Umbral Engrams to directly obtain Hollow Denial as well as the Deepsight Resonance version. Last but not least, once a Nightmare Containment Tier III activity has been finished, Guardians will be able to gain Bound Presence in Destiny 2 by binding 500 Vestiges of Dread and then using that Bound Presence on the Sever mission chest to win Hollow Denial.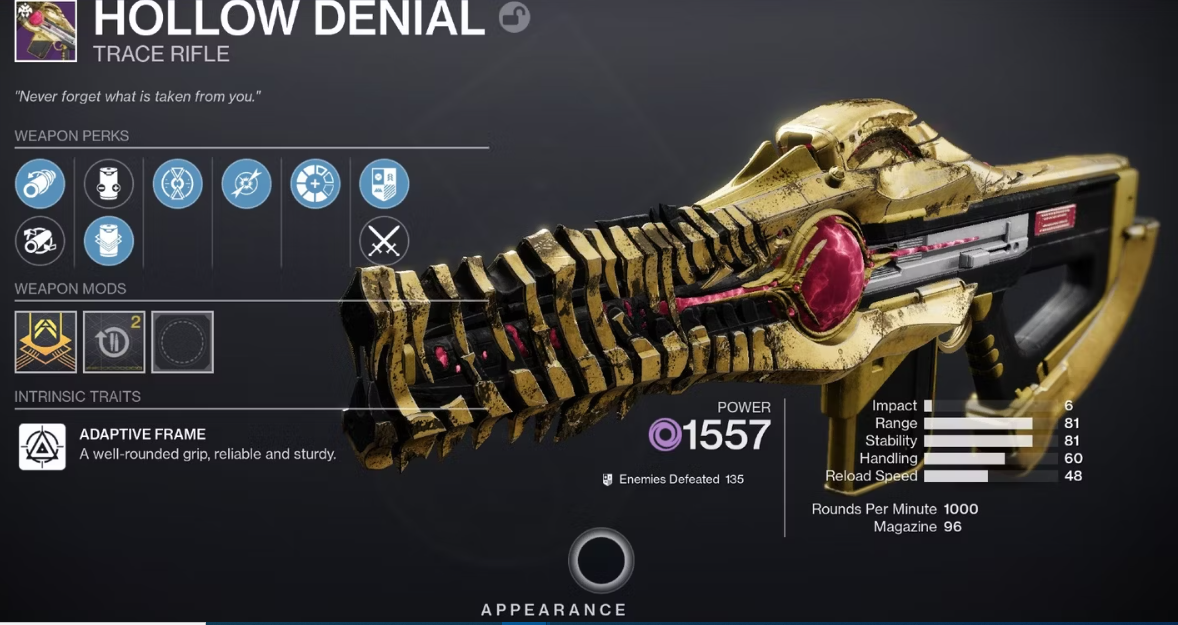 Players that enjoy PvE content and enjoy using Trace Rifles will be happy to know that there are a number of fantastic possibilities for perk selections available for both the barrel and the battery. Fluted Barrel, Smallbore, Polygonal Rifling, and Hammer-Forged Rifling are the types of barrels that perform exceptionally well in both PvP and PvE activities. Arrowhead Brake, Extended Barrel, and Corkscrew Rifling can also be used for PvE activities, but they do not perform as well in PvP. The Hollow Denial's PvP batteries include of the Particle Repeater, the Projection Fuse, and the Tactical Battery. PvE rolls can benefit from those options in addition to the Light Battery and the Enhanced Battery options. In addition, the combination of perks shown in the third and fourth columns below is recommended for Hollow Denial up until the end of Season of the Haunted in Destiny 2.
Rangefinder/Dragonfly –  In player against player combat, there are not many perks that can dramatically boost Hollow Denial, but this combo should work just fine.
Adaptive Munitions/Killing Tally – Incredible choice for PvE, especially when one considers that Season 17 brings with it the ability to modify the Overload Trace Rifle.
Adaptive Munitions/Dragonfly, Swashbuckler – These different permutations are alternatives to the ones that were discussed previously and can be used in place of Killing Tally for PvE-related pursuits.
FAQs
Where can I farm Hollow Denial in Destiny 2?
Instructions on how to obtain a hollow denial. You will need both the Season of the Haunted season pass and the Witch Queen downloadable content pack in order to be able to obtain and build this weapon. You can obtain it as a drop by participating in Haunted seasonal activities, or you can focus it at the seasonal kiosk located in the Helm.
Where do you get Hollow Denial drops?
You may be able to get drops of Hollow Denial through activities that are part of the Season of the Haunted event. These drops may include red-bordered drops that may eventually give you the ability to construct Hollow Denial.
What is the easiest trace rifle to get Destiny 2?
In the game, acquiring a Hollow Denial Trace Rifle is not particularly difficult at all. On the derelict Leviathan, there is a public task known as "Nightmare Containment" that must be finished in order for Guardians to be able to acquire this weapon.
What is the best legendary trace rifle in Destiny 2?
Divinity
The Divinity is one of the very few support weapons in the game, but ever since it was added, it has been a tremendous powerhouse in the combat system. This trace rifle is one of the most popular and effective point-and-click experience (PVE) weapons in the game as a result of its ability to boost the damage that is dealt to a target by teammates by 15%.
What is the most broken weapon in Destiny 2?
You will be familiar with Telesto if you have ever played the game Destiny. This exotic weapon is well-known for being notoriously prone to having bugs, while being a fan favorite due to the explosive purple missiles it fires.