How to Get Horror Story in Destiny 2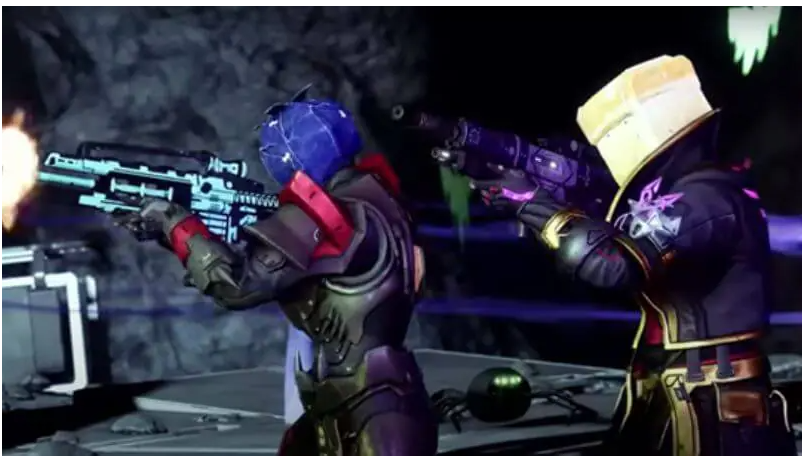 The Festival of the Lost will continue until early November, during which time players of Destiny 2 will have the opportunity to obtain a fresh new weapon known as the Horror Story. However, players will only be able to do so while the festival is active. In this article for Destiny 2: Horror Story, we will walk you through how to gain Fragmented Souls rapidly so that you can grind your way to the new weapon as easily as possible. This will allow you to get the new weapon as quickly as possible.
Read Also: How to Get Gjallarhorn in Destiny 2
How to Get Horror Story in Destiny 2
Destiny 2 Horror Story Auto Rifle
If you log into Destiny 2 at the appropriate time, you'll see that the Halloween-themed makeover of The Tower is now complete. Visit Amanda Holliday to begin the Festival of the Lost quest line. This line of quests will need you to complete two Lost Sectors on Io, which you may do by heading over to her.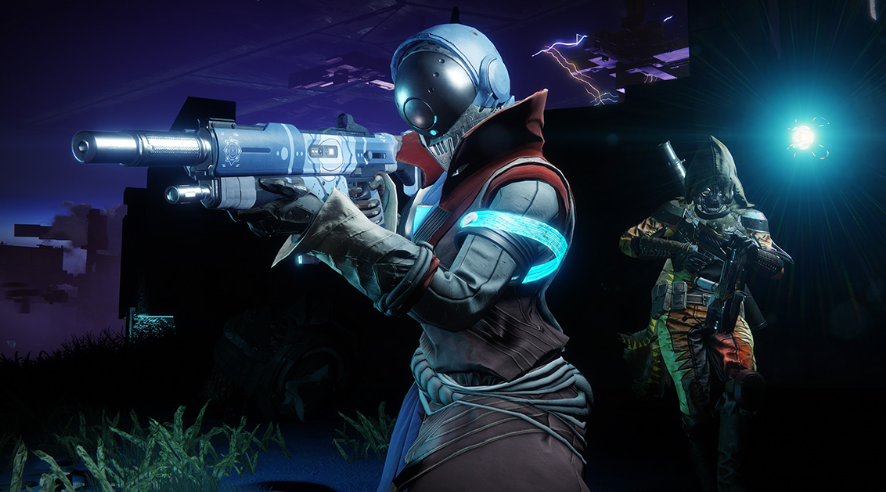 Following this, Holliday will give you another mission to complete in the Haunted Forest. This mission requires you to complete it while wearing one of the new masks that are available during the festival. After you have accomplished this task, you will be able to purchase the Horror Story auto rifle from the ship seller for the low sum of 120 Fragmented Souls. This will be revealed to you when you return to Amanda in The Tower.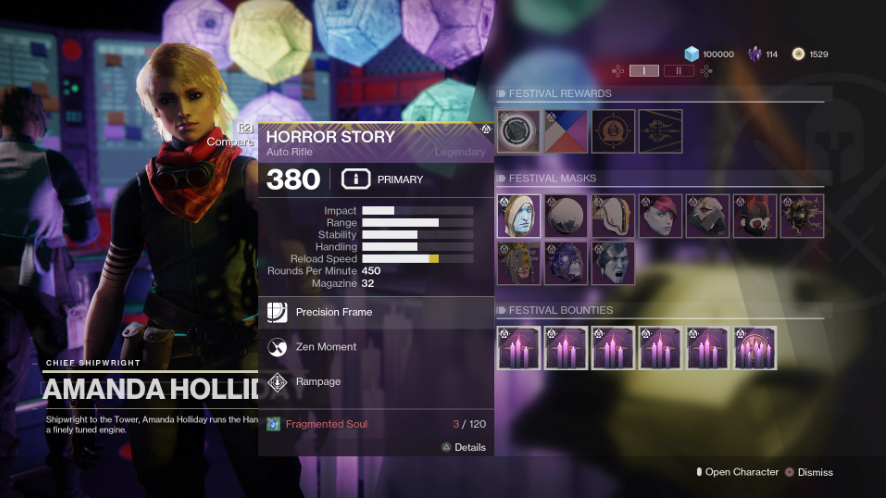 Acquiring all of these Fragmented Souls requires a lot of hard work. We have gathered a list of some of the Bounties that you can accept from Holliday, and doing so will significantly increase the rate at which you earn Fragmented Souls. You can find this list just below.
Clearing the Forest requires you to use grenades to take out 15 different foes in the Haunted Forest.
Kill 50 foes using auto guns in the Haunted Forest to unlock the achievement "Forest Fire."
Take down 15 Guardians in the Crucible while wearing a mask from the Festival of the Lost to earn the Masked Mayhem achievement.
Masked Strike is accomplished by completing a Strike while donning a mask from the Festival of the Lost.
Complete a Gambit match while sporting a Festival of the Lost mask to earn the Masked Intentions achievement.
Finally, there is the 'Bounteous Festival' Weekly Bounty, which can be accepted from Holliday and is available to you. You will receive 40 Fragmented Souls for completing this Weekly Bounty, but in order to complete it, you will need to rise and complete each of the Bounties that are listed above a combined total of 15 times.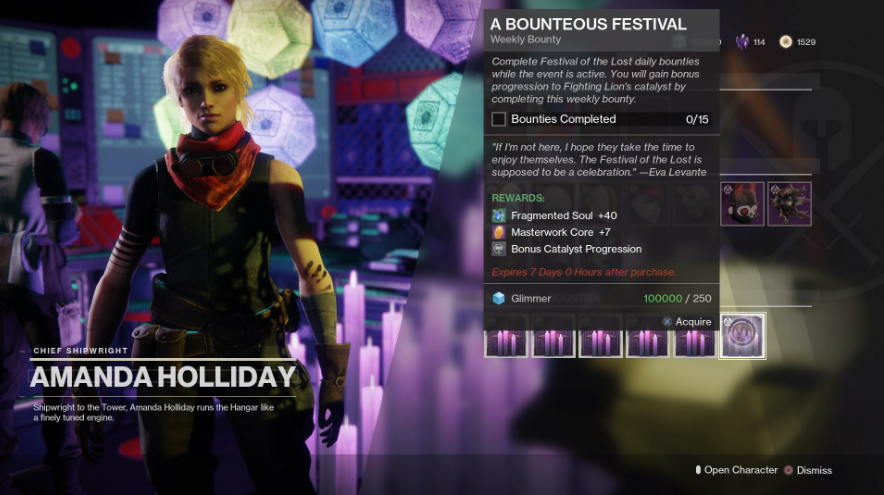 FAQs
What is a god roll horror story Destiny 2?
Because the Horror Story is a precision-framed kinetic auto rifle, its recoil pattern is more vertical than horizontal. This immediately means that a modification such as Counterbalance Stock isn't actually needed because it doesn't let the pistol shoot perfectly vertically. This is because the stock prevents the gun from shooting exactly vertically. However, it does provide a little increase in performance, so put one on if you feel like it.
How good is Duty Bounded Destiny 2?
Because of the exceptionally extensive perk pool that comes with this auto weapon, players have a great deal of leeway in determining how they want to construct their characters around it. Because of this, I'm going to highlight two fantastic perk combos that make this weapon very powerful in practically any PVE endgame activity. Both of these perk combos can be found in the item's description.
How long will the Festival of the Lost last?
The Festival of the Lost will make its return in Destiny 2 and will take place between the 12th of October and the 2nd of November, 2021. It's not the Haunted Forest's responsibility to drive the event forward.