How Much did Tom Brady Invest in FTX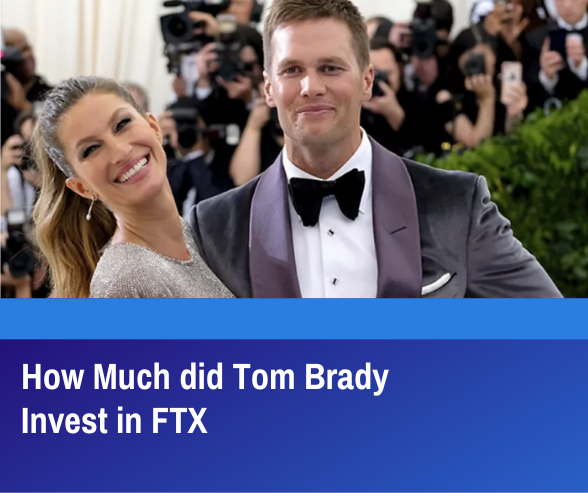 After the collapse of FTX, one of the world's largest cryptocurrency exchanges, investors have filed fraud lawsuits against Tom Brady, Gisele Bündchen, and Larry David. Here we will discuss about the investments made in FTX by Tom Brady.
Foundation of FTX Exchange
FTX is a Bahamas-based cryptocurrency exchange. The exchange was founded in 2019 and, at its peak in July 2021, had over one million users and was the third-largest cryptocurrency exchange by volume. FTX is incorporated in Antigua and Barbuda and headquartered in The Bahamas.
How Much Did Tom Brady Invest in FTX
Tom Brady and his wife Bundchen took an undisclosed equity stake in the exchange in 2021, a few months after Tom Brady won his seventh Super Bowl 2021. One thing is assured that they lost a huge amount of money as they had invested much of their fortune into FTX.
Both Brady and Bündchen worked for FTX, with the former acting as an ambassador and the latter as an advisor on environmental and social initiatives.
FTX secured funds at a $32 billion valuation a few months after the announcement of the deal, although it is unclear how many shares Brady and Bündchen received in 2021.
Here is Why did FTX go Bankrupt
FTX and its CEO, Sam Bankman-Fried, were much admired by the crypto community in 2021 and 2022. Although Bankman-Fried, then just 28, created the exchange in the Bahamas in 2019, by 2021, it had already become one of the largest in the world. In 2021, when its popularity was at its highest, the exchange had over a million members and over a billion dollars in income, making it the third-largest exchange by volume.
Investors demanded $6 billion in withdrawals after learning on November 3 that FTX might be experiencing a liquidity problem. Immediately, FTX placed a freeze on all accounts. On Friday, November 11, 2022, Bankman-Fried resigned as CEO, and the firm filed for bankruptcy, leaving more than a million creditors without recourse.
The lawsuit does not specify the celebrities' financial involvement with FTX.