How to Log Out of Clash Royale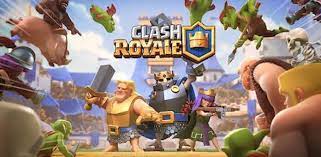 Clash Royale is one of the most successful real-time strategy multiplayer online games available on mobile devices. The game was developed by Supercell. Over one hundred million people have downloaded the game since its first release, and there are also millions of people actively playing it. The following is a walkthrough of how to log out of Clash Royale for new players who are just getting started with the game and are having trouble navigating the UI of the game.
Read Also: How to Change Your Name in Clash of Clans
How to Log Out of Clash Royale
After you have started the game, go to the top-right corner of the Home screen and select the icon that looks like a hamburger with three horizontal bars underneath it.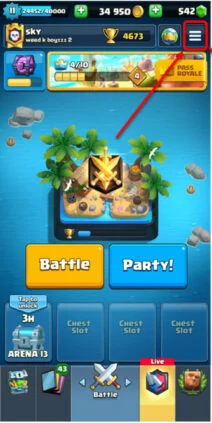 After that, select an option from the Settings drop-down menu that appears at the very bottom of the pop-up menu box.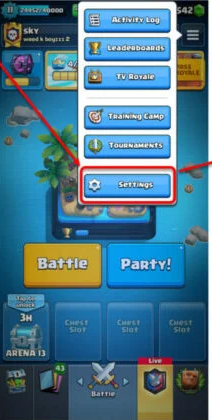 To ensure that you are connected, select the settings menu and then select the button that looks like a tick.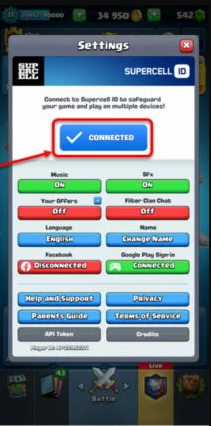 Once you have navigated to the subsequent screen, select the Setting option from the menu, and then select the Logout button. After that, to log out of your account, click the Confirm option that appears in the pop-up menu box.
If the previously mentioned method of logging out via the settings does not work for you and even selecting the Logout button does not produce the desired results, you can log out of the game on your phone by simply clearing the date from the game's cache, which will result in you being logged out automatically.
FAQS
How do you switch accounts on Clash Royale?
Simply navigate to Settings > Accounts > Add Accounts > Google on your Android device, and then enter the information required for your Google ID. This will allow you to load the second account on your device. The next step is to launch the game, navigate to the Settings menu within the game, and then double-tap the green Connected icon. This will load your new account from a list of Google IDs.
Can you have two Clash Royale Accounts one phone?
If you want to add and manage new Clash Royale accounts on your Android phone, you will need a Google ID, which is only available for use with Android-based devices. Please proceed with the steps outlined below once you have obtained your second Google ID. You will need to input the new Google ID that you generated after going to "Settings" > "Accounts" > "Add Account" > "Google."
Can I delete my Supercell ID?
It is possible to make a request that all of the information we have gathered about your game account be removed from our database. It is necessary to completely comply with this request in order to have your game account closed and deleted permanently. This includes all in-game currency as well as any progress made, regardless of whether or not it was purchased.
Why can't I make a new Supercell ID?
What can I do to fix this, and has anyone else experienced this issue? you have pressed the button to access your Supercell ID, but there is no button to create a new one: Go to the settings menu, log out of your account, and then pick the option to "play without a Supercell ID." finish the instruction, then return to the settings menu and choose supercell id; the option to register a new id should appear at this point.
Can you delete clash Royale account?
According to the help page provided by Supercell, you are unable to remove your account. Players are unable to close their game accounts at any time. The game servers do not have access to any personal or private information that players may have, and Supercell does not and will not ever store any sensitive information.