How to Manage and Transfer Data on the Nintendo Switch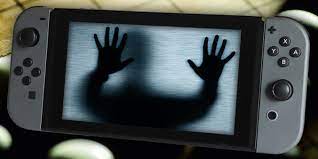 If you've recently purchased a new Nintendo Switch, here's how to make sure your save data is up to date. We'll go over what the Save Data Cloud can do for non-subscribers, as well as how to move your save data from one Switch to another in a short amount of time.
Read Also: How to Update Nintendo Switch Games
Nintendo's Non-Subscriber Save Data Cloud
In addition to being free and super simple, using Nintendo's built-in Save Data Cloud for the Nintendo Switch is highly recommended. The best part is that you may access the Nintendo Switch cloud without having to pay for a Nintendo Online membership. Unless otherwise specified, the cloud settings will automatically back up video game software and store data whenever the Nintendo Switch is connected to the internet.
All of your saved games are connected to your Nintendo account. If you switch to a new system, you may transfer all of your data to the new Nintendo Switch device by downloading or transferring everything to the new system.
How to Enable Automatic-Backup Settings
Save Data Cloud may be accessed from the Home menu by selecting System Settings > Data Management > Save Data Cloud. You will be requested to choose a User account after logging in.
Scroll down to the "Backup Settings" section and check the "Automatic Save-Data Backup" checkbox to enable it. Using this menu, you can also change your automatic backup settings and erase backup save data that has been saved to your computer.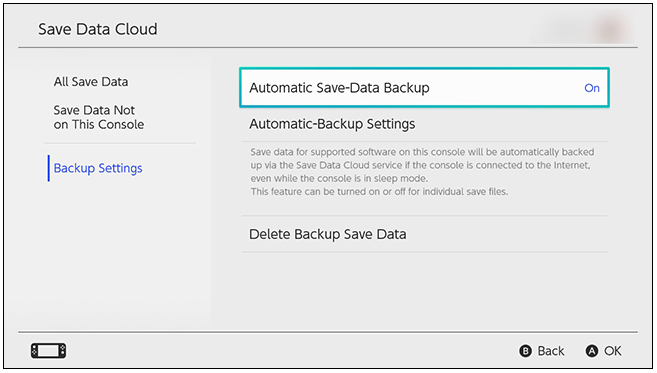 As soon as you've selected "All Save Data" from the menu, you may choose any game title and choose whether to "Back Up Save Data" to the Nintendo Cloud or "Download Save Data" to your device. Once this is done, select "Back Up Save Data" from the menu again. If these selections are blacked out, it signifies that the cloud system has completed this task for you automatically. On the right, you can see information about the current state of your cloud storage account.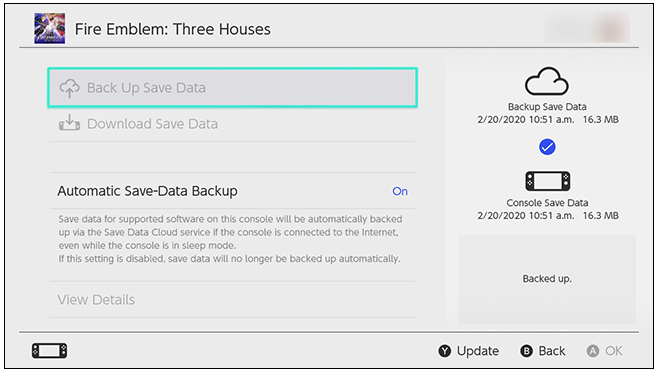 Some Games Do Not Support the Nintendo Cloud
Nintendo Cloud backup isn't supported by all of the titles on the Nintendo eShop. Some titles, such as Splatoon 2, are not compatible with Nintendo's Cloud backup, according to tiny print on Nintendo's Cloud page. The Nintendo cloud system did not initially allow save game backups for Animal Crossing: New Horizons. The data on your saved games would be permanently gone if your Nintendo Switch were broken or stolen.
According to Animal Crossing: New Horizons producer Higashi Nogami, Nintendo made this choice to prohibit players from "manipulating time in the game" since it's "one of the foundation concepts of the game," which Nogami said in an interview. There is a built-in time and date system in Animal Crossing that follows the current date and time. The game's events are determined by the ticking of this internal clock. The game mechanics are intrinsically linked to the game's internal clock, which promotes long-term enjoyment.
Fans started a petition to encourage Nintendo to provide a feature that would allow them to back up their saved game data when this was first disclosed on Twitter. Animal Crossing is a massively popular game that many of you may not be aware with. Many hours or even years of progress might be lost if a save file is deleted or corrupted during gameplay. Animal Crossing: New Horizons save data was revised in the most recent Nintendo Direct in response.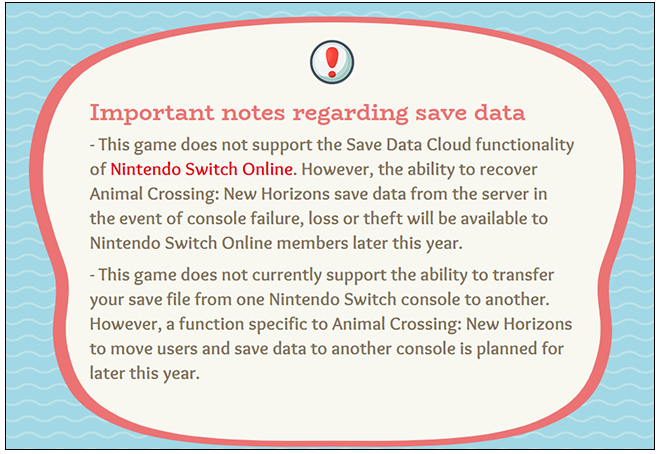 Small print on the Animal Crossing eShop website states that the firm will be able to retrieve data "sometime after launch" and only under "certain situations" (for example, "console damage" and "loss") if the game is returned to the company within 30 days after purchase.
How to Transfer Your Save Data to a Nearby Nintendo Switch System
This transfer mechanism is primarily designed for users who are replacing an older Switch and want to move all of their old data to the new system. Nintendo has made this process simple for users.
Here are important details to remember before transferring save data between Nintendo Switch consoles:
Transferring save data does not create a copy of your save data. Once the transfer is complete, the save data file on the source system is deleted. It isn't possible to use this mechanism as a way of backing up save data.
Both systems must have been updated to the latest firmware version. To find the latest version, navigate to "Settings" from the Home menu, scroll down to "System," and on your right, the latest version will be listed under "System Update."
Both systems must be connected to the internet and physically near each other.
Save data can only be transferred between users who are linked to the same Nintendo Account.
A Nintendo Switch Online membership is not required to use this feature.
Start with the Source System
To transfer your saved data, go to System Settings > Data Management > Transfer your saved data from the Home menu.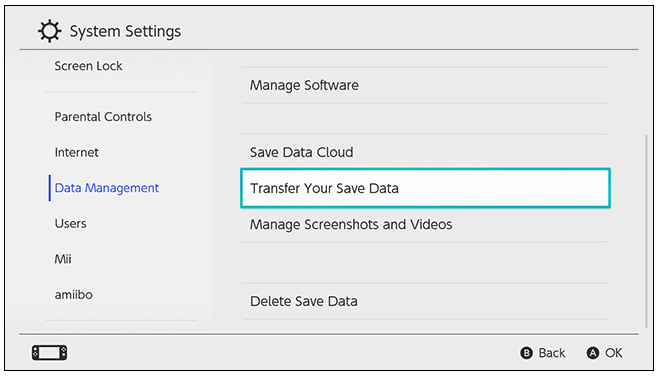 Select "Send Save Data to Another Console" from the drop-down menu and then select the user whose save data file you want to transfer.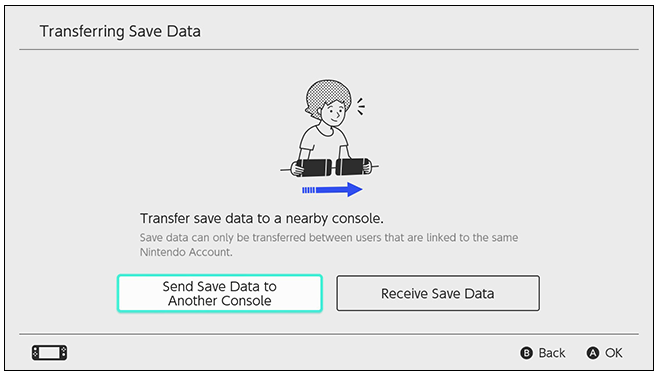 Choose the save data file for the software title you want to send to another system.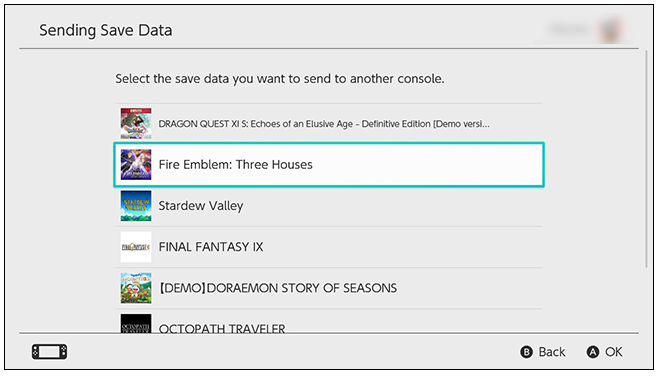 Finally, select "Send Save Data."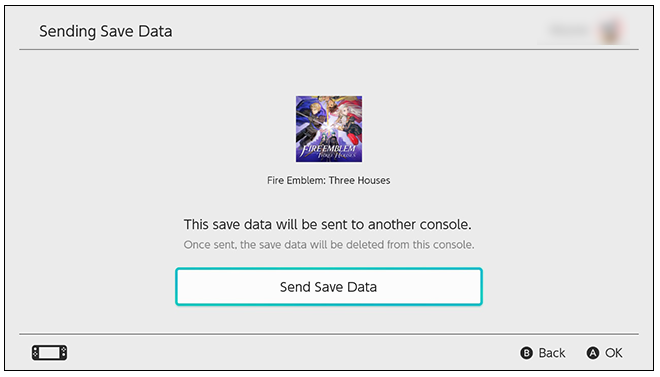 Once this procedure is complete, it's time to perform the transfer on the Nintendo Switch that will be receiving the data. Using the new Nintendo Switch, repeat the same procedure, only this time select "Receive Save Data" from the second step instead of "Receive Save Data."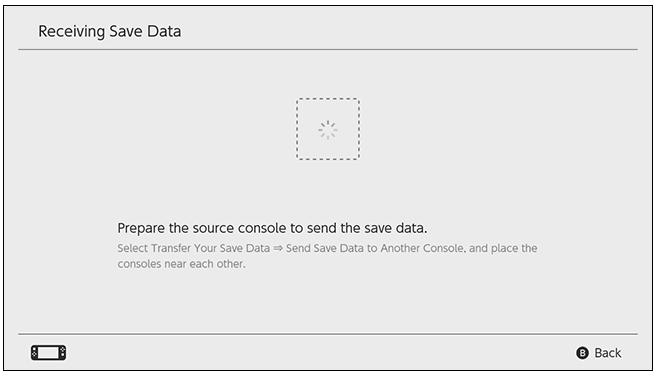 Games saved on the Nintendo Switch are stored in the console's system memory, and they are also automatically backed up to the Nintendo cloud. It will make no difference whether the game is played via downloaded software or software obtained from a physical game.
The ability to relocate accounts is unrestricted, however users should be aware that once data has been successfully transferred from one device to another, the data will be permanently deleted from the original Nintendo Switch device.
Video