How to Stream Netflix From Phone to TV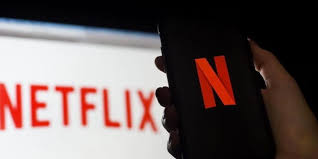 This article will guide you through the process of streaming Netflix from your iPhone or Android smartphone to your television set. You will discover a list of requirements along with step-by-step instructions for each stage of the setup procedure. These instructions will allow you to stream Netflix content wirelessly to other devices that are connected to the same Wi-Fi network.
Read Also: How to Lock a Netflix Profile With a PIN
How Do You Connect Netflix to Your TV From Your Phone?
The Netflix mobile app is able to establish a connection to your television using either a Chromecast connection or a separate wireless connection to the Netflix app that is pre-installed on your smart TV, PlayStation 4 or Xbox One video game console, or Blu-ray player.
The good news is that you do not need to spend time figuring out which form of connection you should make use of. The Netflix app on your phone will automatically detect any suitable devices you have in your possession and will present them to you as possibilities from which to pick.
The steps involved in streaming Netflix from your smartphone to your TV are outlined in this section.
1. Please ensure that both your smartphone and TV are linked to the same Wi-Fi network before turning on your electronic devices.
2. Launch the Netflix application on your Apple or Google Android mobile device.
3. To cast content from the app, tap the Cast icon (it looks like a square with a wireless signal in its lower-left corner).
4. Click the icon next to the name of the device on which you'll be streaming Netflix.
5. During the time that the connection is being established, the Cast icon found in the Netflix mobile app should flit around a bit. The Cast icon on your smartphone should turn white once it has been successfully linked to a TV or other display device.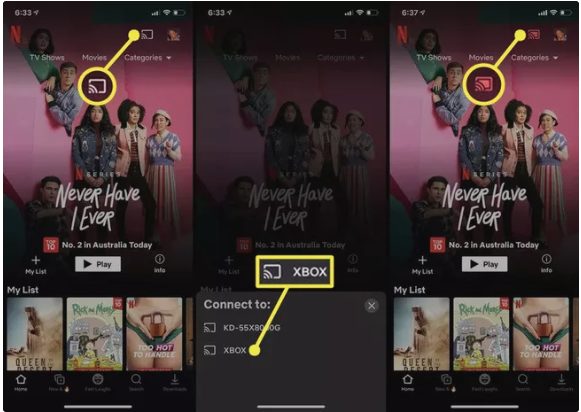 6. Once you are connected, open the Netflix mobile app to look for a movie, TV episode, or special to view, and then touch the Play button. The media should start playing as soon as possible on your television.
7. You can pause or play whatever is now playing on the TV by using the controls that have been minimized. To view and use the following control options, tap the Up button.
Rewind
Pause
Stop
Scroll through the video
Change audio and captions
Adjust volume
Choose a different episode (for TV shows)
Why Can't I Cast Netflix From My Phone to My TV?
If you're having trouble connecting your smartphone to your TV, you may want to try some of the following troubleshooting tips.
Check your TV is connected to your Wi-Fi network. You will need to manually log in via the TV's internet settings.
Connect your connected devices to the same Wi-Fi network. Like with your TV, you'll need to make sure your Xbox, PlayStation, or Blu-ray player has been manually connected to the same network.
Turn on your phone's Wi-Fi. Make sure Airplane Mode has been turned off and it's not just connecting to a 4G or 5G signal.
Install the Netflix app. The app is necessary on whatever device you want to stream from. If it's a smart TV, get the app on your TV and use the remote to stream. If it's an external Chromecast you've plugged in, you need the app on your phone and then you'll use your phone to control it.
Video