How to Turn Off S Mode Windows 10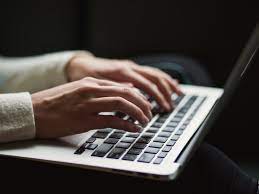 In Windows 10's S mode, you will only be able to execute applications that you have downloaded from the Microsoft Store. This is a feature that was supposed to improve both the system's security and its overall efficiency. You will be required to exit this mode in order to launch or install an application that was not obtained from the Microsoft Store. You will learn how to disable S Mode in Windows 10 by using the settings menu in this post; but, once disabled, S Mode cannot be turned back on. If you exit S Mode, you won't be able to return to it later and use it again.
Read Also: How To Combine Pdf Files on Windows 10
How to Turn Off S Mode Windows 10
To accomplish this, pick Settings from the main menu, then click System, and finally select the About tab. The version of the operating system is displayed in the Windows Specification part of the About page, as shown in Figure 1.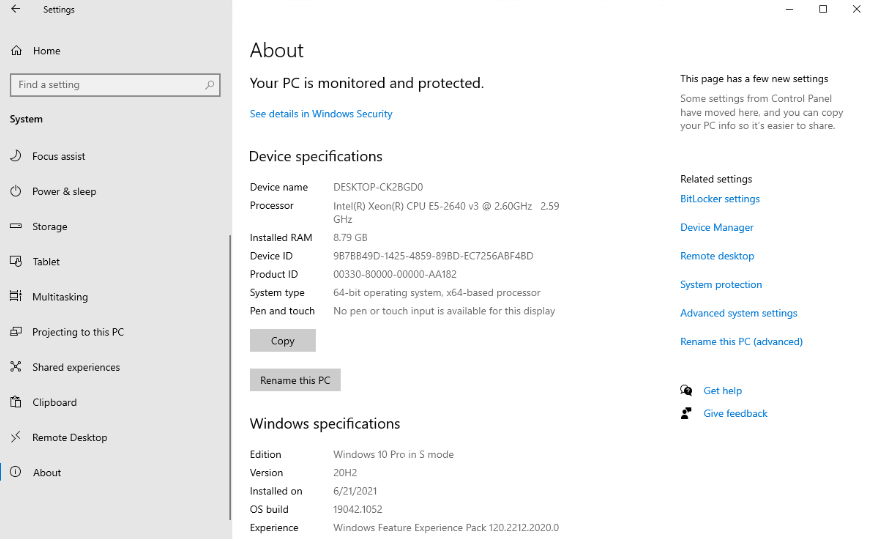 To exit S mode on Windows 10, navigate to the Settings menu, then click on the Update and Security option. Now, choose the Activation tab from the menu. Assuming Windows has previously been activated on your computer, you should see a section labelled "Switch to Windows 10 Pro" (or Switch to Windows 10 Home). As can be seen in Figure 2, there is no button that can be utilized in order to make the changeover happen. You will instead be required to click on a link that will take you to the Microsoft Store.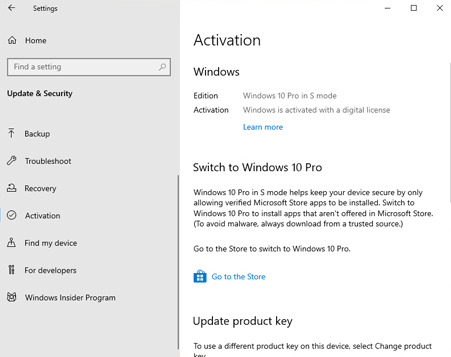 When you click on the link, you will be directed to a site that will advise you to think twice about turning off S mode. On this screen, which is depicted in Figure 3, you will also find a comparison of S mode and the standard Windows interface.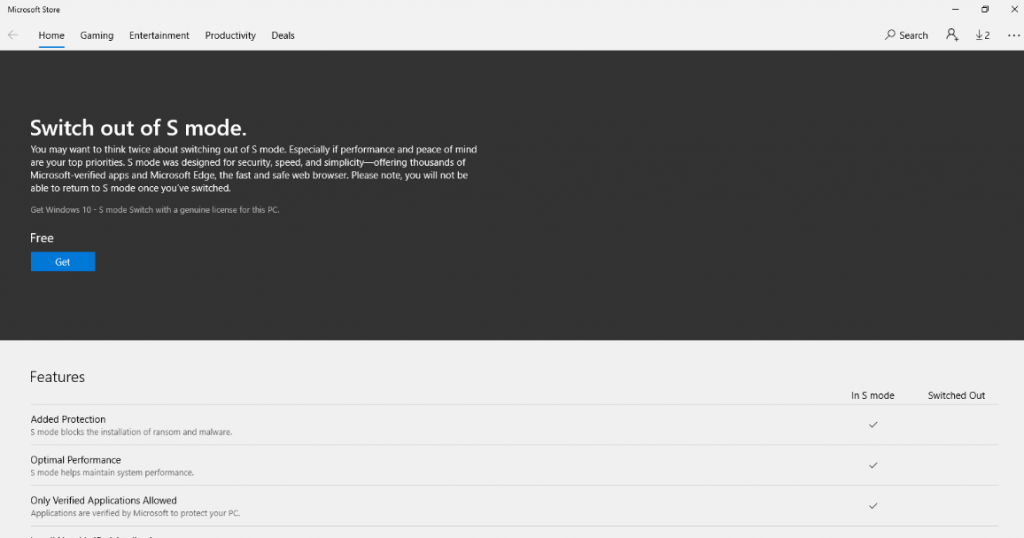 After clicking the Get button, you will be requested to sign in using the Microsoft account you have associated with your device. As soon as you do so, a notification similar to the one depicted in Figure 4 will appear, advising you that you have successfully exited the S mode.
In case you were wondering, the mode swap out of S happens instantaneously. There is no need to even perform a restart.
FAQs
Should I turn off S Mode in Windows 10?
Only apps downloaded from the Microsoft Store will run when Windows 10 is in S mode. This was done to improve both security and performance. You will be required to permanently switch out of S mode in order to install an application that isn't sold in the Microsoft Store. This step is necessary if you want to fulfil this requirement. Switching out of S mode won't cost you anything, but once you do, you won't be able to turn it back on again.
Why can't I get out of S mode Windows 10?
You can attempt to run the troubleshooter for Windows Store apps by navigating to Settings > Update & Security > Troubleshoot. You could try clearing the cache in the Store. http://www.thewindowsclub.com/reset-windows-sto… In the event that this does not work, navigate to Settings > Apps, select Microsoft Store, choose Advanced Settings, and then pick Reset. After it has been reset, restart the computer.
Does switching out of S mode slow down laptop?
Your Windows 10 S mode will include all functions, with the exception that you won't be able to download or install applications, so there is no reason to believe that the operating system would perform more slowly.
Can you use Google Chrome with Windows 10 S Mode?
However, suppose you need to install Google Chrome or Driver Easy on a PC that is running Windows 10 in S mode. What should you do? Both Google Chrome and Driver Easy are unavailable in the Microsoft Store, which is common knowledge among all of us. Microsoft only offers one solution, which is to completely disable the Windows 10 S mode entirely.
How do I switch from S mode try again later?
To reset the Store, navigate to Apps and Features, then click Microsoft Store > Advanced options, and then scroll down until you reach the bottom of the page and select Reset. If you want to get out of S Mode, give the Store another shot. You may also try resetting Windows 10 and seeing if it helps.