How to Unlock Weapon Patterns in Destiny 2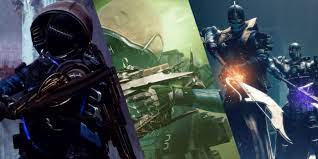 The new weapon crafting system in Destiny 2 is an exciting new approach for players to get the stuff they desire in the game by putting in a little amount of effort, which makes it a feature that is both fair and rewarding. Players now have access to a total of 29 patterns and craftable weapons thanks to The Witch Queen and Season of the Risen. This includes exotic weapons such as the Osteo Striga SMG and all of the class-exclusive Exotic glaives. On the other hand, not all patterns must fulfil the same requirements in order to be unlocked, nor can all patterns be unlocked using the same method. Players of Destiny 2 who are interested in gaining additional knowledge on this topic can consult the reference provided by this fast guide.
Read Also: How to Get Bright Dust in Destiny 2
How to Unlock Weapon Patterns in Destiny 2
Let's move on to the Weapon patterns now that we understand how to respec a weapon, which brings us to our next topic. To be able to unlock it, you will need to Attune the weapons after the level of those weapons has increased. It is comparable to the progression of levels for the weapon. As you complete more objectives and missions utilising the Resonant weaponry, you will level up their Attunement. By clicking the "weapon information" button, you will be able to monitor its progression toward attunement.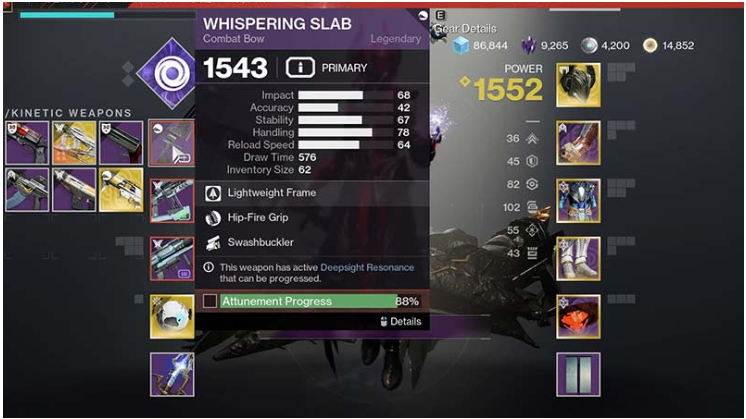 You will be able to claim its weapon elements and extract its weapon pattern once the attunement process for it has been finished. In addition to this, you can monitor your progress toward unlocking a weapon pattern by going to the Patterns and Catalyst part of the Triumphs menu. This will allow you to see how far along you are in the process.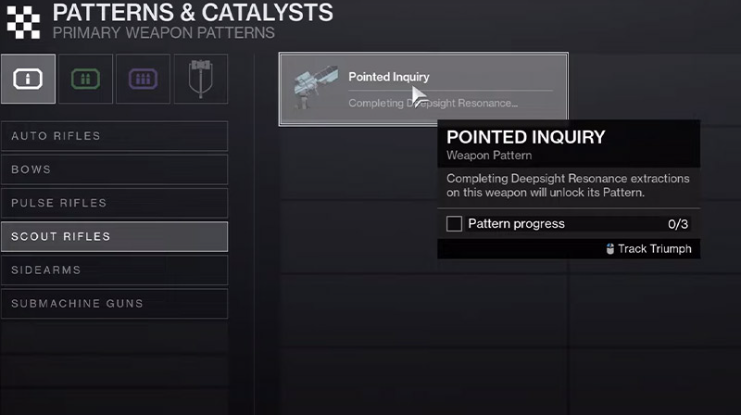 Let's take a look at all of the Resonant weaponry that can be broken down into their respective weapon patterns:
Cataclysmic
Come to Pass
Deliverance
Edge of Action
Edge of Concurrence
Empirical Evidence
Edge of Intent
Explosive Personality
Father's Sins
Fel Taradiddle
Forbearance
Forensic Nightmare
Insidious
Likely Suspect
Lubrae's Ruin
Osteo Striga
Piece of Mind
Palmyra-B
Pointed Inquiry
Ragnhild-D
Recurrent Impact
Red Herring
Submission
Sweet Sorrow
Syncopation-53
Tarnation
The Enigma
Thoughtless
Under Your Skin
The completion of certain missions will unlock certain weapon patterns of these Resonant weapons; however, in order to access other weapon patterns, numerous Deepsight Resonance extractions will be required. These weapon patterns are hidden throughout the game's objectives, activities, and even the campaign itself. It is not necessary to do anything other than acquire the weapons with red borders, raise their levels, and advance in the Attunement process. That wraps up everything you need to know about acquiring and unlocking weapon patterns in Destiny 2!
FAQs
What is the Austringer God roll?
God Roll Austringer Player-versus-Enemy
This fits perfectly into the first column of perks, which either improves the rate at which you can reload by a significant amount through Outlaw or gives you back rounds from the magazine through Triple Tap. As a general rule, the worth of Triple Tap increases across all content with foes possessing higher health, as it is possible that you will not eliminate an opponent with a single magazine.
How many weapon Patterns does Destiny 2 have?
You have the ability to change the designs and perks of some of the weapons at your disposal. There are a total of 29 different weapon patterns that can be retrieved. However, in order to unlock weapon patterns, you will need to fulfil a number of requirements first. In case you were worried, here is our Destiny 2 guide that explains how to unlock and obtain weapon patterns.
Where does Austringer drop?
As of the release of Season of the Haunted, Austringer can now fall from the Derelict Leviathan, which is a new (but also an old) Patrol location that was introduced simultaneously with the season. Veteran players will be familiar with the region, but they should also be prepared for a fresh, macabre makeover that will be implemented there.
Is frenzy a good PvP perk?
Frenzy may not be the perk that deals the most damage boost in Destiny 2, but it is without a doubt one of the perks that is the least difficult to use and keep up in PvE. You would be better off using Kill Clip or one of the other damage bonuses for PvP.