HPE is now offering KIOXIA CD7 E3.S NVMe SSDs, driven by PCIe 5.0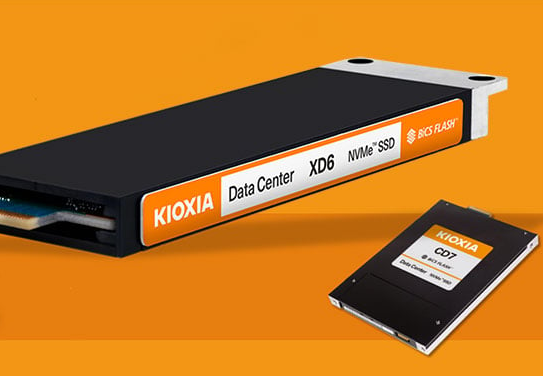 Hewlett Packard Enterprise (HPE) is pleased to announce that its cutting-edge CD7 Series Enterprise and Datacenter Standard Form Factor (EDSFF) E3.S NVMe SSDs will be the first to be supplied on servers and storage solutions from KIOXIA America, Inc. These ground-breaking EDSFF drives, which were created using PCIe 5.0 technology, revolutionize the density of flash storage while simultaneously optimizing power efficiency and rack consolidation. The latest PCIe 5.0 interface is now available on HPE ProLiant Gen11 servers, HPE Alletra 4000 data storage servers, and the HPE Synergy 480 Gen11 Compute Module. This interface provides up to double the performance of PCIe 4.0 and is now standard on these HPE products.
In addition to that, EDSFF E3.S drive bays are available as an add-on accessory for these systems. The EDSFF E3.S form factor was developed in response to the need of high-performance flash storage. This form factor is a natural evolution from the 2.5-inch form factor. With E3.S, businesses have the ability to produce deployments that are both more efficient and compact within the same rack unit, surpassing the capabilities of 2.5-inch drives in the process. In addition, E3.S drives improve cooling and thermal characteristics while simultaneously doubling the storage capabilities of their predecessors. The partnership between KIOXIA and HPE represents a key milestone in the storage sector.
This partnership has resulted in the delivery of cutting-edge technology that provides greater performance and scalability for both business and datacenter environments. Businesses are able to achieve previously unachievable levels of power and efficiency in their storage infrastructures by utilizing KIOXIA CD7 E3.S NVMe SSDs in conjunction with HPE's PCIe 5.0 capable servers and storage solutions. "HPE is pleased to work with KIOXIA to offer new CD7 Series EDSFF E3 SSDs to our customers," said Jim Jackson, executive vice president and chief marketing officer of Hewlett Packard Enterprise. "Bringing high performance to our latest generation server and storage product lines," Together, the two businesses have set their sights on cutting total cost of ownership (TCO) while simultaneously improving application performance and efficiency benefits.
The data center-class NVMe 2.0 solid state drives (SSDs) in the KIOXIA CD7 Series conform to the EDSFF E3.S specification and have read-intensive 1 DWPD endurance. Their capacities range from 1,920 gigabytes (GB) to 7,680 GB. "We are committed to working closely with HPE to deliver greater performance, reliability, and value through our SSD product portfolio," said Neville Ichhaporia, senior vice president and general manager, SSD Business Unit, KIOXIA America, Inc. "At KIOXIA, we are committed to working closely with HPE to deliver greater performance, reliability, and value through our SSD product portfolio." Our CD7 Series solid-state drives (SSDs) are the first to deliver EDSFF and PCIe 5.0 technologies on HPE's next-generation systems. These technologies are redefining the way storage is deployed, and our CD7 Series SSDs are the first to supply them.