Jagged Alliance 3: 5 Best Mercenaries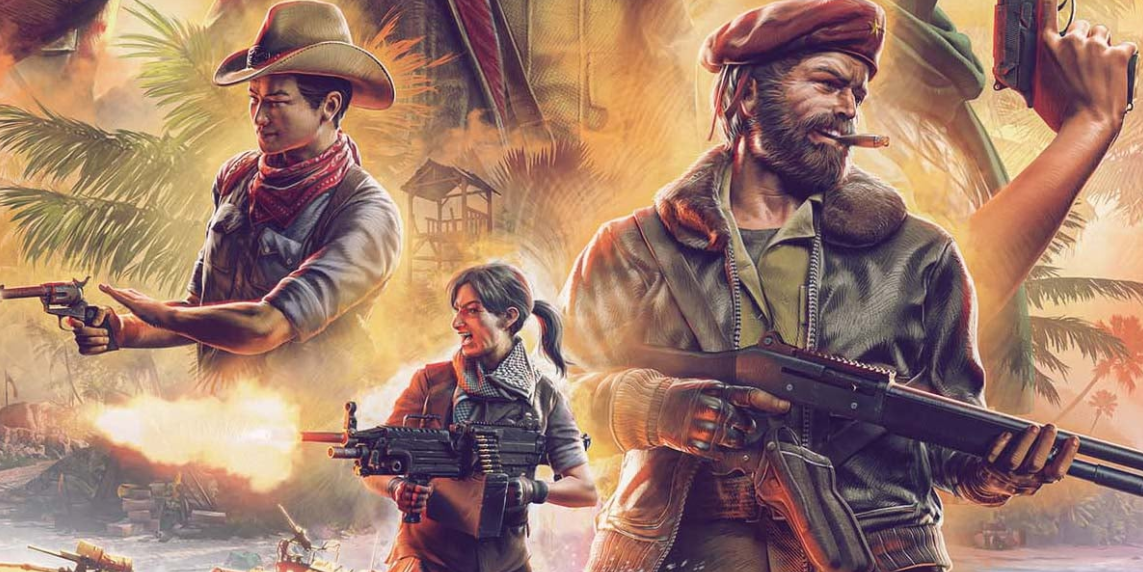 In Jagged Alliance 3, players command a squad of mercenaries as they fight to free Gran Chien from the Legion, a rebel force. Each mercenary the player can employ has their own unique set of abilities, specialization, and price tag. While not every member of your team will be accessible right away, you may always hire more mercenaries and split them up into different squads. Five of Jagged Alliance 3's top mercenaries are discussed here.
Read Also: Jagged Alliance 3 Weapons Tier List Best Guns in the Game
Gus
Gus Tarballs, a former US Marine, is a legendary mercenary who starts at level 8, the maximum possible. Gus lost a limb in combat, so his finest days may be over. Despite efforts to keep him involved with A.I.M., they have lost touch with him.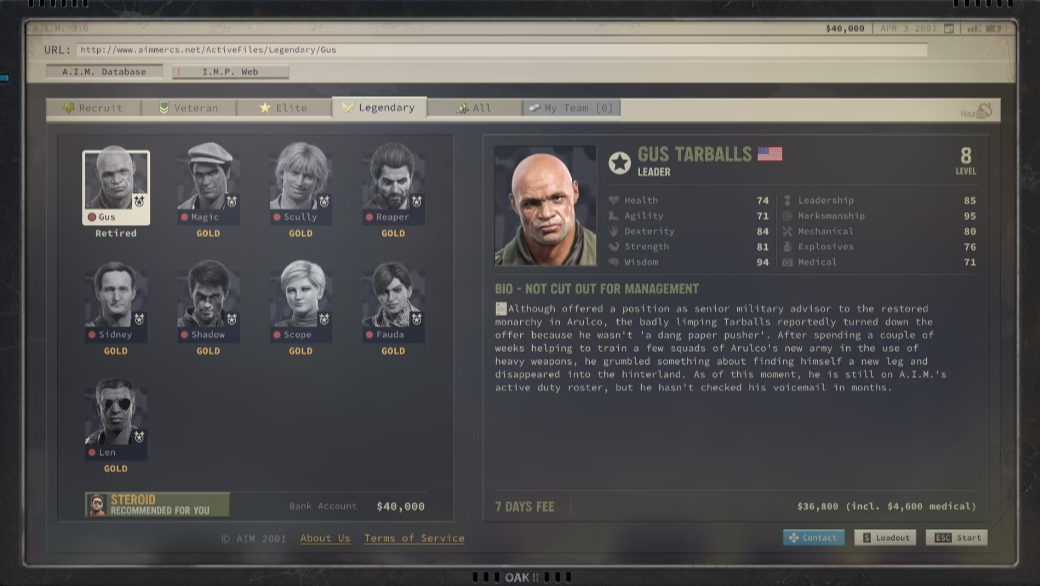 When players finally manage to talk Gus out of retirement, they'll have access to the game's best and most comprehensive skill set. Gus possesses no less than a 95 in every ability, including 95 Marksmanship, 94 Wisdom, 85 Leadership, and 84 Dexterity.
Magic
Earl "Magic" Walker is a consummate professional mercenary who has won several awards for things like "Best Dressed" and "Fastest Fingers." While Magic's primary area of expertise is as a Mechanic, he is more than capable of completing any mission assigned to him due to his wide variety of skills.
This legendary mercenary's services cost a solid gold payment, but in return they offer you with 99 Agility, 98 Dexterity, 95 Health, 94 Marksmanship, 92 Strength, and 91 Mechanical. The "Second Story Man" Perk he has additionally increases his Critical Hit Chance by 50% when attacking from a higher vantage point.
Ivan
Ex-Red Army Major Ivan Dolvich is one of the most powerful units in Jagged Alliance 3's roster. Hollywood moviemakers reportedly wanted to make a film about him because of his famous deeds, but the idea was immediately derailed when Ivan demanded to play the lead role and shoot with real bullets.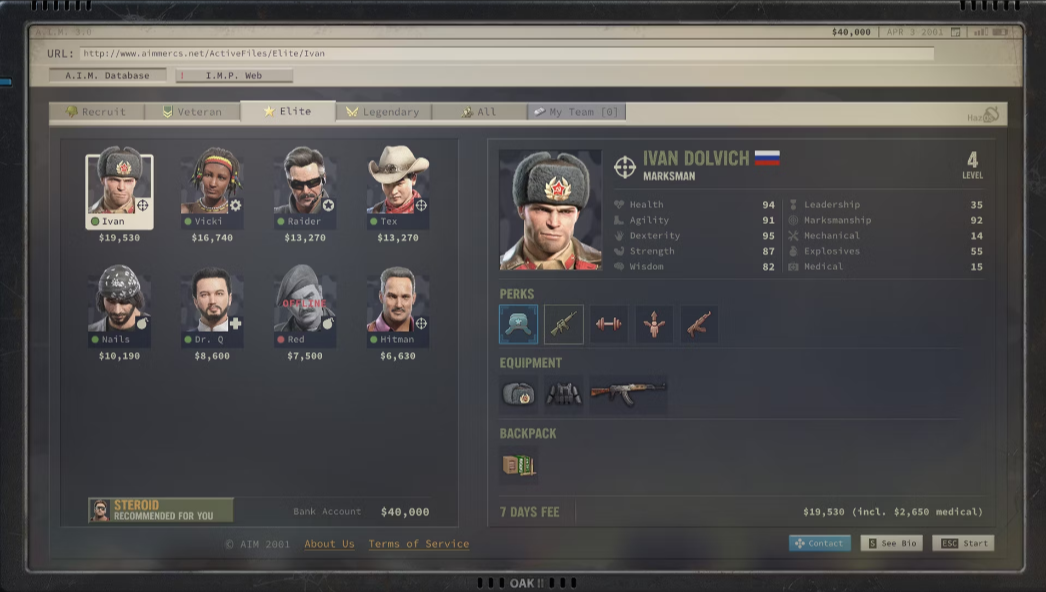 Ivan, who will set you back $19,530, has many powerful abilities and advantages. The "You See, Igor" Perk will allow him to restore 3 AP for each kill, and his 95 Dexterity, 94 Health, 92 Marksmanship, and 91 Agility make him a highly lethal fighter.
Raider
Ron "Raider" Higgens, a former SWAT team leader and seasoned combat veteran, rose to prominence after he almost single-handedly rescued a ship from being overrun by Somali Pirates. Raider is a formidable Leader-tier mercenary and one of the best in his trade.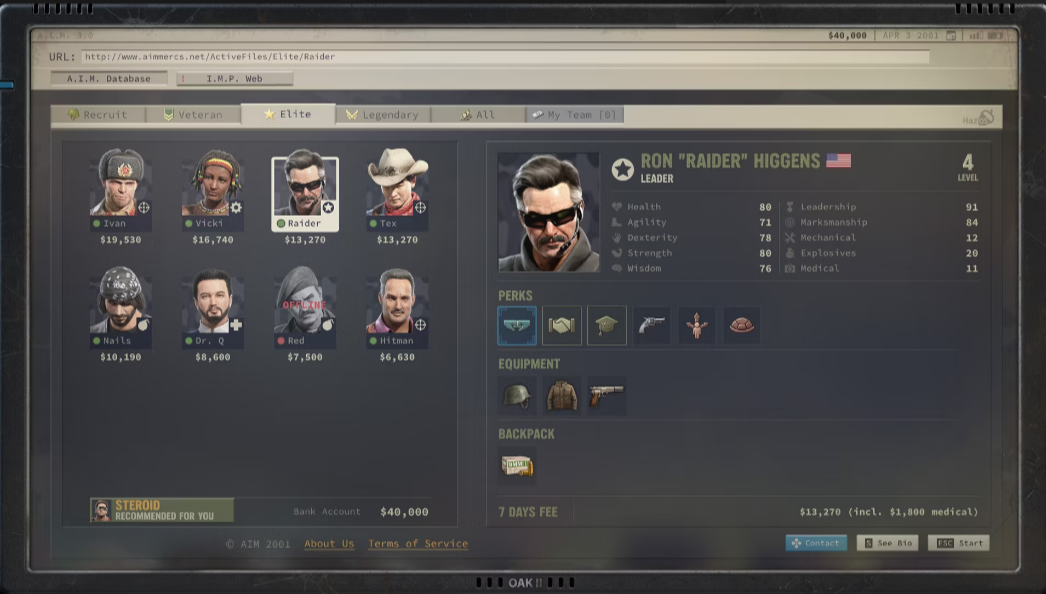 Raider, for a price of $13,270, offers exceptional proficiency in nearly every imaginable domain. His 91 Leadership, 84 Marksmanship, 80 Strength, and 80 Health are particularly impressive. Since he also has the Negotiator perk, the price of Boat Travel will go down when he uses it.
Wolf
Before turning to mercenary work, Pete "Wolf" Sanderson managed a paintball site for affluent clients. His resume isn't quite stellar, but he has a wide range of transferable skills that will serve him well in many contexts.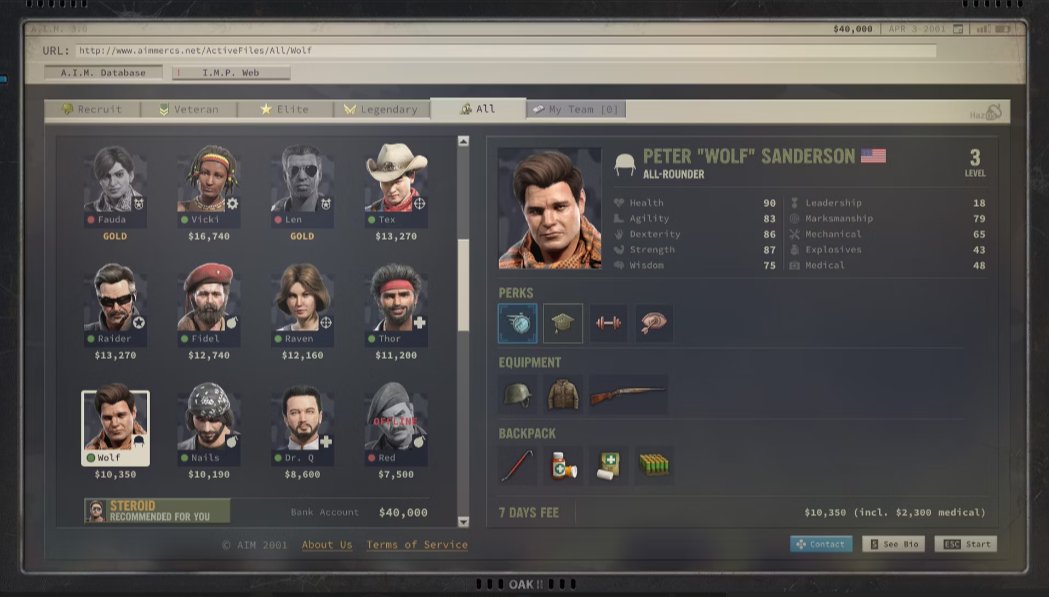 Wolf is a highly proficient All-Rounder who can be had for the price of $10,350. He will bring balance and stability to any team in which he is placed. Wolf has 90 Health, 87 Strength, 86 Dexterity, and 83 Agility, which are all very good numbers. At 19, his lack of leadership experience is his one significant flaw.
FAQs
What is the best starting mercs in Jagged Alliance 3?
Choose Barry for explosives, Livewire or Steroid for mechanical, and Fox or MD for medical if you want the most cost-effective mercs who will train to be incredibly good regardless. If my memory serves me well, Fox and Steroid do not get along. Buns is the best starting marksman in my opinion. It's impossible to make a bad choice among those permutations.
What is the best scope in Jagged Alliance 3?
The Thermal Scope Is Your Best Option The Thermal scope in Jagged Alliance 3 is the finest option for snipers among the available scopes. Because of its special design, you only need three shots regardless of the weather or how well hidden you are.
Who is the best medic in Jagged Alliance 3?
Fox is a fantastic healer and medic, a crucial role in any game. She won't break the bank, and if your mercenaries start getting hurt, her training will come in helpful. Fox is the ideal trustworthy healer for any journey.
How many Mercs can you have in Jagged Alliance 3?
You have the capacity to simultaneously hire up to 15 mercenaries from AIM.