Kahoot Hack Auto Answers, Bot, Extensions and Much More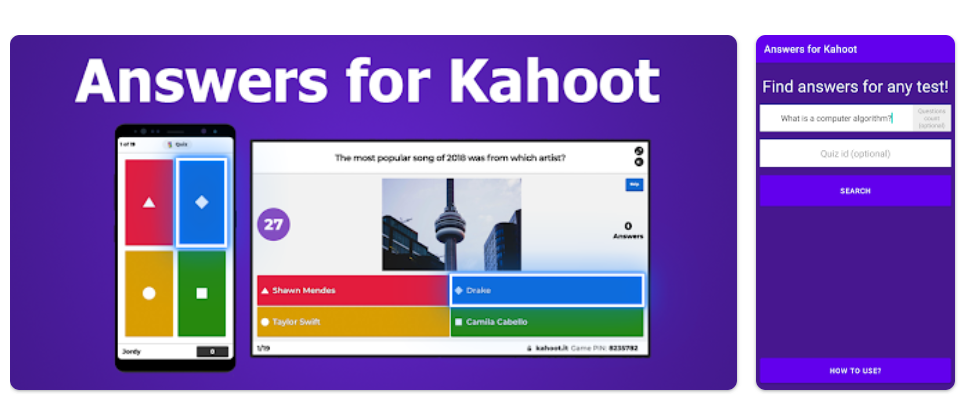 Get ready because we are going to reveal every secret of kahoot hacks here. We will share with you every piece of it.
1. https://glitch.com/~kahoot-hack
This webpage no longer serves any purpose. Might be there was something in working and now it is gone. So There is no point in exploring this webpage as there is nothing.
2. Kahootbot. org
When Talking about this website we found there is some kind of malware which is being spread using this website. As it leads to download a file and when we downloaded this file we found that file was containing some malware. As computer security kept buzzing it is not safe.
Still we installed and checked and nothing worked. So the Kahoot Hack tool available on this website does not work at all.
3. Kahoot Smasher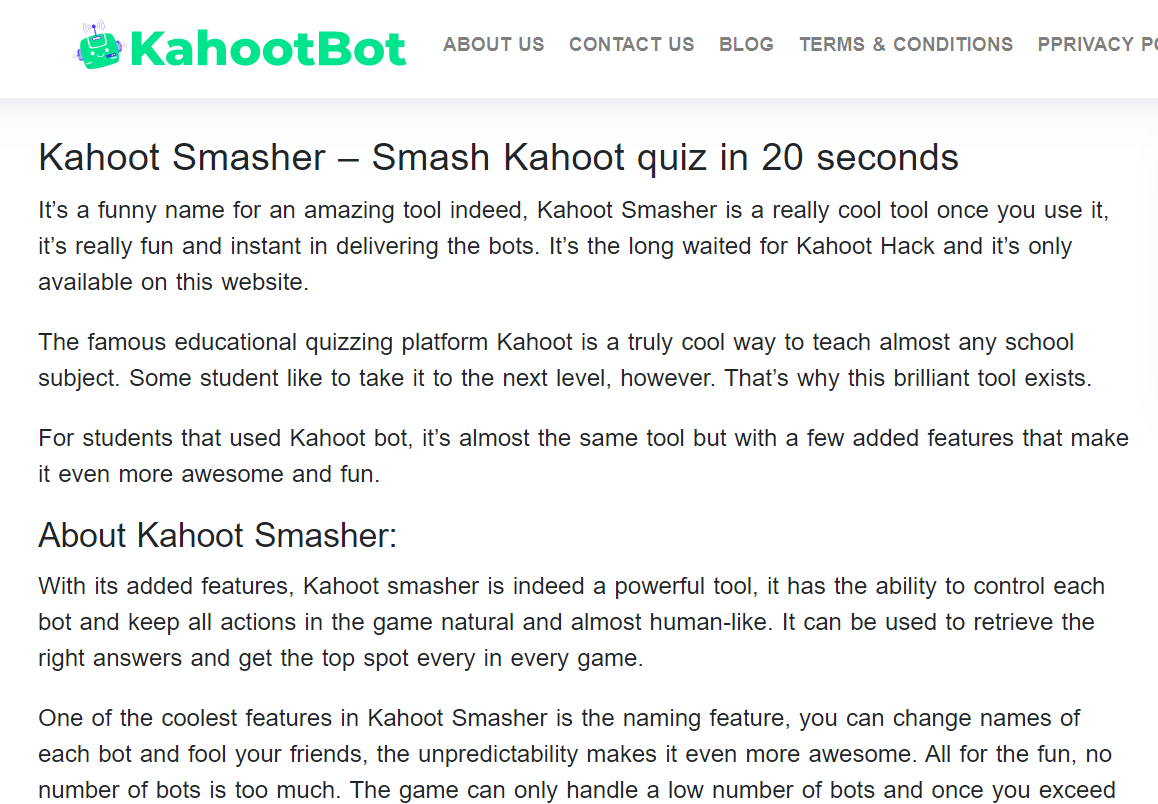 Kahoot smasher which claims that it has ability to control the bot. The point is when the website itself is not providing anything like kahoot hack tool. How can kahoot smasher work? There is no way. Yet we tried and found that it was just waste of time and tricking into something else. Like asking to complete a survey and downloading some malware.
4. https://mem. rip/kahoot/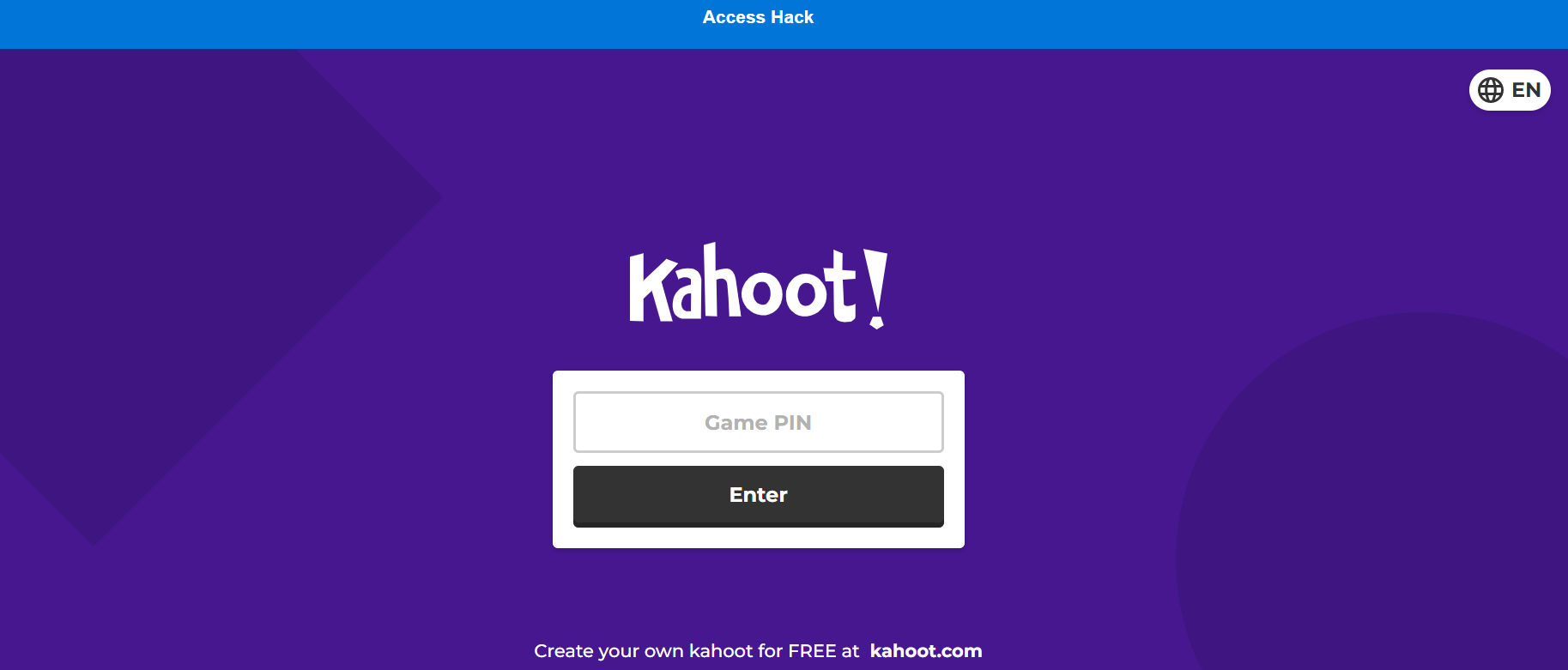 As shown above in the picture this is absolutely the same thing. It is asking to download the malicious software which will in return hack your system and can steal your some important website. It is a completely phishing website and leads to hack tool which does not even exists.
5. kahoot hack github
We all know that github is a very popular programming website and it is authentic source. The link that we have linked above leads to the forum of kahoot hack github where users are sharing their reviews and we recommend you to take part in as you can get a lot from there.
Here we have listed some important forum discussions that you can use to help yourself in order to find the legitimate ways to kahoot hack.
https://github.com/topics/kahoot-hack
https://github.com/unixpickle/kahoot-hack
https://github.com/topics/kahoot-answer-bot
Read kahoot hack extension guide here.
6. Kahoot Hack Auto Answers
It is a profile created by spammers on a legitimate website called acloud.guru the main purpose of the orignal website is to provide knowledge. The spammers have miss used the website and shared their link which again leads to downloading a malware.
7. Chrome Extensions to Hack Kahoot
These extensions might work for you as the kahoot exensions are available on the google chrome extension market place and the prcess to upload such thing is risky and difficult. So these kahoot extensions are malware free and atleast has not virus which will harm your system.
The size of mentioned above kahoot hack extension is 4.14mb you can download it by clicking the link given above.
Process to download and install other kahoot extensions is simple
Open Your Google Chrome Web Store.
Then Find there Extension that you want and download it.
Then Click Add to Chrome.
When you will add Some extensions will let you know if there is something needed.In order to approve you need to click on Add extension.
Important thing to remember: Make sure you only approve extensions that seems trustworthy.
This is the eighth method to get kahoot hack auto answers and win your quiz. This Kahoot hack tool can be downloaded and installed on any of your android devices as well as you can download and use it on laptop and computer as well.
In order to download and use it on your computer you would need to first get bluestack.
This google play store apps seems to be more legitimate as compared with methods shared above. As this application has 4.5/5 rating in google play store and many people supported it so you can use this application.
9. Youtube Top Method to Hack Kahoot
In this video Ethxn has shown a way to hack kahoot and get every answer correct. He has shown a method which is working by using the website pxtrez.com. So you can give it a try and win every quiz.
Conclusion: We have given you above all the methods that are given over the internet and have made easier for you to find the right tool. You can always give us some suggestions if you want to we would always welcome you.