New Visual Customization for Assassin's Creed Odyssey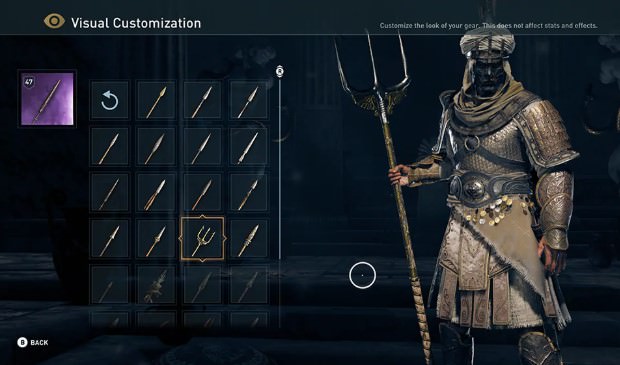 Ubisoft has recently launched an update patch for Assassins Creed Odyssey featuring brand-new additions (new loot system, increased level cap, a mercenary page revealing information about loot) in the game along with some minor fixes. You finally have the power to distinguish between your character's strength and visuals in all new 1.0.7 patch. And for the adventurer's there is a new monster available for you to kill. The update is available on PC, Xbox one and PS4.
Players can now modify their character's gear in number of different ways. Best thing about this update is that you don't have to worry about the gear's statics now. You can simply open up your inventory and select two gears at the same time. One will define your character's appearance while the other will present the strength of your armor piece. Later one will be hidden beneath the former one. So, your character will possess same looks but with increased strength.
Appearance of weapons and gear have been changed a bit. Players will now collect them as gems and money in the game. Another good thing is even if you have dismantled any of your sword or armor, you can find it again by searching caves and looting mercenaries. There will be a vacant place in your inventory displaying the message: "Loot this item to first" for items to find. As far as sold, dismantled items are concerned, they will be automatically available in your inventory to be equipped for visual.
Players will have access to complete arsenal of weapons and armor pieces irrespective of their character's level. Although certain armor pieces and weapons will have multiple strength levels which will unlock as you progress through and increase your level cap.
Best thing about this customization is that it won't require any kind of blacksmith upgrade or spending game currency. Some of the items will also have a premium level that will be only available when you have found the basic piece.
Ubisoft has fulfilled its promise of providing mercenary tier detail in this patch. You can now simply access the mercenary tab by pressing "shift" (default key on keyboard) and gets information about items you will get from killing that mercenary.
If you have not tried this update yet, we strongly suggest that you start downloading it right now. The update is nearly 2.2 GB for PC, 2.5 GB for PS4 and 2.6 GB for Xbox in size.