PCI Express 5.0 SSD with Heat Sink and Micro Fan from ADATA (the "Legend 970")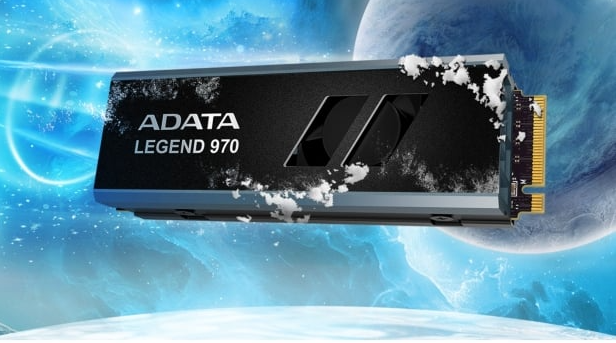 ADATA Technology, which has its headquarters in Taiwan, has recently announced the "LEGEND 970," a new NVMe M.2 SSD that is compatible with a connection that makes use of PCI Express 5.0 (x4). This high-performance solid-state drive (SSD) is offered in capacities ranging from 1 terabyte (TB) to 2 terabytes (TB). The Phison "PS5026-E26" controller and 232-layer 3D NAND memory are both included in the LEGEND 970's hardware package. These parts cooperate to guarantee that the device is able to effectively disperse the heat that is generated by the controller. This heat is caused by the device's operation. It is outfitted with a cutting-edge cooling system that consists of a micro fan and a heat sink made of aluminum that has had surface crystallization processing performed on it.
Both components of the cooling system are exposed to surface crystallization. The 2TB model boasts some very impressive characteristics, including a maximum random read IOPS of 1,400,000, a maximum random write IOPS of 1,400,000, a maximum sequential read speed of 10,000MB/s, and a maximum sequential write speed of 10,000MB/s. In addition to that, its write endurance is rated at 1,400TBW. The 1TB model offers an amazing level of performance, with maximum sequential read and write speeds of 9,500MB/s and 8,500MB/s respectively, maximum random read and write IOPS of 1,300,000 and 1,400,000 respectively, and a write endurance of 700TBW.
In a similar vein, the 2TB model offers an impressive level of performance, with maximum sequential read and write speeds of 15,000MB/s and 15,000MB/s respectively. The LEGEND 970 weighs 57.1 grams and has dimensions of 24.2 millimeters in width, 80.6 millimeters in length, and 17.9 millimeters in height. These figures correspond to the dimensions of the device in its physical form. It also features an impressive MTBF (mean time between failures) rating of 1.6 million hours and comes with a product guarantee that is good for 5 years. This ADATA "LEGEND 970" PCIe 5.0 SSD delivers an impressive combination of speed, capacity, and revolutionary cooling capabilities; as a result, it is a great alternative for fulfilling the requirements of high-performance storage requirements.