Pros and Cons of Living in Tacoma, Wa!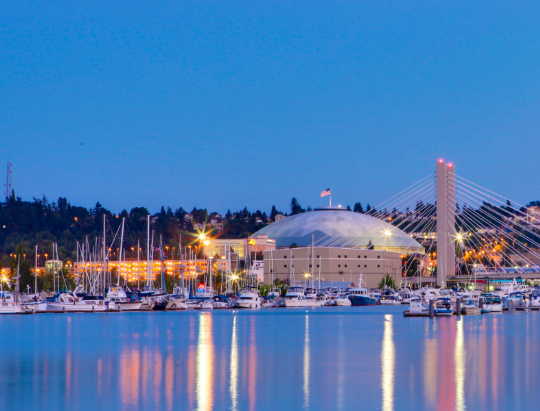 Tacoma is a medium-sized city that is near some of the most beautiful forests in the United States.It is a port city located in the northwest part of the state of Washington in the United States. The community is conveniently located in close proximity to some of the most well-known cities in the state of Washington, including Seattle and Olympia. Because of its enviable position, guests may take advantage of an abundance of metropolitan conveniences as well as stunning scenery. You would enjoy living in Tacoma and its neighborhoods, attractions, and economic prospects, and you would be pleasantly surprised by how much cheaper it is in comparison to its metropolitan equivalents.
Tacoma is a city in the state of Washington that has a population of more than 200,000 people. It is a lively and diversified city that offers a great deal of things to do and see, which contributes to the city's status as an attractive place to live for a great number of people. When it comes to living in Tacoma, though, Tacoma is no different than any other city in that it has both positives and negatives to offer. In the next few paragraphs, we'll talk about some of the good and bad things about living in Tacoma, which is in the state of Washington. 
Pros:
Affordability
One of the best things about living in Tacoma is how cheap it is to live there.Compared to other cities in the Pacific Northwest, like Seattle and Portland, Tacoma is a much better choice for your wallet.Because of the cheaper cost of housing, food, and other expenses, inhabitants will have the ability to save money and will have more money available to spend.
Natural Beauty
Because of the city's location on the Puget Sound, people in Tacoma are treated to breathtaking views of the surrounding landscape. The city is home to a number of parks, the most notable of which is Point Defiance Park, which is regarded as one of the largest urban parks in the United States. In addition, residents are able to take advantage of the waterfront and beaches, as well as the magnificent vistas of Mount Rainier.
Job Opportunities
The Joint Base Lewis-McChord in Tacoma is one of the largest military posts in the United States, and it is just one of the many large employers that call Tacoma home. The city also has a strong industrial sector and a fast-growing healthcare business, both of which offer a lot of job opportunities to the people who live there.
Cultural Diversity
The city of Tacoma is home to people who hail from a wide range of cultural backgrounds and ethnic groups. The city's cuisine, music, and art scenes are all dynamic and prospering because of the city's diverse population, which is represented in these areas. People have access to a wide variety of restaurants with cuisines ranging from Thai to Mexican to Vietnamese, and they can participate in activities such as the Tacoma Film Festival and the Tacoma Arts Month.
Outdoor Recreation
Hiking, biking, and other types of outdoor activities are abundant in Tacoma, making it an ideal city for people who enjoy spending time in the great outdoors. Because it is encircled by mountains, forests, and water, the city is an excellent destination for people who are looking for exciting new experiences.
Cons:
Traffic
The traffic is easily one of the most significant drawbacks of residing in Tacoma. The city may be found along the I-5 corridor, which is consistently ranked as one of the most traveled roads in the United States. During rush hour, the amount of time it takes to go from one location to another might be significantly increased due to the heavy volume of traffic.
Weather
Because Tacoma is in the Pacific Northwest, it is usually cloudy and rainy for most of the year.Although there are those who take pleasure in this kind of weather, there are also those who find it discouraging or challenging to deal with.
Crime
Tacoma has its fair share of criminal activity, the same as any other city. Despite the fact that Tacoma's crime rate has been falling over the past few years, it is still significantly higher than that of some of the other cities in the vicinity. Residents have a responsibility to be aware of their immediate environment and to adopt appropriate safety measures.
Homelessness
There are a lot of homeless people in Tacoma, just like there are in a lot of other cities in the area.Although efforts are being made by the city to address this problem, it might be upsetting for some people in the community to witness people living on the streets.
Limited Public Transit
Even though Tacoma has public transportation, it is not nearly as good as the systems in some of the other nearby cities. Because of this, navigating the city may be challenging for its inhabitants who do not have access to a personal vehicle.
Final Thoughts
To summarize, deciding to live in Tacoma comes with both positives and negatives. The city is well-known for the low cost of living, the close proximity to breathtaking natural surroundings, the wide variety of career opportunities it offers, and the cultural diversity it possesses. On the other hand, residents have to contend with a high volume of traffic, an abundance of precipitation, and a higher rate of violent and property crime than those living in some of the region's neighboring cities. In the end, the answer to the question of whether or not Tacoma is an appropriate region to reside is determined by the values and inclinations of the person in question with regard to the kind of lifestyle they lead.
The city of Seattle is the first place that comes to most people's minds when they consider living in Tacoma. One example of a location inside the state that holds an unknown gem such as this is Tacoma City. It has a lower cost of living and a more basic community plan compared to Seattle, making it a good alternative to that city. Do you have any intentions of moving to Tacoma ? And then if you want to relocate in Tacoma you should contact Pnw Moving.