Sabrent Thunderbolt 3 Dock Includes up to 16TB SSD for $2,900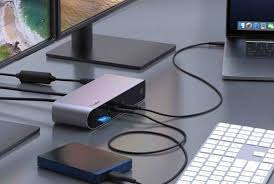 It's possible that you're in the market for a docking station to increase the number of ports accessible on your laptop, and Sabrent is hoping that the debut of its Thunderbolt 3 NVMe SSD Docking Station will help to bring attention to itself. It does not support the more recent Thunderbolt 4 standard, but it does have a few features that make it an attractive alternative for those who are dedicated to their work and want to be as productive as possible.
In terms of connectors, the docking station is well-equipped with two Thunderbolt 3 (40 Gbps) connections, three USB-A (3.2 and 3.0) ports, and a single USB-C port, to name a few examples (3.0). A Gigabit Ethernet connector, a DisplayPort 1.4 port, and a full-size SD reader are also included (UHS-II). The docking station, which comes with a power supply and a two-foot Thunderbolt 3 connection, can give up to 96 watts to a connected laptop when using the accompanying power supply. The following is a comprehensive list of specifications:
2 x Thunderbolt 3 ports with a bandwidth of up to 40Gbps.
2 x USB 3.2 Type-A ports supporting up to 10Gbps.
1 x USB 3.2 Type-C supports up to 10Gbps.
1 x USB 3.0 Type-A supports up to 5Gbps and BC1.2 5V@2.4A  for cell phones.
1 x DisplayPort 1.4 for 8K @ 30Hz, 5K @ 30Hz (HDR, HDCP2.2, Adaptive Sync).
1 x Gigabit Ethernet RJ45 port.
1 x Front access 3.5mm audio output.
1 x Front access 3.5mm microphone input.
1 x SD (UHS-II) card reader with transfer speeds up to 270MB/s.
The presence of two NVMe SSD slots, which distinguishes the docking station from rival options, adds intrigue to the product. This is correct, there is onboard SSD storage, which may be used to save video projects, your games collection, or even function as a Time Machine backup on a Mac computer.
Sabrent provides four different storage capacities for the docking station: 2TB, 4TB, 8TB, and 16TB. In the case of the flagship 16TB model, two 8TB solid-state drives (SSDs) are utilized. According to Sabrent, they are PCIe 3.0-based SSDs, which means you won't be getting the blistering 7,000 MBps sequential reads and writes that the top PCIe 4.0 SSDs can deliver. Instead, the internal SSDs are only capable of speeds of up to 1,500 MBps, which is significantly less than the external SSDs. That should be sufficient performance for the majority of external storage options, and it is unquestionably quicker than an external hard drive.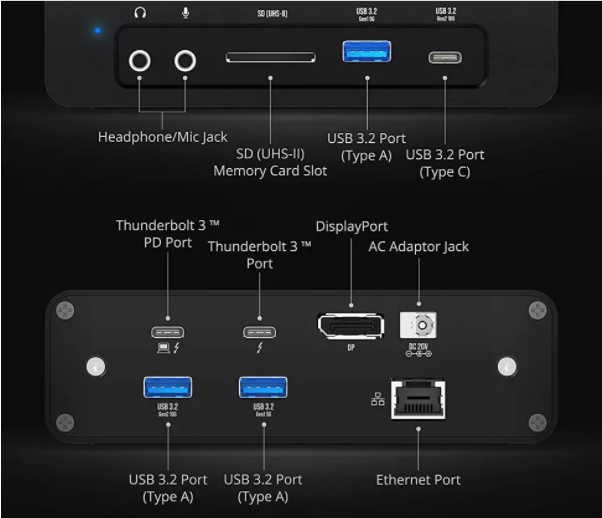 The additional internal SSDs, on the other hand, mean that the Thunderbolt 3 NVMe SSD Docking Station is not inexpensive. It costs $500 to purchase a 2TB SKU; however, the 4TB SKU costs $650 to purchase. The 8TB SKU will cost you back $1,300, while the massive 16TB SKU will set you back a whopping $2,900 dollars. Comparatively, the freshly announced, 18-port Caldigit TS4 Thunderbolt 4 Dock costs $350 (albeit it does not have internal storage, as previously stated).