PS5 Cat Game Stray Still on Schedule for 2022 Release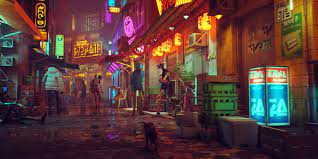 With the PlayStation Future of Gaming event in 2020, gamers will get their first glimpses of next-generation games and technology. Stray, a graphically stunning PlayStation console exclusive in which players take on the character of a cat, drew the attention of many fans during the presentation. While a broad variety of games were demonstrated throughout the presentation, one that stood out was Stray. Stray was conspicuously absent from the most recent PlayStation State of Play event, prompting some fans to worry that the game might miss its intended release date of 2022. However, it appears that those fears were unfounded.
Stray developer Annapurna Interactive was evidently receiving messages regarding Stray and the State of Play, and as a result, the company offered an update to fans by stating that the game is still scheduled to release in 2022 as planned. At the time of writing, a more definite release date for Stray was not known, but if the game is actually aiming for a 2022 release, fans should not have to wait too much longer to find out when they'll be able to get their hands on it.
The Annapurna Interactive Showcase, which took place as part of the Summer Game Fest event last year, was the most recent opportunity for fans to get an in-depth look at Stray. It was at this point that Annapurna Interactive unveiled fresh Stray gameplay footage, underlining the fact that the game will be a visual marvel when it ultimately launches.
for those asking about a Stray update, it won't be a State of Purr today 😅

it's still coming this year, though! 😺

— Annapurna Interactive (@A_i) March 9, 2022
Fans shouldn't be shocked that Stray was not present at the most recent PlayStation State of Play presentation. All things considered, the most recent PlayStation State of Play event was dominated by games from Japanese companies, including three Square Enix titles and a new Capcom co-op dinosaur game in development. Developed by Blue Twelve Studio, Stray doesn't suit the State of Play theme since it's French.
As seen by the enthusiastic response to Stray at the State of Play, players are eager to see more of Stray's unique gameplay mechanics. There has been a lot of buzz about Stray since its first debut, and it appears to be one of the more fascinating games to come out this year. No one can say for sure if Stray will fulfil its ambitious release date goal of 2022, but fans may expect to find out for themselves as soon as then.