Some Ryzen 5 7600X CPUs have had their cores accidentally disabled by the most recent AMD AGESA firmware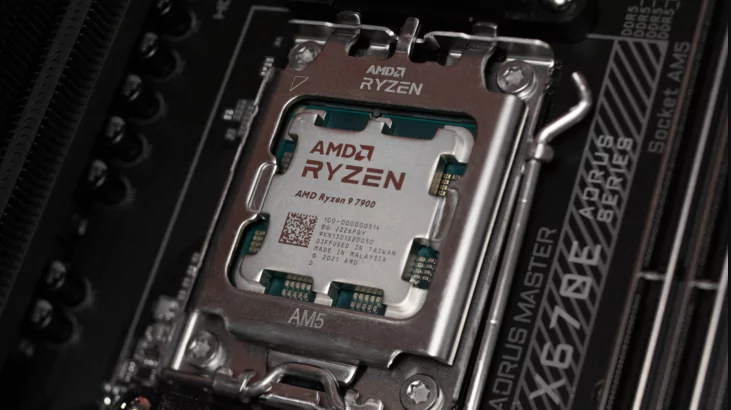 It would appear that the most recent version of AMD's AGESA ComboAM5PI firmware, 1.0.0.4, has caused more problems than it has solved. According to chi11eddog, who is known for leaking information about upcoming hardware, the firmware purportedly disables several cores on the Ryzen 5 7600X, which caused numerous motherboard manufacturers to remove the update from their respective websites. The defective firmware does not affect all Ryzen 5 7600X processors, which are widely considered to be among the best available. Only the samples that make use of a dual-CCD design will be affected by this.
Considering that the Ryzen 5 7600X has six cores and twelve threads, a single CCD is more than plenty for this processor. On the other hand, there are Ryzen 5 7600X CPUs available that come equipped with not one but two CCDs. Since AMD has obviously fused off the additional CCD, there is no way to just unlock more cores with a simple magic trick. Chipmakers like AMD, Intel, and Nvidia strive to maximise silicon production and often recycle dies that do not fit the specifications for specific models into their lower-tier products. This allows the chipmakers to keep costs down while still meeting their production goals. The Ryzen 5 7600X was designed in such a way that allowed for the use of two CCDs.
In hindsight, AMD employed the identical tactic while developing prior iterations of the Ryzen 7 5800X and Ryzen 5 5600X processors. It would appear that the AGESA ComboAM5PI 1.0.0.4 firmware has trouble differentiating between Ryzen 5 7600X samples with a single CCD and those with a dual CCD. It is possible that it fails to properly recognise the CCD and, as a consequence, disables one of the cores of the processor. The chi11eddog claims that the firmware disables Core0's functionality. Both MSI and ASRock have removed the firmware from the product sites for their respective X670 and B650 motherboards.
On the other hand, Gigabyte's 600-series motherboard support pages still offer the firmware for download, despite the fact that you should steer clear of it at all costs. It is recommended that you revert to an earlier version of the motherboard's firmware if you have recently upgraded the firmware on your motherboard and have observed a significant drop in performance on your Ryzen 5 7600X. It has been stated that a solution is on its way, and the newly updated firmware should be available within the next several weeks.