Tips for Smoking Meat with an Electric Smoker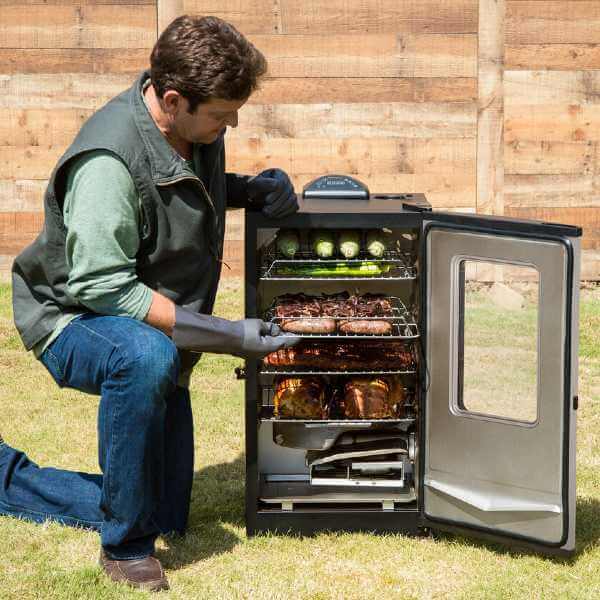 Before you jump on reading some of the interesting and highly useful smoking meat tips, you can check out the collection on Masterbuilt smokers for sale from here.
You can get to know the convenient ways of using an electric smoker and smoking any kind of meat like a pro.
Stop using the wood chip tray
You might be wondering why to stop using this wood chip tray of your electric smoker, here you can know that!
This tray usually brings lots of inconvenience to the user. So, it is better to ditch it and load wood chips without using it.
Moreover, if your electric smoker has got a small tray, then you need to fill it again and again and that is quite messy and disappointing to do so.
You can try using other alternatives that manage to give constant and unending thin and blue smoke to your meat.
Always smoke your chicken or meat on hot setting mode
It is advised by the experts to smoke your chicken or meat on high setting mode. If you smoke and cook it on low settings, then desirable results will not come out.
Most importantly, chicken is not a kind of meat that you need to cook on a low and slow approach.
The chicken in your electric smoker should be cooked at the temperature scale of 275 degrees F. Aim for this temperature and rest all will be done with perfection on its own.
Avoid undercooking your chicken at any cost. Electric smokers generally take one to two hours to properly smoke any chicken type.
If the internal temperature of your chicken is 165 degrees F, it means your chicken is safe to eat.
Control these temperature swings like a pro
Whenever you see this issue of temperature swings, then make sure that you do handle this problem like an expert and pro.
In addition, when you are at the beginning level stage to smoke a slice of meat, then the temperature will start to swing as well.
These temperature swings happen because outside temperature and windy times do so! Like, if there is a high temperature outside or the weather is windy, then your electric smoker temperature will start to swing too.
To keep your smoker temperature up to 220 degrees F, what you can do is to set and adjust your smoker in between 205 degrees F or 210 degrees F.
Keep a close eye on your smoker temperature so that it does not climb or swing abruptly.
Use the attachment if going for cold smoking
If you want to cold smoke a food, then use the attachment to perfectly and professionally follow this technique.
Lots of electric smokers have got a cold smoker attachment and these attachments manage to give 4 to 6 hours of consistent and non-stop smoke to your food.
Moreover, this attachment makes use of regular kinds of wood chips and it can get attached easily with any smoker type.
In cold smoking, one likes to smoke cheeses. And the temperature range falls between 100 degrees F to 120 degrees F.
For this cold smoker attachment, there is no requirement of seasoning.
Use foils on grill racks
The last tip of smoking meat, do get foils to place and mount them on your grill racks.
This is one of the highly-opted housekeeping smoking meat tips that you can go for. We are quite honest about this fact that foils make your smoker cleanup and maintenance job easier.
Conclusion
So, if your friend has gifted you a brand-new electric smoker and you want to smoke delicious meat on it, then before using it, do keep in mind these tips!
Think of some other smoking meat tips and suggestions and share that with us.
No doubt, electric smokers offer endless uses and you can smoke appetizing dishes on them. Go and give it a try.
Stay tuned with us always.