100 Thieves & Lil Nas X Collaboration during Worlds Group Stage
We are following the most important League of Legends championship globally, the League of Legends World Championship. Among the many surprises of the championship, one of 100 Thieves' favorite teams decided to team up with current rapper Lil Nas X to release a collaborative surprise video before the championship group stage. The presentation has been causing a lot of talks and we are going to comment a little bit here. Those looking to bet during the World Group Stage can check out this list of the best betting offers.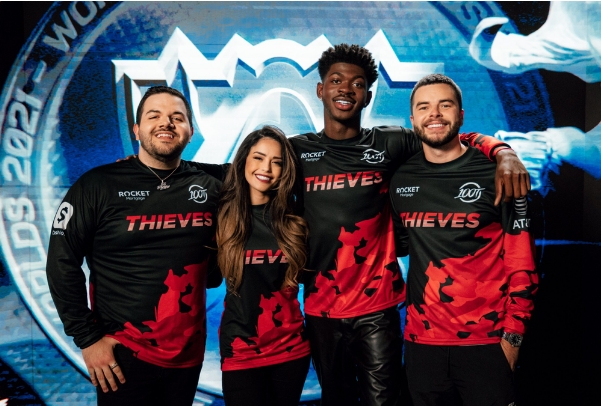 In the video, Lil Nas X and the players from 100 Thieves are at the players' headquarters in the US, where the rapper sings two of his greatest hits, Industry Baby and That's What I Want. The video is an entertaining collaboration between the Grammy winner and LCS title winners, where they won the 2021 Summer Split final against Team Liquid earlier this year.
In the video, we can follow Rachell 'Valkyrae' Hofstetter, Jack 'CouRage' Dunlop, and 100 Thieves creator Matthew 'Nadeshot' Haag. Also seen in the video is JhbTeam and the team 100 Thieves League of Legends.
Check out the video HERE.
The video's premise is a preparation for the subsequent phases of the championship; several teams also organized presentations that count as a promotion of the championship and visibility for the team. It turns out that the group 100 Thieves hit the nail on the head by inviting Lil Nas X, the rapper is at the top of the charts and streams and has conquered the public.
Although Lil Nas X is a world apart from the competitive League of Legends, collaboration has become a reality with the advent of social media.
Soon after winning the 2021 LCS Championship, 100 Thieves was celebrating as he listened to superstar Montero's tracks, as seen in Nadeshot's viral Instagram post.
100T streamer and co-owner Jack "CouRage" Dunlop shared Lil Nas X's influence on the team: "It's the hero song for our LCS team and their championship in the 2021 Summer Split," said CouRage in the BTS video. "Industry Baby is the first song that they always played, and it's their hype music."