Top 4 Best Battery Powered Lawn Mowers for Small Yards 2022
Many people love the idea of having a small lawn, and they deserve as much care as the big ones. Unfortunately, traditional push mowers are not always the best option for these spaces. This is where cordless battery powered lawn mowers come in handy! They are lightweight and easy to use on any surface, so they are perfect for small yards.
Why use a battery powered mover ?
Some of the main advantages of a battery powered mower are as following:
They are lighter in weight and easier to push around the yard.
They are environment friendly, quieter and easier to start than gas-powered mowers.
They also produce enough torque to cut through the tall grass efficiently.
Their Eco mode will help to decrease battery usage in short grass but increase to handle tougher areas of the yard.
Most of the battery-powered mowers are self-propelled, making them easier to operate.
Read Here: Best Battery Powered Push Mower
Here, we're discussing some of the best battery-powered mowers for small yards, and learn more about what features to consider and how to select your ideal mower.
What features have to consider in a battery-powered lawn mower?
These are the three main features that we have to look for in a battery-powered lawn mover.
1.     Deck Size:
Lawn mower's deck size decides how broad a path it will cut on each round, and deck size can ranges from 14-inches to 60-inches anywhere in between this range.
2.     Cutting Options
Lawn mowers come with 3 options side discharge, mulch, or bag grass clippings. Bagging is good if you do not want grass clippings back away on your lawn, whereas to improve lawn's quality mulching can be helpful.
3.     Runtime
While shopping a battery-powered lawn mower, look for how long it can run on a single battery charge and then compare this runtime with the average time it takes you to mow your whole lawn.
Best battery-powered lawn movers
1. Greenworks G-MAX 40V 16 inches lawn mower
Greenworks is known for its advancements in battery technology and this Greenworks G-MAX 40V 16-inch cordless lawnmower, cut up to 4000 square feet in less than 45 minutes on single charge. As a benefit it has a push button to start and stop the mower and weighs just below 40 pounds.
The Greenworks G-MAX also has 16-inch deck size and 5 adjustable height options. It has 6-inch front tyres and 7-inch back tyres and handles most of the yards hurdles without any problem. It comes with 2 cutting options mulch or bag grass clippings. It also includes a battery and a charger. So, if you're looking for the great overall lawn mower for your small yard then the Greenworks G-MAX 40V 16" cordless lawnmower is probably going to be a good choice for you.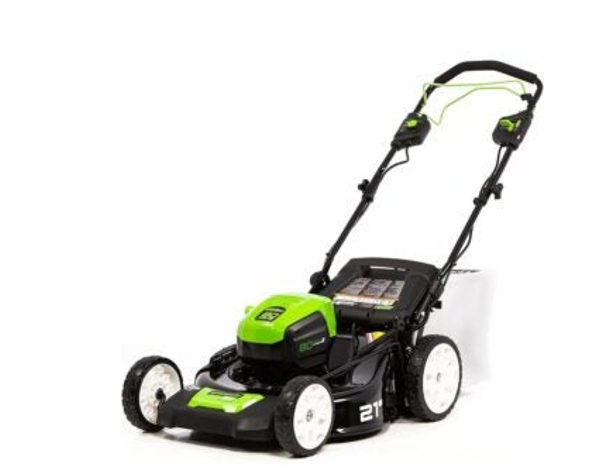 2. SUN JOE MJ40E-PRO 14 inches lawn mower
The SUN JOE MJ40E-PRO 14-inch 13A lawn mower is going to be the best bang for your buck. It is perfect for those having customers having a small-sized yard and very minor space to store a mower. The SUN JOE's deck size is only about 14-inches wide which means it can manoeuvre in really tight places both in your yard and when it comes to storing it in your shaded garage.
It has a 13A motor and only weighs just under 30 pounds. The SUN JOE has 3 height adjustment options, permitting you to select the grass length according to the time of year. And if you don't want to leave the clippings on the lawn then they give you a bag that you can use to collect all of them. So, if you're just looking for the best bang for your buck then the SUN JOE MJ40E- PRO 14 inch 13A lawn mower is probably going to be an ideal choice for you.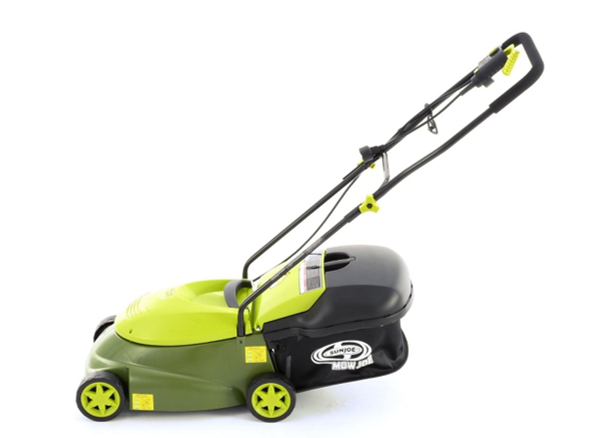 3. MAKITA XML03PT1 18V X2 LXT 1 inch's lawn mower
The MAKITA XML03PT1 18V X2 LXT 18-inch lawnmower kit is the best cordless lawnmower that we found for your small yard. Because the MAKITA 18-inch fills the gap between mobile electric convenience and also gas-powered dependability. This particular cable less electric lawn mower uses two 18 volt lithium ion batteries to create 36 volts of power that's some easy math.
It's got a brushless motor that runs between 2500 and 3300 rpms and cover up to 7300 square feet of lawn on one charge which is pretty impressive. It comes with two sets of batteries and a charger as well and this  MAKITA allows for both mulching and bagging because they include a 16-gallon bag. It also has 10 adjustable height settings and to store it.
It's real easy simply fold the handle and roll it under a workbench or some other low surface. So, if you're looking for the best cordless overall the MAKITA XML03PT1 18V X2 LXT 18-inch lawnmower kit is likely going to be a good choice for you.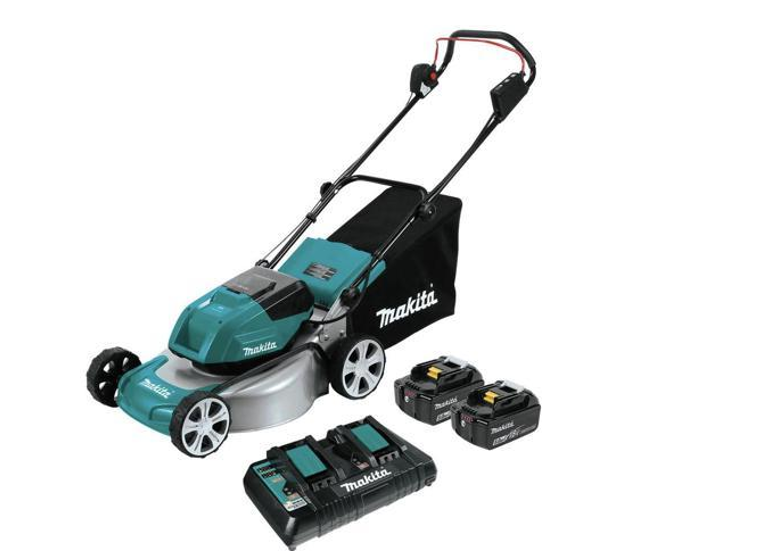 4. Black and Decker 10A 15 inches lawn mower
The Black and Decker electric lawnmower 10A 15 inch is the finest lightweight mower that we suitable for small yards. The Black and Decker is definitely one that you consider, as it is a lightweight mower with sufficient features and abilities.
This corded electric mower with a 15-inch cutting width angle and a 10A, comes in weighing just below 40 pounds. It has push button to start and stop the mower and built-in inductions to provide an easy handling. So, for individuals with back problems or other matters you're not going to worsen that by using this device. Alongside from the weight and its relaxed grips, this particular Black and Decker mower has some other useful features too.
It has got 6 height options that permits you to set it to whatever the ideal length might be suitable for you. Though, covering function is absent in it but this variant come with a dumping bag. Keep that in mind that this is a cabled lawn mower so it may need an extra extension cable too.
So, if you're just looking at for the best lightweight mower out there the Black and Decker electric lawn mower 10A 15-inch might be a sensible choice for you.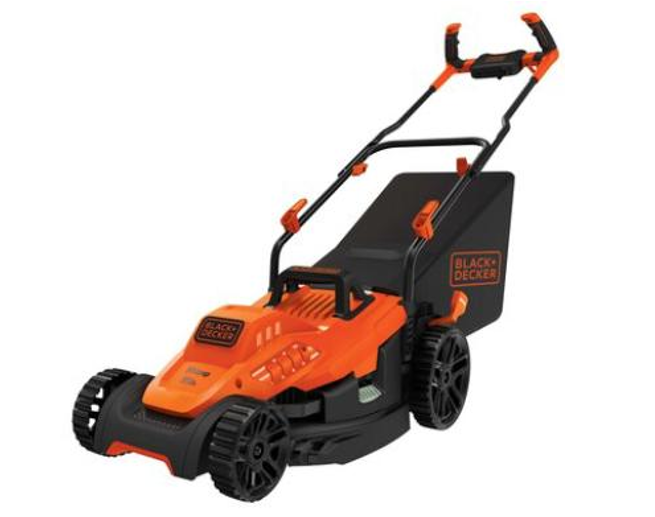 Conclusion:
We have discussed above best battery powered lawn mowers for small yards. Choosing the suitable mower for your small-sized yard can be a difficult decision with all of the available options. For some of the options above, you may need more or less runtime. It would be a good idea to see its runtime, that how long it takes to mow your lawn. And by purchasing an additional battery you could save from a lot of headache. It also saves your time by adding the extra power to your mower.
Frequently Asked Questions
In terms of area, what is considered a Small lawn?
The term "little lawn" refers to an area less than half the size of a tennis court, whereas the term "medium lawn" refers to an area between half and two tennis courts in size. Between two and four tennis courts in size, a large lawn is regarded to be large.
For a small yard, what size lawnmower should I get?
An engine over 120cc should suffice for a gas-powered mower in a small yard. For corded mowers, amp rates between 12 and 14 are generally sufficient. Look for batteries with a voltage of 36 volts or higher for cordless electric choices.
Mowing a tiny yard can be challenging.
How Can you Mow a Small Yard?
Use a modest push or electric mower to mow the majority of the lawn. Electric gardening shears or a weed-eater can be used to clean up the edges of the yard and around trees or other obstructions.
Garbage bags or your compost pile are good places to put the grass clippings after you've raked them up.