How to Get a Server Booster Badge on Discord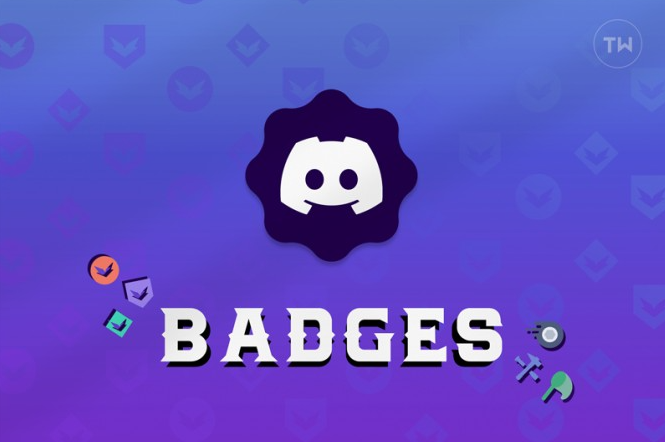 If being a badge collector on Discord is a goal of yours, the Server Booster badge is a wonderful addition to your profile and one that you should consider adding. Imagine that you are the administrator of a server that is home to a vibrant community. If this is the case, increasing it will help you achieve improved audio and streaming quality and will be a step in the right direction. By reading the material contained in this post, you will be provided with the knowledge necessary to acquire the server booster badge on Discord. So let's get started:
Read Also: How to Replace Your Discord Phone Number
How to Get a Server Booster Badge on Discord
In order to obtain the Server Booster badge for your Discord profile, you will need to complete the steps that are outlined in the following paragraphs:
1. You can select the community service that you want to work on enhancing by looking through the list of server icons that can be seen on the left side of the screen in Discord.
2. After selecting the server you wish to boost from the menu in the top left corner of the screen, you will need to click or tap on the button labeled "Server Boost."

3. After determining the total amount of boosts that will be granted to the server, select "Boost this Server" from the drop-down menu to begin the process of giving the server those boosts. If you are able to contribute more boosters to the server, the server will reward you with access to more features and enhancements that you can activate.

4. You will then be sent to a popup within Discord that provides an explanation of the costs involved in expanding the server.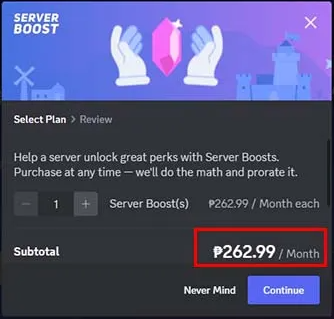 5. Before going any further, make sure that the "Continue" option is selected so that you can verify the increase.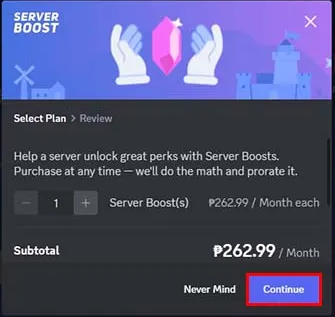 6. Discord will bestow special features onto your server after you have successfully boosted it, and it will also credit you with the Server Booster badge.
FAQs
How does the Discord boosting badge work?
A user who has directly supported one of their favorite servers through the usage of the Server Boosting system is denoted by this pink badge. You may find out how long someone has been boosting servers by hovering your mouse over their Server Booster badge. In the event that an individual does not take a break while server boosting, the badge will develop over time and take on a different appearance as a result.
How rare is 0001 tag in Discord?
Users that have a membership to Discord Nitro are able to use the tag #0001 on their messages. As long as your Nitro subscription is still active, you will have the ability to make changes to your profile, including replacing the #0001 with a different username. The numbers 0001 through 9999 are the range for tags in Discord. As a result, there are now 10,000 tags available to the million people that use Discord.
Is server boosting free with Nitro?
If you purchase Nitro Classic, you will receive one free boost; if you purchase Nitro Premium, you will receive two free boosts, each of which is good for one month. Boost is not a service that requires a single purchase, but rather a recurring monthly subscription fee. You have the ability to cancel your boost entirely, as well as move it from one server to another.
What does 1 boost do in Discord?
Server Boosting is a method for improving the functionality of your Discord server. Boosted servers provide its users an increased number of additional perks and privileges, such as higher quality streams and additional emojis.
Do you lose Nitro if you boost a server?
Nitro boosts have no effect outside of your own personal account, yet they travel with you to each and every server you join. On the other hand, server boosts are only applicable to the server that is being boosted, but they help EVERYONE who is in the server while they are in that particular server, regardless of whether or not they have Nitro.
Is it illegal to be 12 on Discord?
According to the COPPA law, a child can be younger than 13 years old as long as they have the permission and supervision of their parents, and the parents must have complete control over the child's account. Both Roblox and Google provide this feature; in order to use it, users have to provide the email address of a parent, who is then able to monitor their child's account. There shouldn't be any differences in Discord.